Radio Facts: Radio Facts: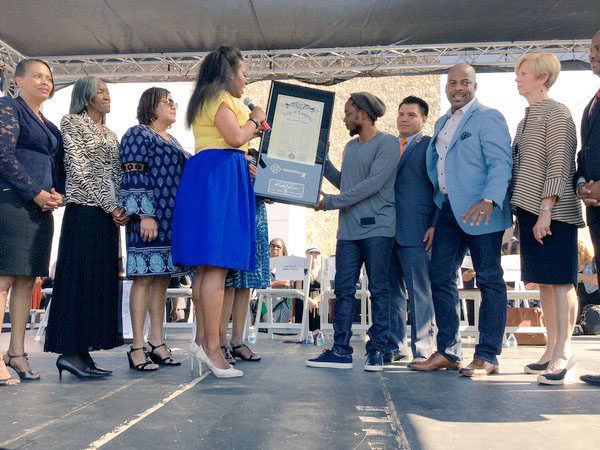 Kendrick Lamar, whose 11 Grammy nominations, including Album of the Year, will be a centerpiece of Monday night's Grammy Awards, received the key to the city in his hometown of Compton Calif. on Saturday morning, Feb. 13, and fans were about to watch it for free via mobile livestream compliments of Privi.
Upon accepting the key, Kendrick remarked, "Having this key to the city is not just a representation or the glorification that I have Compton, it's a representation of all of us, this is a representation of us opening more programs for these kids, opening more job opportunities, that's how I'm looking at it from my own platform. With that being said, as long as I'm doing music, as long as I'm using my platform for something, I will always scream 'Compton' and make sure to come back to this community and do right by it, because you all did alright by me. Through all the hardship, losing family members, losing homeboys, for some reason we always still love Compton, because we have faith."
As a teenager, Lamar attended Centennial High School in Compton where he was a straight-A student. He is well known for paying homage to his hometown in his music. At Monday night's Grammy Awards, Lamar looks to become only the second hip-hop artist (since Outkast in 2004) to win Album of the Year. The album, To Pimp a Butterfly, debuted in 2015 at the top of the U.S. and U.K. rap charts. He won Grammys in 2015 for Best Rap Performance and Best Rap Song. Lamar was previously nominated in the Album of the Year category for 2014's Good Kid, M.A.A.D City.
Check out Kendrick's acceptance speech below.