Radio Facts: Radio Facts: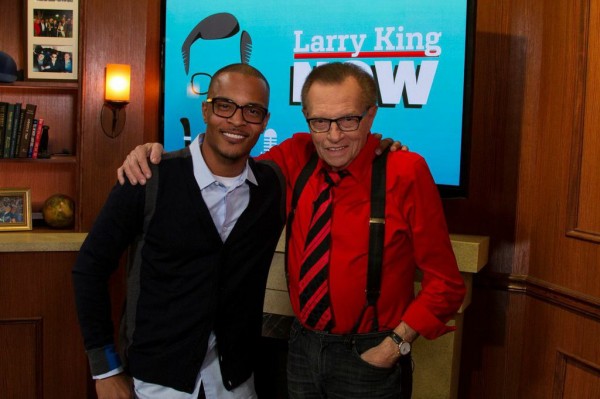 T.I. returns to Larry King's hot seat on the Emmy nominated series "Larry King Now" for a revealing discussion about what influenced his newest album 'Paperwork,' the on-going situation in Ferguson, Mo. & his recipe for longevity in the ever-changing music business.
Grammy award winner, T.I. discussed the benefits of releasing his new album with columbia records after departing from Atlantic Records in 2013, "For this project, we've had the most creative freedom and ability to do whatever inspires us creatively." He also explained what's changed about the rap and hip-hop
industries since he first started making records over a decade ago, "I think it's a lot more saturated. I feel that there are definitely ways around the conventional methods of being discovered and breaking into the industry now." (clip below)
The artist explained why Pharrell is such an incredible musician & producer, and what it was like having him executive produce his latest album 'Paperwork', "He knows how to take a hit that wouldn't have been a hit in anyone else's hands, and make it one in his." T.I. also commented on the belief by some that
'Blurred Lines' — his hit song with Pharrell & Robin Thicke — was misogynistic, "I thought it was kind of in a sense just telling women how wonderful we thought they were." (clip below)
T.I. discussed what police officers were like growing up in his hometown of Atlanta and further explained his initial reaction to
the killing of Michael Brown in Ferguson, Mo., "Man I just thought it was catastrophic. I felt it was an extreme tragedy and extremely unfortunate I mean for the nation. Of course for the Brown family our hearts, prayers, and condolences go out to them, but for the nation to go through that again so soon after Trayvon Martin and you know it – America was already very tense as it pertained to race relations and young black men and how they're treated in America by authorities – by authority figures." (clip
below)
T.I. responded to actress Raven-Symoné's desire to no longer be labeled African-American, "I mean, I think she has an incredible point. We are all American. I think we need to find more reasons to unify rather than to divide each other and separate from one another." Plus, T.I. answers social media questions from some of his biggest fans including what it was like working with Justin Timberlake, what his big break was, and if he would ever consider touring in the Middle East.