Radio Facts: Radio Facts: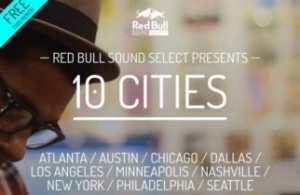 Red Bull Sound Select, an ongoing program to support local music scenes and the people who push them forward, today announced its expansion into five more of the nation's most influential music cities. To celebrate the launch and introduce the newest artists in the program, a special series of free "Red Bull Sound Select Presents" showcases will be hosted on the weekend of July 26-28 in New York, Los Angeles, Chicago, Nashville, Austin, Philadelphia, Atlanta, Dallas, Minneapolis and Seattle. Each show will be curated by the most respected music voices in each city and will feature a line up of promising local Red Bull Sound Select artists opening for headliners including Dirty Projectors, The Dandy Warhols, Theophilus London, The Gaslight Anthem, Black Lips, Juicy J, Metric, Yeasayer, Erykah Badu , Frightened Rabbit and The Airborne Toxic Event. Ticket requests for these free shows can be made at redbullsoundselect.com until July 12, 2013.
GET INVITED
As with every monthly "Red Bull Sound Select Presents" event, local music influencers will curate the line-up for the July showcase. But this time around, the artists will curate the audience ""filling the room with the most passionate music fans in each city. From now until July 12, fans can log on to redbullsoundselect.com, create their profile, and request a ticket.
By connecting their social accounts, fans choose the photos, videos, tweets and content that best shows their passion for music and how they support their local scenes. Red Bull Sound Select artists will invite the most passionate fans to the July showcase. Fans must claim their tickets by July 16.
THE LINE UP
July 26, 2013
ATLANTA
Black Lips and Juicy J will headline a show at Terminal West featuring Red Bull Sound Select artists $2 FABO , Noot D' Noot , and 4ize as curated by Creative Loafing, East Atlanta Collective and V103's DJ Jelly
PHILADELPHIA
Red Bull Sound Select artists Mike Taylor and Khari Mateen will open for a soon to be announced special guest at the Starlight Ballroom in a show curated by Veteran Freshman, Little Giant and Making Time
DALLAS
Songstress and raconteur Erykah Badu headlines the showcase at Prophet featuring fellow Dallas-based Red Bull Sound Select Artists, Larry G[ee ] and Dustin Cavazos , during a night curated by Central Track and Spune
July 27, 2013
LOS ANGELES
Red Bull Sound Select Artists Gothic Tropic , Tapioca and the Flea , and HOTT MT take the stage with headlining indie rockers Frightened Rabbit, as part of the IAMSOUND, Filter, and Production Club/MFG curated show at the House of Blues. (TO SEE THE RED BULL LINE UP CLICK NEXT)
AUSTIN
Just a few months after "Red Bull Sound Select : 120 Hours in Austin" took the city by storm for five straight days, Good Music Club and Transmission Entertainment come together to curate a night of rock featuring Red Bull Sound Select Artists The Sour Notes and Gentleman Rogues playing alongside headliners The Dandy Warhols and Theophilus London at Stubb's Waller Creek Amphitheater
CHICAGO
The House of Blues will play host to Red Bull Sound Select Artists Gemini Club and My Gold Mask who will open for alt-rock hit makers Metric in a show curated by Fake Shore Drive, DO312 and Riot Fest
NEW YORK CITY
The Gaslight Anthem steps in as curator and headliner for the Saturday night showcase at Irving Plaza featuring Dave Hause, and Red Bull Sound Select artists Frances and the Foundation and The Scandals
NASHVILLE
Lightning 100, Grimey's, and All About Music invite Red Bull Sound Select artists Swayze , Alanna Royale , and The Electric Hearts , to open for The Airborne Toxic Event at Nashville's Marathon Music Works
MINNEAPOLIS
Yeasayer will headline a show curated by and hosted at First Avenue, featuring Red Bull Sound Select Artists Umami and Strange Names .
July 28, 2013
SEATTLE
To close out a weekend celebrating local music and the artists who are defining the sounds of their city, Sub Pop, Adam Zacks and Capitol Hill Block Party bring Red Bull Sound Select Artists"" Pure Bathing Culture , Eighteen Individual Eyes , and The Grizzled Mighty to the stage at Neumos to perform on the bill with Dirty Projectors