Radio Facts: Radio Facts: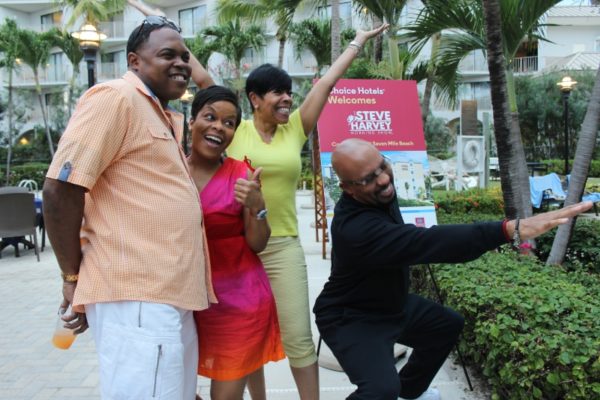 The
Comfort Suites Seven Mile Beach
in
Grand Cayman
received special star power this week with a surprise
visit
of multi-award winning entertainer, author and philanthropist Steve Harvey. Mr. Harvey joined his radio co-hosts Thomas "Nephew Tommy" Miles, Shirley Strawberry and Kier 'Junior' Spates at the recently renovated tropical hotel for a live poolside broadcast of the highly acclaimed Steve Harvey Morning Show, one of the top-rated morning
radio programs
in the United States.
The
visit
took place during two days of previously scheduled live programming of the
Steve Harvey Morning Show
featuring the radio co-hosts broadcasting live, poolside, at the recently renovated
Comfort Suites Seven Mile Beach
to detail their experience at the hotel and around the Caribbean island.
"I couldn't let my crew come down to the
Comfort Suites Seven Mile Beach
without me," joked Mr. Harvey. "That's just cold. They were
leaving
me in the snow while they came to
Grand Cayman
to play in the sand. Who wouldn't want to spend a few days in paradise with good friends? I'm
steps
from the one of the world's greatest beaches here. Plus, Choice Hotels has taken good
care
of mine and Marjorie's Foundation and youth mentoring programs for years now. I am so happy to support a business that supports the community."
Comfort Suites is one of eleven global brands franchised by parent company, Choice Hotels International, Inc. (NYSE: CHH), one of the world's leading lodging providers. The company has had a long standing philanthropic relationship with Mr. Harvey, contributing hundreds of thousands of dollars and in-kind donations to the Steve & Marjorie Harvey Foundation, most notably through its loyalty rewards program,
Choice Privileges
.
"Choice Hotels and
Comfort Suites Seven Mile Beach
are so excited to extend a warm welcome to Steve Harvey," said Anne Smith, vice president of brand strategy for Choice Hotels who was a guest of the hotel at the time. "Choice prides itself on being able to bring people to people, not just places. We love that our hotels foster human connections. Steve Harvey, with his warm, trusting and friendly persona, really embodies that. Between his daytime television program, game show, movie projects, books, radio show and community service — you name it — Steve Harvey has so many responsibilities! We are so thrilled and honored he chose to spend time with us and to do the show from here."