Jean Williams is known as a risk-taker who tends to thrive on challenges.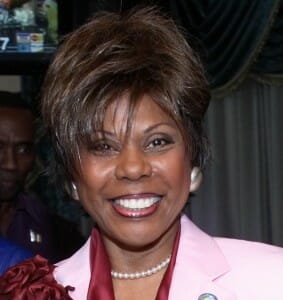 Born in North Carolina and raised in Philadelphia, PA, she is the oldest of three children, all girls.Jean put her journalism career on hold to become a professional fashion model, primarily in New York and Philadelphia.Upon advancing her career, Jean relocated to Los Angeles, California and became the first African American, worldwide, to join Billboard Magazine's editorial staff, first as general assignment reporter, and four years later, as talent editor.  
She married the late James "Jim" Cleaver, then Executive Editor of the Los Angeles Sentinel newspaper.Leaving Billboard to become self-employed, she opened Leigh-Hi Industries, an entertainment industry consulting firm, which she operated for 10 years.   An opportunity arose to train Inglewood, CA residents to become casino dealers in the lucrative gaming Industry.  
Pulling together some of the industry's best instructors, she opened The Gaming Academy, believed to be the first African-American-owned, licensed casino dealer's school in the country.   She secured contracts with 18 cities throughout the state of California to teach casino dealers, and with companies, such as Northrop, to re-train displaced workers.  
This resulted in employment for several hundred people.Jean sold the school and entered the field of real estate, with emphasis on turning those who never dreamed of owning a home into property owners.   She was elected President of the Southwest   Los Angeles chapter of National Association of Women's Council of Realtors. ®  
Jean served as Secretary and a Director at the Southwest Los Angeles Association of Realtors ®, later to be elected as their President   in 2011.As an activist, Jean was appointed to Inglewood, CA's Aviation Commission and later the Planning Commissioner for the City of Inglewood.  
In 2007 she was a candidate for a seat on the Inglewood City Council.Jean was devoted  to her church, True Zion Missional Baptist Church in Los Angeles, where she served as an announcement clerk and worked closely with the Pastor's group.Recently, with Gail Patridge (her daughter and also a two-time breast cancer survivor), she formed A BETTER U, a non profit corporation designed to assist female cancer survivors with free products, services and information.  
Jean was an enthusiastic supporter of Women of Color Breast Cancer Support Project and was elected as Women of the Year in 2005.   Jean was also involved with the annual Revlon Run/Walk and Susan G. Komen Run for the Cure.Jean's mission and passion in life was to make this world a better place for others, which she will continue to do through the legacy of A BETTER U.Jean leaves to cherish her memory, her mother: Annie B. Crudup, her devoted best friend and daughter: Gail Patridge-Franklin, son-in law: Roger Franklin, sister: Barbara Crudup, 2 grandchildren: Devika & Ajani Patridge, great grandson: Kenden Patridge, very special faithful friends: Pat Douglas, Martin Hayes & Beverly Tripilett, and a host of relatives and loving friends.Jean Williams'  Memorial service will be held on Thursday, Feb 10, 2011 at 11:00 a.m. at True Zion Missionary Baptist Church, 1254 W Manchester Blvd, Inglewood, CA.Donations to A Better U can be sent to 3509 West 82nd Street, Inglewood,CA 90305