Rushion McDonald: Money Making Conversations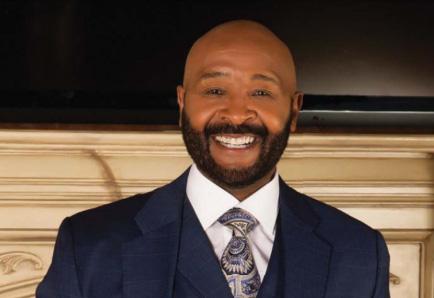 When you talk to Rushion McDonald, you are easily inspired and motivated by his ambition. There is no slowing him down. He takes complete advantage of technology and offers incredible benefits to people of all ages who are willing to commit to its power in most, if not all, of today's industries. His show Money Making Conversations has gone from a podcast to syndication and close to 80 stations nationwide, and he even has an international audience. The information is abundant for anybody listening who wants to know about branding and entrepreneurship, and it's always great to catch up with him.
Kevin: Tell me about Money Making Conversations and the stations you currently have, the affiliates, and how you got started with that idea.
Rushion: Well, I got started in 2017. I'm currently on over 60 non-HBCU stations and 17 HBCU stations on HBCU campuses. I call it my HBCU Radio Network.
Money Making Conversations is a weekly one-hour radio show hosted by me and my reputation as a brand architect. I won multiple Emmy and NAACP Image Awards over the years in my television and film career.
One of my mantras has always been that "age should never be an excuse." When I say "age," people look at me, and they automatically think I'm talking about somebody over 60 or somebody over 50; I'm talking about if you're 18. Age should not be an excuse. Because you know that millennials were criticized because they wanted to move fast according to the older generation because they were skipping steps. That's not true. Technology should allow you to skip steps.
We grew up in an era or a time window where — when older people were talking in the room; young people were not supposed to be in the room. Well, young people want to be in the room now.
They want that information because it allows them to ascend quicker, especially in the African American community. We have a lot of old values that hinder the growth of our youth. And the old value is that we don't share knowledge as quickly with our younger generation as we should. And that has to change, and that's why I say age should never be an excuse.
Then we have the 40-year-old range where you're either in a relationship, out of a relationship, you have a family, you don't have a family, so you're confused — is there a future for you, or should you continue to do what you're doing? And I say yes, you can do more and plan a brighter future for yourself. But we seem to be trapped because we don't know where to turn.
And then when you hit 60, you know, 50-plus, we are in a race to get to retirement. And I don't know what that retirement is because it's not going to come from the government because they got a check less than $3,000 a month waiting on you.
So that is my whole mandate, especially with the first three years, the top of the year coming around in 2022.
I want people to understand that I am pushing the narrative for black people, coming to my platform, Money Making Conversations, especially with my whole drive for #blackexcellence.
We are at the perfect time in our lives with technology. We're coming out of COVID. We understand we were a significant part of that health crisis, and we have to ascend ourselves and understand we have to take better care of ourselves health-wise.
We are at the epicenter of doing great things in 2022 and beyond. But it should not be tied to any excuses, and it should not be tied to your age.
Kevin: What is your consensus when you do your shows as to the biggest problems in the black community when it comes to money?
Rushion: Information. I do a live show on WCLK, 91.9, which is on the HBCU campus, Clark Atlanta University, and I started doing it in September, Kevin, because I felt that my podcast and my radio show weren't allowing me to reach my audience. I wanted to find out exactly what they wanted to know.
I've discovered that they enjoy listening to celebrity interviews but also want information.
Whenever I have anybody on my show talking about Cryptocurrency, the phone lines blow up. Whenever I'm talking about stock or I'm talking about improving or closing the wealth gap, the phone lines light up.
So that tells me that as a community, we're not getting enough information, nor do we have enough platforms that educate us or distribute that information to us about how we can be successful.
Kevin: Why do you think that urban Radio has evaded that issue? Or why has that eluded urban radio stations this long?
Rushion: Well put. PPM destroyed the game. Because it allows us to be fearful of when you can go offline, you can see somebody start talking, and then they just migrate to another station right before your eyes. That struck fear into the heart of the African American radio format.
Look, being that I co-created Steve Harvey's Morning Show with Steve Harvey, when we went from 4 stations to 84 stations, I saw for myself how it traumatized the ratings. In New York on WBLS, it traumatized ratings in Chicago and other stations like WDAS in Philadelphia.
Not only had it affected the ratings, but it affected the revenue share because our radio spots dropped.
So that was the key. Black Radio, man, was decimated by the meters. And it showed that our audience core, according to the meters, was a lot less than what we were selling to our audience initially. And that really hurt. So that allowed us to become music-driven and less information-driven.
Kevin: When does your show run on most stations?
Rushion: On the weekends. It's an hour-long show only. The WCLK format runs every Tuesday, 6 PM to 7 PM. It's available on the app, and it streams internationally. But I'm so excited because I can take phone calls. And we just started doing live shows.
And my first quarter, Kevin, is all about information that you can use. And from a multigenerational guest standpoint, reaching audiences with success stories that are relatable to all individuals.
So my topic will be how to make money with your brand, which people always want to talk about. It's time to stop making mistakes. When I say "mistakes," I mean no hobbies, no vacation, getting involved with the wrong person or staying married to the wrong person.
What I will not be doing in 2022 is talking in theory; I'll be talking with plans of action.
Kevin: Where's the book?
Rushion: [laughs] Well, here's the funny part of that. It is a good part. I am releasing a free 19-page digital booklet for my fans and non-fans who want information this year, and they will get it on my website. And I'll be starting a national tour tied to Money Making Conversation's Guide to Success, don't let your age be your excuse.
I enjoy getting old because that's the only way to accomplish my goals. That's my mantra — "I enjoy getting old because this is the only way I can accomplish my goals."
Kevin: [laughs] So as far as the celebrities that come on the show, do you find that most of them are intelligent and know about money? Or are they. Let me put it this way. Have you ever had a show where somebody came on, and they didn't know anything, and you had to guide them?
Rushion: Let me tell you this. What celebrities, industry decision-makers, and influencers don't get credit for is being entrepreneurs.
They're all small business owners. They're small business owners because social media made them small business owners because it made them acknowledge — there is a brand that I can market.
So once social media came into play, I pushed to all individuals that if you have a social media handle, you are a small business and a brand.
So once they took on that mantra and that clear understanding, the conversation is different when you're talking about celebrities.
You're not talking to naive people who can't control their narratives. They clearly understand their narratives, and they clearly comprehend their brand. They clearly understand what a good post and a bad post are.
That is what small businesses do nowadays. But what celebrities do better than small businesses is that they are blessed with a following, which is now turning into revenue.
Kevin: What platforms, like Google or any of the social media platforms, are the best for earning money?
Rushion: I think that all of them are. First of all, you have to have a point of view as to what you're trying to influence. Who you are talking to is the second, which slides in that influence. If you went to culinary school, that means you influence food. Then you're a foodie. Influence a product.
Your name has to be more than just a name tied to popular followers, and you have to establish who you are. And that's done by how you post on your social platforms.
If you're just posting your lifestyle, well, you're not going to generate revenue from that. But if you post in the sense that you're talking to a particular audience and that audience responds back to you — that is why social media is so valuable to corporations, because they can see people react to your post.
Unlike in the old days, when you had a website only and only had fan clubs, where you send out newsletters, you had to ask for that information from the person who sent it out.
They can go online and see it now. They can see your shares, and they can see your engagement, your likes, your comments, all that. And that's where you come in as an individual, Kevin, who is trying to create a following or create revenue; you have to let the advertisers know, as an influencer, this is who I'm talking to, and this is how and why they react to me.
I have many different platforms. I have an HBCU Awards platform, and I have a Money Making Conversations platform. I have a Rushion's Kitchen platform, and I got a Rushion McDonald overall platform. Because I knew I couldn't be talking about all this on my platform because it would confuse my followers.
Kevin: Right. Absolutely. Now, what would you say is the value of email today?
Rushion: Oh, you can't get rid of email? Emails aren't going anywhere. Emails are the new telephone number.
The problem is that you can be scammed by emails. So you have to be very aware of how Bank of America looks, how American Express looks, how Facebook is being spelled. You have to be very knowledgeable that all emails aren't valid emails. Emails allow you, just like your telephone, to do a two-step verification.
Kevin: What makes your show different?
Rushion: The thing about it is that the beauty of what I'm doing now is that I'm getting away from the hype. I've realized that people really, especially in my communities, with that live show on Tuesday, we are starving for information, man. Because of our traditional way, our terrestrial radio stations are not giving us information. It's entertaining us with entertainment information. But because of the fear that people are going to turn off your station when you start talking about Cryptocurrency or start talking about the stock market — they're negating an opportunity. That's why you don't hear PSAs on radio stations anymore.
Kevin: Right.
Rushion: And we grew up on PSAs. They don't even do that anymore.
Kevin: Well, your timing is perfect because hip-hop stations are struggling right now — young people are not listening. I mean, especially in the major markets when they have direct access to the celebrities, you know, through DMs and social media, so there's no need for them to listen to Radio. I don't know of any young person that listens to Radio.
Rushion: You know, the beauty of this is that — look at the young entertainers. They are entrepreneurs, but we keep missing that because we don't. We look at them as entertainers, and these people are controlling a massive amount of people.
When I look at Kevin Hart, I look at him as a business person before looking at him as an entertainer because I know how many people he can control. He controls a brand. Okay.
Same thing with Travis Scott. He controls a brand. He's dealing with this negative stuff because of the Astroworld Concert but he is a businessman. That's why he did those concerts, and that's why he does what he does. Because he knows he controls an entire group of people, who are influenced by what he says.
Whether it's Rick Ross, an entrepreneur, who is now a best-selling book author, these guys are changing right before us. I'm talking about entertainers.
And that's who I talk to on my show, and that is why I am welcoming people to come online to understand that in 2022, I will be talking to them, Kevin, but I will also be letting people know how to win with facts.