Radio Facts: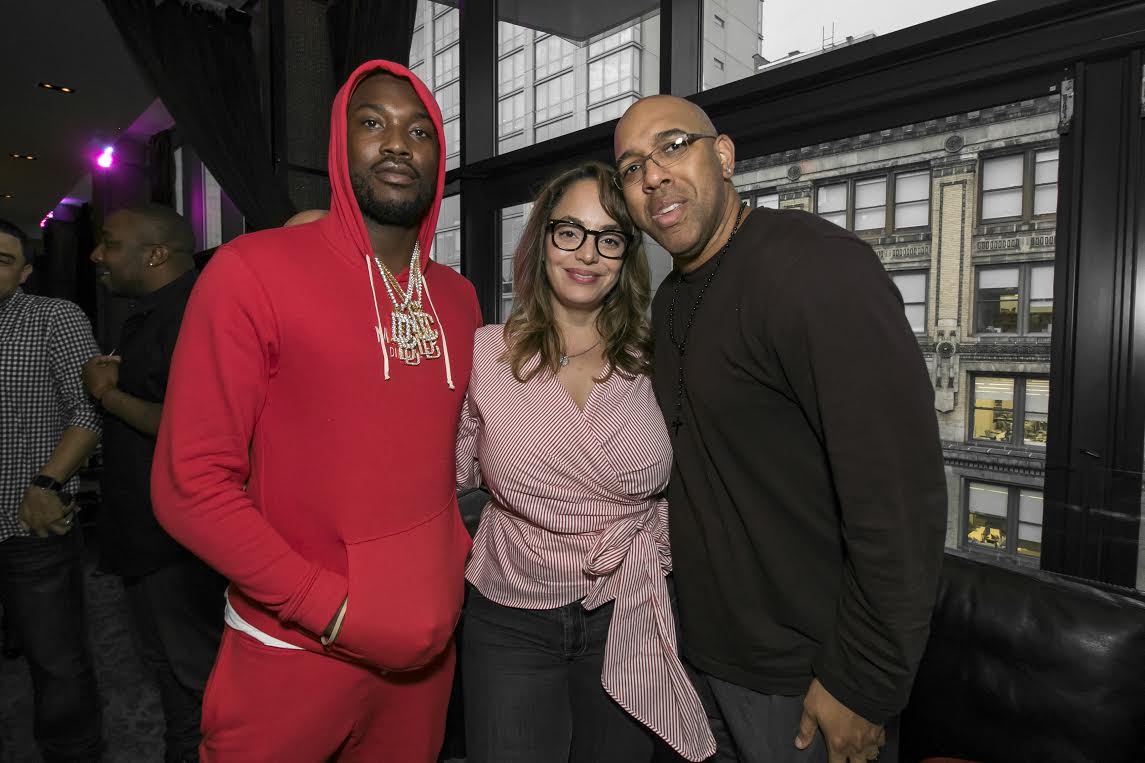 Meek Mill, Juliette, PD-iHeartradio Derrick DC Corbett
Juliette Jones – EVP Urban Promotions, Atlantic Records
Juliette Jones has worked in various positions during her time in the industry. Without a doubt, the varied experiences have helped her in her current position as the EVP of Urban Promotion at Atlantic records. I have known Juliette for several years and I love her straight-shooter approach to the industry. She is only scratching the surface of where she is headed and her story is inspiring and offers lessons on the benefits of reinventing yourself and not being afraid explore new opportunities.
KEVIN ROSS: Tell me about your background in the industry.
JULIETTE JONES: I started interning when I was living in Washington DC while going to school at the University of Maryland. I started out interning for Arlinda Garrett. I met her at work. And from there, I moved to NYC to intern at WBLS.
A friend of mine from college, her godfather was Percy Sutton who owned the station. Puffy was leaving his internship there to go to Uptown Records and I took his place at the station. I also started interning with Lionel Ridenour at Arista Records. I did that for a couple of years in NYC, making some great relationships along the way, including Funk Master Flex, who was very instrumental in helping me get my first job and [in] gain[ing] some credibility in the hip-hop business in the city at that time.
I got my first regional job with Jive Records in 1994. They moved me back to Washington DC. I stayed with the company until 2001 and held several positions there, including Mid-Atlantic Regional, South-East Regional, National Director and Senior National Director before departing. My next job was at "Hits Magazine" in Los Angeles. I stayed there a couple years [before I] returned to NYC at the end of 2004 to begin work at Virgin Records with Lionel Ridenour.
Virgin turned into Capitol Records during my tenure. In 2007, Ronnie Johnson joined the company and I ended up becoming the Head of Urban Promotions for the first time under his leadership. Unfortunately, he passed away at the end of 2007, and in 2008 I left the company. I took an involuntary sabbatical and moved to Paris for a couple months. I returned to the states to work for the great and brilliant Geo Bivins. I stayed there for [two] years and [then] left there to go to Warner Brothers Records to work with Joie Manda and Todd Moscowitz as the Head of Urban Promotions. That was the beginning of my current tenure at Warner Music Group.
You've worked in various positions in the industry. You even did a stint at HITS Magazine.  What was it like to work at an industry trade?
HITS was completely different from Jive Records. California was totally different from NYC. I'd never lived there before. The whole culture in the office was very casual and relaxed, but it was very interesting to work on deadlines collaboratively to put the magazine out while still working in and around the music business with a lot of my old colleagues.  Working for Dennis Lavinthal, Lenny Beer and Todd Hensley was incredibly educational and a lot of fun. They're definitely entrepreneurial guys who've seen and done a lot in the music business. I really appreciated the tone and texture of HITS as always a bit tongue-in-cheek and [it] doesn't take itself too seriously; that was definitely reflected in the environment in the office.
How important is it that industry people diversify their skills?
It's important for anyone in any business to constantly learn and grow and change as the world changes and as the business changes. That definitely applies to executives in the music business, as well. There's never a bad or downside to diversifying and broadening your skill set and your knowledge of different avenues of the business.
How has it been to witness the success of Cardi B escalate so quickly?
Watching Cardi B break so many records as a female MC with her first album, "Invasion of Privacy," has been nothing less than inspiring. She is extremely hard-working and incredibly likable so it's not surprising that she's having such tremendous success. Her authenticity and relatability continue to touch and inspire many, and the growth she has shown in such a short time is equally as impressive as all of her other accomplishments. I think we all can't wait to see and hear what she does next.
 
Tell us about some of your other artists.
It's an extraordinary time to work at Atlantic. It's extremely gratifying to be at the forefront with so many young stars like Lil Uzi Vert and Kodak Black, while our veterans Bruno Mars, Meek Mill, and Gucci Mane continue to break new ground. Each of these artists has been instrumental in making Atlantic the company it is today. We also have an amazing group of up-and-coming artists like Bri Steves, Joyner Lucas, Youngboy NBA, and Roddy Rich that we are super excited about.
Tell us about your management team.
I work for Julie Greenwald and Mike Kyser. They are both incredibly experienced and seasoned executives. What's most noteworthy about both of them is that, after so many years in the music business at a very high level, they still have a passion for the culture and the music.  They still love winning and I think it shows in the results. I really appreciate that they allow me to work independently for the most part, and provide help when I need it. It all starts at the top, and the results don't lie. We've had an amazing year and that's definitely due to their collective leadership.
What is the best advice you were ever given?
That's a tough one. I've been given a lot of really good advice. Early on, as it is with most young people in the industry, I grew up in the era of convention and, of course, I was 20-years-old and I would get caught up in the excitement of the stars in the building and in the lobby and all the celebrities – and that's when people still used to dress up. Arlinda had a friend who had been a big radio personality in the '70s, George 'Bugaloo' Frazier. I met him when I was an intern and the advice that he gave me was to remember that the artists couldn't necessarily help me reach my goals if I wanted to be an executive, to stay focused on what I wanted and that people who really believe in me would teach me to fish and not keep me begging. I never forgot that advice and I think it served me quite well through[out] the years.
What advice would you give a millennial or GenZ'er entering the industry today?
The best advice I can give millennials from my experience working with them is [the following]: Put the time and effort into things that interest you and where you want to excel and I think the results will show if you really apply yourself and put the time and effort in. If you're in a position where you're ready to make a change, just remember that all the experience and knowledge you gained along the way will result in you reaching your final destination. Every job may not be the perfect job at the perfect time, but each opportunity offers something to [add to] your personal and career growth along the path.