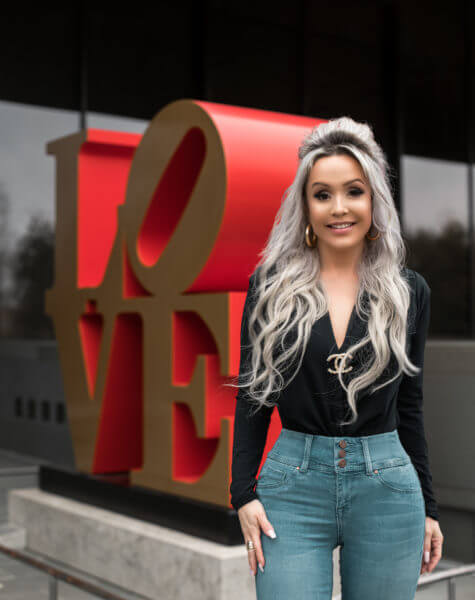 "I do like talking to famous artists, going to the Oscars to interview Hollywood superstars, etc., but, honestly, it's talking to people and knowing I've helped them that sticks in my mind"
By Nautica de la Cruz
Dana Cortez moved around a lot as a child so that was never a problem when it came to taking on new radio opportunities later on in life. She's lived in Midland-Odessa, Albuquerque, Houston and now she syndicates her show via ABC Radio from San Antonio, TX. While there are other Latina shows that have been syndicated, Dana is the first Latina to host a national morning show. She's bold in her approach to winning in the industry and says her greatest fear is regret.
NAUTICA DE LA CRUZ FOR From one Latina to another it is a pleasure to meet you! Every woman in radio has a story to tell, the ups and downs from the beginning of their career until now. Today we would like to honor you and your achievements with the Women of Color in Media Syndication Honor.
You're the first Latina to have a national morning radio show! How does it feel that all your hard work has paid off and that you're nationwide? Was this always a goal?
DANA CORTEZ: I had so many jobs as a young teen mom and radio happened by accident so this is still surreal, to be honest. From where I started in life and where I am today, sometimes I still can't believe it. My goal has always been "growth." I didn't think about syndication in the beginning, but as someone who's constantly seeking my next challenge, it quickly became something I wanted and strived to achieve. Oh, and it feels AMAZING! Tons of work that I welcome with open arms!
You're a bilingual radio personality. Do you think that it has helped you with expanding to other markets?
Loaded question! You're a Latina, you've probably been in my position when a PD, or someone, may ask, "Can ya speak a little Spanish so the people identify with you?" [laughs] Being bilingual is definitely a plus, and I'm extremely proud of my Mexican heritage [but], that being said, my program is in English. If I'm being honest, sometimes it's been more difficult in this industry because some in charge may not understand I'm just like everyone else. I'm a voice for all women, but especially for those who've been largely ignored for far too long.
What were the hardest challenges you faced or still face as being a woman in radio?
Opportunity. Having my own show, and the fact that's it's successful so early on, is proof that the audience is ready and actually DYING for something different. There is no syndicated show that sounds like mine. Period. I've never wanted anything given to me besides opportunity. As a woman in radio, I don't have the luxury of losing. Only other women will get that.
I know you may not want to be 100 % honest because you don't want to hurt anyone's feelings but who are some of your all-time favorite artists to interview?
Easy, BEYONCÉ. I've interviewed sooo many people, but how do you top that?! Even Kanye would agree.
In "Breaking Bad" you played a reporter. How did that come about and would you consider more TV/film roles? If so, what kind of role would be ideal for you?
Carmen Serrano (she plays the vice principal), a very good friend it mine, asked if I was interested in the part. I said yes, showed up to what I assumed was a conversation about my role, but turned out to be a casting call. I'm still shocked I got the job. It was a lot of fun and I'd definitely consider another part if it made sense. I actually made several appearances on "Breaking Bad" and different movies, each time playing a reporter, which wasn't difficult, so maybe next time I can play a radio DJ.
Besides your show, what are you currently focused on and most proud of?
Of course my family, but my weight loss journey is something I have to stay focused on. I lost 60lbs over 10 years ago and it's a battle daily to stay healthy, but I'm on it and back in the gym after taking a year off. I'm proud of myself because it's an ongoing struggle that I'm conquering.
You work with your husband, DJ Automatic, every day. How do you balance your work and personal life at home?
Very carefully. He's my executive producer and second mic, but also an extremely successful DJ. I think that helps a lot because when he travels, we genuinely miss each other and, on occasion, I go with him and we have a baby one-day vacation. I don't mind spending every moment with him, he's my best friend and love of my life. That being said, we aren't afraid to discuss our everyday issues on air or share with the audience [that] we may not like one another much that day. Why fake it?! No couple's perfect!
Most radio personalities never stop working after their four-hour shift. They watch entertainment news, look on Instagram, or Twitter. Are you constantly looking for content even on your day off?
I wish I could say no, but YES. I'm CONSTANTLY looking for content that I know will connect with my audience. I do have a couple of rules I follow that help; we all eat dinner together and no phones! Also, electronic devices off at 9:30 pm and I don't check social media until AFTER my first cup of coffee in the a.m.
For young Latinas or young women who have the desire to build a career in radio, what kind of advice can you give them?
Don't be afraid to ask for what you want, there's no such thing as failure – those moments are called LESSONS, and don't give up. My Nana used to say, "nothing worth anything is ever easy, mija." That advice has helped me through many hard times and still does.
Who are some of the people you credit as mentors in your career?
John Candelaria, JD Gonzalez and Bob Perry. John forced me into my morning show role at a time there were no women on the lead mic because he saw the need for change early on. I actually argued against myself because I thought all radio queens did "middays." He literally changed my life and I'll forever be indebted to him. Although I just met her a few months ago, I'm going to mention Thea Mitchum, not as a mentor, but as inspiration. Notice all my mentors are men and, of course, because there are so few women in leadership roles in radio so I'm grateful Thea and I crossed paths.
Did anyone in the past give you good advice that you still practice today?
I've had so many people share amazing advice, but when Pete Manriquez would say, "keep it simple, stupid," that stuck! He wasn't calling me stupid, it's just something he would always say and they are wise words. I always try to remember, there's genius in simplicity.
What are some of your most memorable moments in radio that you will never forget?
I do like talking to famous artists, going to the Oscars to interview Hollywood superstars, etc., but, honestly, it's talking to people and knowing I've helped them that sticks in my mind and heart the most. One time we were giving away Thanksgiving meals on-air and an eight-year-old boy called and asked, if he won, could we please cook it because he didn't have a stove. By the end of the day our entire community had furnished his home, donated appliances and he and his little brother got to sleep on a bed that night with full bellies. And THAT'S why I love this gig so much.