MELLO YELLO–
The Incredible Story of Jack The Rapper
First African-American Radio DJ – Jack The Rapper GibsonMentor to 40 Years of Musical Superstars
as told to Walker Smith Foreword by Nelson George
"I'm a ghetto man who made good. I never forgot where I came from and who put me on top — God and Jack The Rapper." ~ James Brown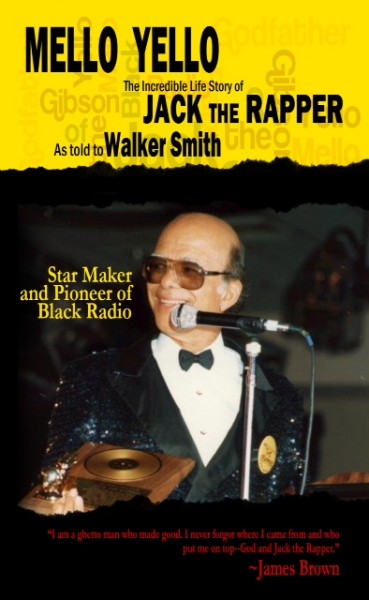 If ever one man embodied the black experience in America, it was Jack Gibson, known to the world as "Jack the Rapper." 
Beginning with childhood remembrances of Marcus Garvey in the 1920s, Gibson continued to cross paths with the most famous African American personalities of the 20th century.  
Directly and indirectly, Gibson opened doors and launched the careers of several noted radio personalities and superstars. 
His long reaching influence began in 1949, when he and J.B. Blayton established the first black-owned radio station in the United States — WERD.
Gibson's popularity on radio paved the way for a lifetime of career moves.  As an emcee and promoter, he built enduring relationships with the early black royalty of the entertainment world, among them, Sammy Davis, Jr., Billie Holiday, Erroll Garner, Sarah Vaughan, Nat King Cole, Pearl Bailey, Dinah Washington, Nancy Wilson, and Ray Charles. 
When he was hired by a young go-getter named Berry Gordy to head up promotion at a fledgling record company called Motown, Gibson befriended a new crop of stars including Stevie Wonder, The Supremes and Smokey Robinson. 
Moving on to the Revelot label, and then to Stax, Gibson's uncanny timing once again placed him in a position to further the careers of promising future stars: Otis Redding, Jackie Wilson, Isaac Hayes, The Staple Singers, Rufus Thomas, Carla Thomas and many others.  
In addition to his involvement in the music scene, Gibson gave voice to one of the most critical periods of American history — the Civil Rights Movement.  In a long on-air interview with Malcolm X in 1963, he shared some anger and even a few laughs with the controversial spokesman for the Nation of Islam. 
In 1968, when the news broke about the assassination of Martin Luther King, radio and television announcers immediately dismissed the angry reaction as "senseless violence."
Enraged by the one-sided reporting, Gibson rushed into the streets of Detroit to conduct a live radio broadcast.  As the neighborhood burned around him, he captured the tearful frustration of a people mourning the death of their last hope for true equality.  
But as the years rolled on, Gibson witnessed positive changes, pushing them along whenever he could and always reporting them. And his life experiences ran the gamut from tragedy to hilarity: ·        
Bailing out Sammy Davis Jr., who had been arrested in 1952 for being black and walking the streets of Miami Beach without his I.D. card after sundown; ·        
A rare look at the humorous side of Supreme Court Justice Thurgood Marshall; ·         Radio interviews "by window" with Martin Luther King; ·        
An unusual account of role-reversal, involving Muhammad Ali; ·         An interracial love affair for film star Bette Davis;·        
A touching tale about honoring the legacy of the late Jackie Wilson   But Gibson's most long-reaching achievement was the annual black music convention he called "The Family Affair." 
As founder and organizer, Gibson not only provided the ultimate springboard for new talent, but he established a forum for discussions, which culminated in sweeping changes for African Americans in radio and the recording industry. 
The heavy hitters of the music industry cleared their schedules each year to lend their talents to the Grand Old Man's Family Affair:  Prince, Tina Turner, Nancy Wilson, Janet Jackson, James Brown, Whitney Houston, Eddie Murphy, Hammer, Toni Braxton, Sinbad . . . and the list goes on like a "Who's Who" of entertainment superstars.  
A string of tragic events eventually toppled Gibson from his position of influence — the death of his beloved wife Sadye, estrangement from his son, and finally, financial failure and the demise of his Family Affair. 
But after his induction into the Rock and Roll Hall of Fame, other unexpected honors slowly began to roll in: The United States Congress, the Smithsonian Institution, and countless other organizations. 
With decades of stories and music still alive in his soul, and buoyed by the reconciliation with his son, Gibson returned to his roots — radio.
Nearly fifty years after his beginnings at WERD, Jack the Rapper's voice once again crackled across the airwaves in Las Vegas, Nevada, proclaiming three simple words: "I'm still here."  
Shortly after completing his "as told to" autobiographical collaboration with Walker Smith, Jack Gibson passed away in Las Vegas, Nevada.  He is survived by his loving wife Elsie, his daughter Jamilla Gibson Bell, and his son "Jack 3" Gibson. 
His last wish was that the book of his life be published and widely read so that this missing Black chapter of American History would not be forgotten.