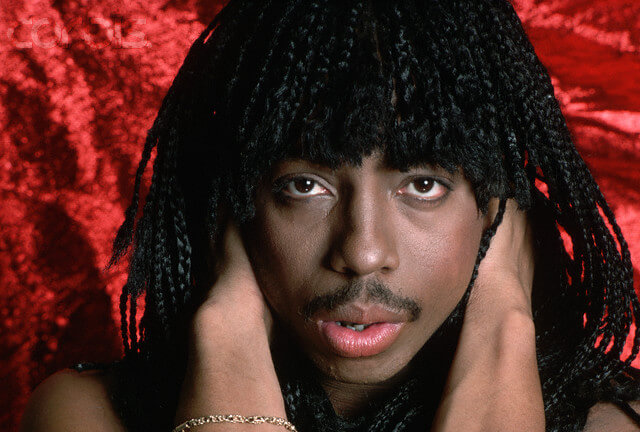 Rick James, the "Super Freak" hitmaker singer, producer, innovator and award-winning pioneer in the fusion of funk, R&B, rock and soul was a vagrant hippie in the 1960s who wandered to Toronto, where he ended up playing with Neil Young and Joni Mitchell, only to end up a hybrid superstar in the '80s thanks to his hit song, "Super Freak." An incorrigible bad boy caught up in bad boy ways since his passing from heart failure in 2004, he has remained a legendary icon whose contributions to music can be felt in the likes of Prince, Jay Z and Snoop Dogg, among countless others.
On July 8, Universal Music Enterprises will reissue James' entire Motown catalog in a 109-track Complete Motown Albums digital box set, which includes all nine albums and a selection of bonus tracks. The reissues will coincide with the publication of his authorized biography, Glow, written with acclaimed author David Ritz on Atria Books (Simon & Schuster).
Five of James's nine Motown albums will receive separate digital releases, three of them – 1983's #1 R&B gold-certified Cold Blooded, 1985's Top 10 R&B effort Glow and 1986's The Flag – will be reissued for the very first time, and all contain original 12-inch versions as bonus tracks. Two additional albums – 1978's double-platinum Come Get It! and 1979's platinum #2 R&B release Bustin' Out of L Seven – will be remastered and re-released digitally with new bonus tracks. All five will be Mastered for iTunes (iTunes.com/RickJames). This ensures that the music is delivered to listeners with increased audio fidelity that more closely replicates what the artists, recording engineers and producers intended. James' four other Motown releases, also available individually – 1979's Top 5 R&B gold-certified Fire It Up, 1980's gold Garden of Love, 1981's Top 3 pop, triple-platinum Street Songs (which includes "Super Freak") and 1982's #2 gold Throwin' Down – will be part of the nine-album Complete Motown Albums digital box set available at all online retailers which includes 109 tracks, featuring rare instrumental 12-inch releases only available as part of this offering.
In addition, UMe will release six new Rick-James associated albums never available digitally, including three from his back-up band Stone City Band – rick james Presents Stone City Band In 'N' Out (1980), The Boys Are Back (1981) and Out from the Shadow (1983) – as well as rick james Presents Bobby M.: Blow (1982) and Val Young's 1985 album, Seduction, which features her hit "If You Should Ever Be Lonely," all on July 8. Finally, the super rare White Cane album, The Great White Cane, originally released by Lion/MGM, will be available for the first time since 1972 on July 15. The Canadian-American horn-rock outfit featured James, who wrote or co-wrote all the songs and sang lead, with the album co-produced and engineered by Jimmy Ienner, who was then also producing the Raspberries and would go on to an illustrious producing and consulting career. A previously unreleased Mary Jane Girls album, Conversation, featuring the single "Walk Like A Man," will follow this summer. These digital albums join three already-available rick james productions, including Teena Marie's 1979 bow Wild and Peaceful along with Mary Jane Girls' pair of gold albums, their self-titled 1983 debut and the 1985 follow-up, Only Four You.
Rhino Records will release two albums from Rick James' stint at Reprise Records including the fabled album Kickin', which was shelved in 1989 and is now available for the first time in any format, and 1988's Wonderful, featuring the #1 R&B duet with Roxanne Shanté "Loosey's Rap."
rick james was a larger-than-life figure, a musical trailblazer who anticipated the synthesis of funk and rock with his expansive catalog. "My journey has taken me through hell and back," he says in Glow. "It's all in my music – the parties, the pain, the oversized ego, the insane obsessions."
His "Glow" could be heard in his prodigious musical output, someone whose catalog has left a pop culture legacy that is hard to top.