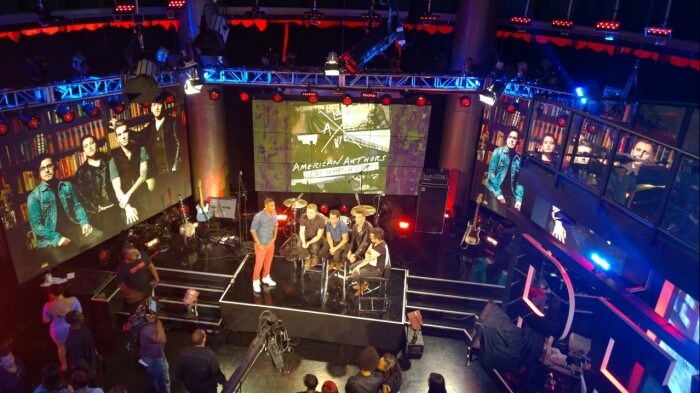 American Honda and REVOLT have launched the Honda Stage at REVOLT Studios, which will deliver in-studio performances and live artist interviews for broadcast on REVOLT TV. Debuting as part of the groundbreaking new Honda Stage music platform, the content will also be available via the iOS and Android REVOLT apps, and on the all-new Honda Stage YouTube Channel at www.youtube.com/HondaStage. The Honda Stage at REVOLT Studios is located at Hollywood and Highland in Los Angeles.
"Our collaboration with REVOLT will develop cutting-edge content for Honda Stage and provide a vast digital network where that content can be viewed anywhere and everywhere, at home or on the go," said Nick Lee, Honda National Advertising Manager, American Honda Motor Co., Inc. "REVOLT's state-of-the-art studios will enable us to deliver Honda Stage performances, interviews and interesting content to their rapidly growing fan base."
The Honda Stage at REVOLT Studios hosted its first two performances in mid-June featuring Jungle and American Authors, which were broadcast on REVOLT TV. Honda Stage's first live performance hosted the world television debut of Jungle, a UK modern, soul group, performing their track, "Busy Earnin'." Additional June highlights from the Honda Stage at REVOLT Studios include performances and interviews from Metronomy, The Game, DJ Quik and DJ Khaled.
On June 11 Honda announced its lineup for the forthcoming 2014 Honda Civic Tour, comprised of three successive tours featuring different headliners for each leg. One of the Honda Civic Tours will feature American Authors, who helped launch the Honda Stage during the network's flagship show, "REVOLT Live," by performing, "Believer": https://honda.us/AAuthorsREVOLT.
REVOLT will host over 30 live performances on the Honda Stage, as well as conduct artist interviews, over the next 12 months. REVOLT will also cover major Honda Stage events including the 2014 Honda Civic Tour, Governors Ball, Music Midtown Festival, and Austin City Limits Music Festival. Further support for Honda will include REVOLT custom Honda Stage marketing and media to feature model launches including the all-new 2015 Honda Fit, the upcoming Honda HR-V subcompact SUV, and the Honda Civic, which will live across all screens.
"REVOLT is beyond excited to join Honda's ground-breaking music initiative, building on their concert roots," said Bob Gruters, EVP, Ad Sales and Integrated Marketing, REVOLT. "We are live every day hand-making our content and super-serving music fans through curation, introducing new artists and breaking music news with Honda."
Honda Stage is a unique 360-degree, multi-platform music program designed to meet music fans where they are already searching for and consuming music. This new music platform brings together an unprecedented group of entertainment and technology leaders, including REVOLT, to produce and distribute some of the best original, high-quality, music content available under the new Honda Stage name, through dozens of live events and exclusive online content.