Radio Facts: Radio Facts: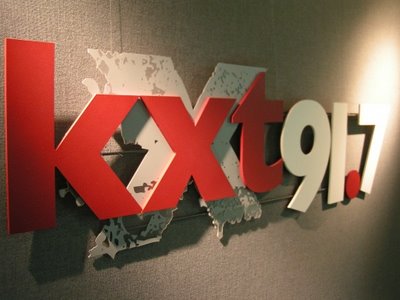 VuHaus is proud to
announce
the addition of
KXT
91.7 FM Dallas/Ft. Worth as a participating Radio Station in the VuHaus network. VuHaus ("view house") is a non-profit collaboration of public radio's leading
music discovery
Radio Station s that have joined together to build a video service so
audiences
can
watch
rare in-studio performances of emerging artists, one-of-a-kind interviews of their favorite musicians, and live performance streams, all housed under one roof.
KXT
91.7 FM will join
public radio
Radio Station s WFUV in New York City, KCRW in Los Angeles,
KEXP
in Seattle, WXPN in Philadelphia, KUTX in Austin, and KTBG The Bridge in Kansas City.
The VuHaus network of Radio Station s are the country's leading engines for music discovery, constantly finding and handpicking
artists
and songs that will be household names soon. The contributing Radio Station s film local, emerging and established
artists
playing live music in their studios and on location, and these videos are then curated on the nationally-curated VuHaus mobile app and website. Each VuHaus Radio Station also curates their own local channel on the VuHaus site, giving fans a unique window into the country's most vibrant music scenes.
"Listeners turn to
KXT
91.7 FM for a unique music experience," said
KXT
Program Director Amy Miller. "Our partnership with VuHaus will expand the reach of the video content
KXT
91.7 FM is already producing and bring our audience additional content they won't
find
anywhere else. We're excited to join such a well-respected group of Radio Station s in this collaboration."
"Dallas has a great music scene, and
KXT
is at the heart of it. We are thrilled to add KXT, and the
artists
they support, to VuHaus," comments Erik Langner, president of VuHaus.
KXT
91.7 FM will be curating the VuHaus Dallas channel, and adding amazing footage from up and coming
artists
to the VuHaus archives, like exclusive solo acoustic version of "Lost in a Crowd" from Fantastic Negrito; Hozier's "Take Me to Church," performed on a bridge; Laura Marling's "Strange," shot for KXT's On the Road series at SXSW; Violent Femmes "American Music;" Father John Misty "Bored in the USA;" and Brandi Carlile "The Eye."
VuHaus, which received initial funding from the Corporation for Public Broadcasting, will
announce
the addition of more Radio Station s soon.