iHeartmedia's Steve Harvey Morning Show on WHUR 96.3 FM talks to Roscoe Wallace about the recent boycotting of the 2023 Grammys by Black artists. Several artists have called out the Grammys for not recognizing their art.
The Silk Sonic pair, Bruno Mars and Anderson.Paak, are the most recent artists to decide not to submit their debut album for consideration in the 2023 Grammy Awards.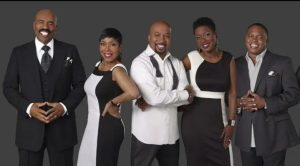 The Recording Academy has been plagued with issues for most of the years the Grammys were held. There is a perceived lack of transparency in the nomination process as well as a lack of gender and racial diversity among the nominees.
The Weeknd, Drake, Nicki Minaj are among the artists who have called out the academy for exhibiting unfairness. Drake spoke out about how he is honored with awards he didn't want and for nominating him in categories that are inaccurate.
The Weeknd's Dawn FM and Drake's number-one album Honestly, Nevermind were not submitted for consideration in 2022, making it the second consecutive year that these well-known musicians have been absent from the Grammys.
Although the singer of Blinding Lights became enraged with the organization this year when his popular album After Hours was passed over for nominations in all the main categories, Drake's conflict with the Recording Academy extends back to 2017.
On the Steve Harve Morning Show, Shirley Strawberry jokingly invites Roscoe to submit his music to the academy. Roscoe laughed and said there won't be a Grammy in 2023. He added that if the Black artists pull out of the Grammy, you won't have a Grammy.
The 2023 Grammy Awards voting ballots were made public on October 14 when the Recording Academy unveiled five new categories, including Best Song for Social Change.
The nominations will be made public on November 15 in advance of the ceremony on February 5 at the Crypto.com Arena.