BMI Sets Revenue Records With $1.283 Billion - Company Distributes $1.196 Billion to its Songwriters, Composers & Publishers, Up $78 Million Over Previous Year
BMI (Broadcast Music, Inc.) ended its fiscal year on June 30 once again breaking revenue records with $1.283 billion, up 7% over the previous year. BMI also distributed and administered $1.196 billion to its songwriters, composers and publishers, its highest distributions ever, and a 7% or $78 million increase over last year. These results mark the most reported public performance revenues and highest royalty distributions of any music rights organization in the world. In making the announcement, BMI President & CEO Mike O'Neill, said, "BMI values the trust our affiliates place in us, and we are gratified to once again generate record revenues on their behalf. Our achievements are a direct result of the unrivaled creativity of the songwriters and composers we represent and the worldwide popularity of their music." O'Neill added, "We always strive to do better, and we will continue to work hard to champion the rights of our creators and protect the value of their copyrights." The $1.196 billion in total distributions includes domestic and international royalties, as well as royalties from direct deals that BMI administers on behalf of its publishers. Distributions from direct deals grew $9 million in FY '19 for a total of $62 million, holding steady at 5% of BMI's total distributions. The company achieved these milestones while maintaining its record-low overhead rate. When factoring in the impact of direct deal administration, BMI continues to distribute nearly 90 cents of every dollar directly back to its songwriters, composers and publishers. BMI's total domestic revenue, encompassing digital, media and general licensing, topped out at $943 million, a $63 million, or 7%, increase. That growth was driven by a $47 million increase in digital revenue, up 22% year-to-year for a total of $262 million. New deals with the growing video-on-demand streaming market, including Twitch and Amazon Channels, as well as new licensees in the eFitness market, such as Peloton and Flywheel, helped drive that success. General licensing, which is generated from businesses like bars and restaurants, hotels and fitness centers, along with other income, also posted record results of $169 million, an 8% gain year-to-year, representing 18% of BMI's domestic revenue pie. The company added approximately 16,500 new businesses to its growing portfolio in this sector. Revenue from cable and satellite sources once again generated the largest portion of BMI's domestic revenue at 30%, while traditional radio and television accounted for 24% of the overall domestic total. Notably, BMI's digital revenue has now grown to encompass 28% of the company's total domestic revenue portfolio and is now the second biggest contributor to that total. BMI's international revenue also reached an all-time high of $340 million, an increase of $21 million, or 7% over the previous year. The strength of BMI's repertoire of film, television and songs helped the company achieve these record results in spite of a negative foreign exchange hit of $23 million caused by the strengthening dollar overseas. In addition, BMI saw its affiliate membership surpass one million for the first time ever, with over 90,000 new songwriters, composers and publishers joining the organization this year. Notable new signings included Lil Nas X, Kendrick Lamar, Brandi Carlile, Willie Colón, and Sarah Schachner, among others, while agreements were extended with Imagine Dragons, Eminem, Shakira, John Legend, Harry Gregson-Williams, Eric Church, P!nk, Rihanna, Ben Decter, J Balvin, Hozier, Halsey, Horacio Palencia, and many more. BMI processed 2.19 trillion performances in FY '19, a 29% increase over last year. Of that total, 98% were digital performances, reinforcing the critical need for fair compensation for songwriters, whose musical contributions provide the very foundation of the streaming services' businesses.
[caption id="attachment_235325" align="aligncenter" width="600"]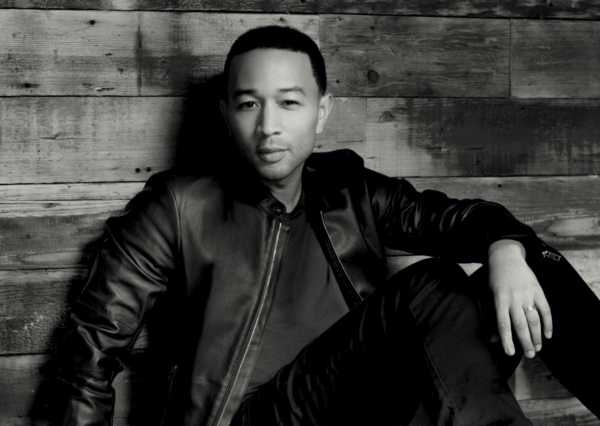 Sony Music[/caption]
John Legend held a surprise performance on Sunday night for survivors and families of the victims of the recent Dayton shooting.
The singer, who is an Ohio native, traveled to Dayton and visited the city's Oregon District where the tragedy took place. Dayton Mayor Nan Whaley took Legend to different shops in the area and introduced him to families of the shooting victims as well as employees of the city's gift store Heart Mercantile. Legend also participated in a press conference, calling once again for gun reform in this country. "I just wanted to support Dayton and this area," the singer said before his performance. "I grew up in Springfield. We were all struck by this tragedy. Continue to support each other and be as loving and caring as we can with each other, and then I think we have to vote as if our lives depended on it because they really do. We need to vote for politicians that will support gun safety measures." Watch more of the press conference below. https://www.youtube.com/watch?v=s0EmXT83P5A A lone gunman opened fire outside crowded bars in Dayton on Sunday, August 4 , killing nine people and injuring several others. He was then shot and killed by police at the scene. After the press conference, Legend performed a few of his hit songs hoping "to try to help bring comfort to some of the survivors of last week's tragedy." Mayor Whaley was grateful to the singer for taking the time to visit the city in its time of sorrow. "Such a big thank you to Springfield native @johnlegend for coming to shop in the Oregon District and talk about sensible gun reforms. #DaytonStrong," she shared on Twitter. https://www.instagram.com/p/B1C203Ulixk/?igshid=wwf4k4jhwc1u An employee of Heart Mercantile echoed the mayor's sentiment. "It felt like the first positive beautiful moment we've felt all week," Alison Bohman told CNN. "We loved each other so hard. And John loved us."    
[caption id="attachment_219661" align="alignnone" width="2048"]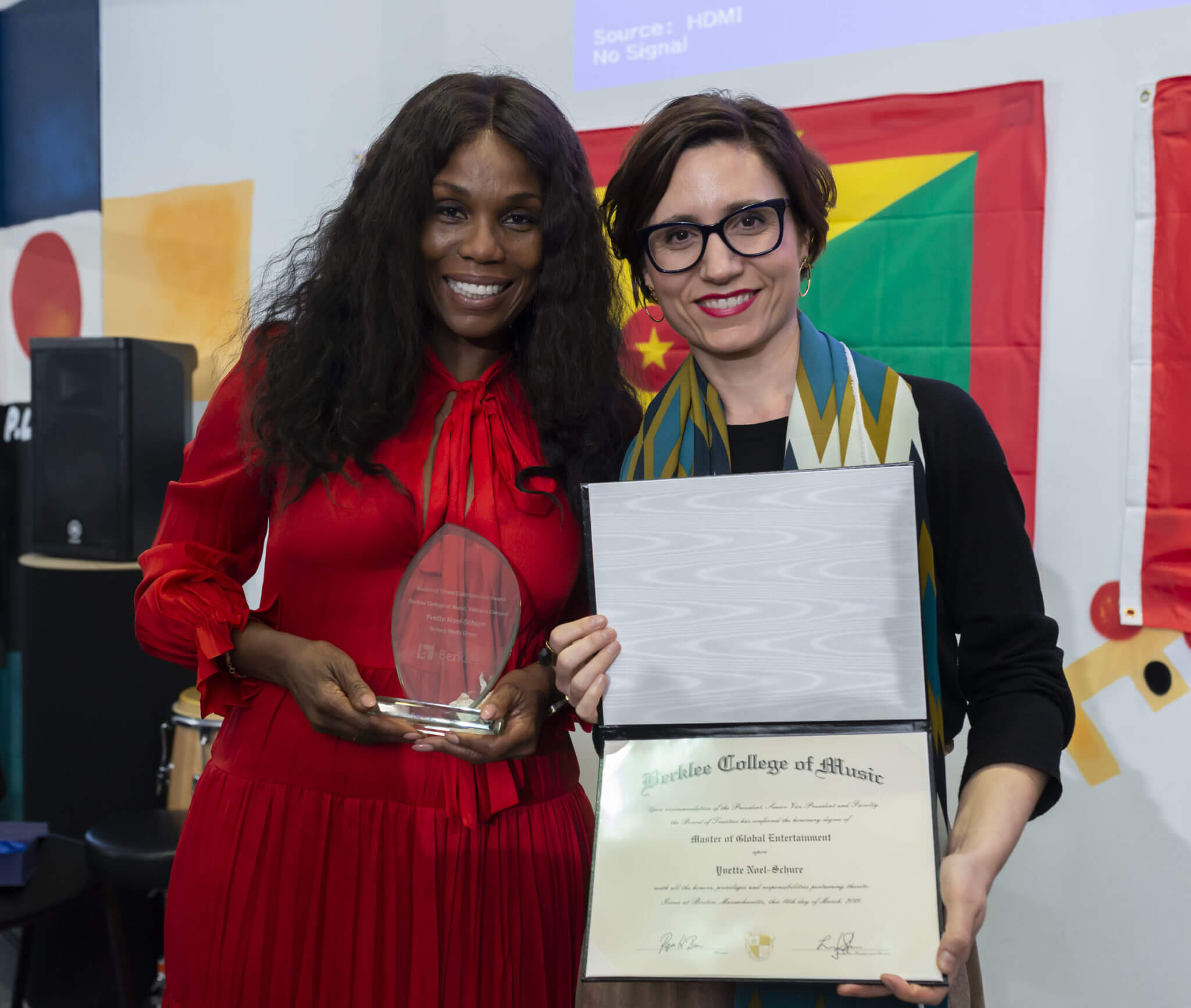 Yvette Noel-Schure with Maria M. Iturriaga, Executive Director Berklee Valencia. Photo by Tato Baeza.[/caption]
Yvette Noel-SchureReceives Berklee's Master of Global Entertainment Award at Berklee's Campus in Valencia, Spain
Yvette Noel-Schure, highly-regarded music and entertainment PR executive, was presented with Berklee's first Master of Global Entertainment Award by María Martínez Iturriaga, executive director of Berklee's campus in Valencia, Spain. The award was presented at a March 14 event in Noel-Schure's honor at Berklee Valencia. Yvette Noel-Schure with Maria M. Iturriaga, Executive Director Berklee Valencia. Photo by Tato Baeza. (PRNewsfoto/Berklee College of Music Valencia) Yvette Noel-Schure with Maria M. Iturriaga, Executive Director Berklee Valencia. Photo by Tato Baeza. (PRNewsfoto/Berklee College of Music Valencia) The respected industry veteran is known for her work with Beyoncé, Prince, John Legend and many others. "Yvette Noel-Schure is the most relevant PR professional within the music and entertainment industry today. Her passion and dedication to the artists she represents makes her an example to other colleagues and for future generations of industry professionals." "We are deeply grateful for her commitment to Berklee," Iturriaga continued, "particularly to the Valencia campus, where, throughout the years, she has provided our students with a wider multicultural and inclusive approach towards their future role within the music industry. We are confident that this will result in an outstanding generation of executives among which Berklee students will proudly hold her legacy." "Berklee is in my heart for a number of reasons," Noel-Schure said. "People like me, women and men who have had long careers in this business, need to learn from those coming. It is also important to teach what we have learned, to pass down the knowledge, so future generations can do even better than you did. For that Berklee is the best." At the award ceremony, held at the library on campus, Berklee students paid tribute to her career achievements by performing spoken word poetry and conducting a question and answer session where Noel-Schure delved into her thirty-year experience in the field, the future of the industry, and the role of women in the music and entertainment business. Noel-Schure has continuously shown a deep commitment in this regard by taking part in several seminars and symposiums at Berklee Valencia and encouraging the industry to make changes that empower real equity in the sector. At Berklee Valencia, she is also a mentor for the Berklee Outstanding Women Scholarship to support musicianship and leadership of women in the music industry. The Grenada-born publicist and vice president of Schure Media Group has developed press campaigns for a diverse roster of artists, including Mariah Carey, Will Smith, Jessica Simpson, Prince, John Legend, Adele, Wyclef Jean, Destiny's Child and for each of that group's members: Kelly Rowland, Michelle Williams, and Beyonce; as well as media launches for Maxwell's BLACKsummers'night and Beyoncé's I Am … Sasha Fierce. Berklee's Master of Global Entertainment Award recognizes industry leaders who have dedicated their life and career to music and entertainment on a global scale by promoting multicultural diversity while developing opportunities for individuals from underserved communities to make their way into the industry.
Music Industry Veteran Lisa Ellis Joins SoundCloud as Global Head of Music & Artist Relations
SoundCloud announced today that music veteran Lisa Ellis will join the company as Global Head of Music & Artist Relations.
Ellis will join SoundCloud's executive leadership team and lead its global artist and label services team. In her role, she will be SoundCloud's liaison to the global creative community, working with artists, managers, and labels to help them grow across SoundCloud's unique, creator-driven ecosystem. She will be based in SoundCloud's New York office and report to Chief Executive Officer, Kerry Trainor.
"Lisa has spent decades championing artists," said Kerry Trainor, Chief Executive Officer, SoundCloud. "She's a passionate music executive, whose leadership, experience and strategic vision will be an asset to the team and our partners. Her connection to the creative community, understanding of the unique role SoundCloud plays in launching creators' careers and helping them connect with fans is invaluable, and will help us continue to empower and grow the largest, most diverse community of audio creators."
"Among streaming platforms, SoundCloud stands out as a truly differentiated offering by keeping creators at the center of everything they do," said Lisa Ellis, Head of Music & Artist Relations, SoundCloud. "I'm excited to work alongside a dynamic, forward-thinking executive team, and join a company that provides a unique discovery experience by bringing together music and technology to support, elevate and celebrate  creators of all kinds, with a particular focus on emerging talent."
Ellis joins SoundCloud as a Principal Partner at Provenance Ventures, a holding company for Provenance Media, a television and digital content development and production company, and also Provenance Films, a feature film development and production company, where she will continue to serve in an advisory role.
Prior to joining Provenance Ventures, Ellis was Operating Partner at Fireman Capital Partners where she was an investment partner and advisor to the high growth luxury team that focuses on consumer products, fashion, sports brands and consumer retail. She continues to work with the group as an advisor on special projects.
Before Fireman Capital Partners, Ellis held multiple roles at Sony Music Label Group. This included Executive Vice President, Sony Music Label Group, where she oversaw overall label creative and operational management for Columbia and Epic Records, in addition to the digital business and initiatives within all of the labels under Sony Music Label Group; and President and General Manager of Sony Urban Music where she launched and developed careers for artists on the Columbia and Epic Records rosters.  In addition, she held the role of Senior Vice President, Strategic Marketing and Television / Film / Commercial Music Licensing, as well as a number of leadership positions within its radio promotions teams.
Over the span of her career, Ellis has played an instrumental role in the development, planning and branding of many artists such as: Prince, Michael Jackson, Destiny's Child, Beyoncé, Mariah Carey, Ricky Martin, Marc Anthony, Will Smith, Jessica Simpson, Lauryn Hill, John Legend, Nas, Maxwell, Three 6 Mafia, Cypress Hill, and Kanye West's label G.O.O.D, the SoSo Def roster, and Loud Records, among others.
Ellis is a member of the Board for Nat King Cole Generation Hope, and an Advisory Board Member of Girls Make Beats, a non-profit that focuses on developing female producers and songwriters.