The Ticket Drives More Than $294,000 to DFW Charities in Just Over One Month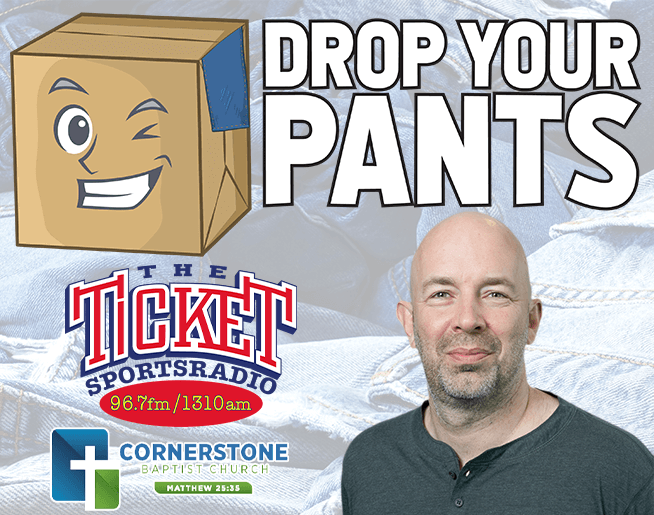 CUMULUS MEDIA announces that DFW Sports/Talk radio station, Sportsradio 96.7 and 1310 The Ticket (KTCK) raised $105,972 for Dallas non-profit organization, Cornerstone Clothes Closet through its 7th annual Drop Your Pants Clothing Drive. The two-week fundraiser culminated on Wednesday, September 16th, with all proceeds benefiting Cornerstone Clothes Closet and its mission to clothe DFW's homeless. Cornerstone Clothes Closet is a branch of Cornerstone Baptist Church in Dallas.
Bob Sturm, afternoon co-host of The Hardline from 3pm-7pm on The Ticket, spearheads the annual Drop Your Pants Clothing Drive. Sturm remarked: "Absolutely floored that our listeners got behind this in such a big way and helped us manage a virtual Drop Your Pants this year. I could not believe we broke $100,000 in donations after our initial goal of about $30,000. The listeners of this radio station never cease to amaze me with their generosity in supporting incredible causes in our community. Cornerstone Clothes Closet will be changed for years because of it. Along with Pastor Chris Simmons and the amazing Nancy, thank you!"
Drop Your Pants is The Ticket's third major fundraiser since August to drive donations and awareness of local non-profit organizations benefiting the DFW community. Other efforts include: Jub Jam IX on August 21st, which raised over $66,500 for The Senior Source, and Donnie's DFW Domino Classic on September 4th and 5th, which raised over $122,000 for At Last Boarding, benefiting Dallas-area children. In just over a month, The Ticket, its partners, sponsors, and listeners have joined together to raise a total of more than $294,000 for local charities.