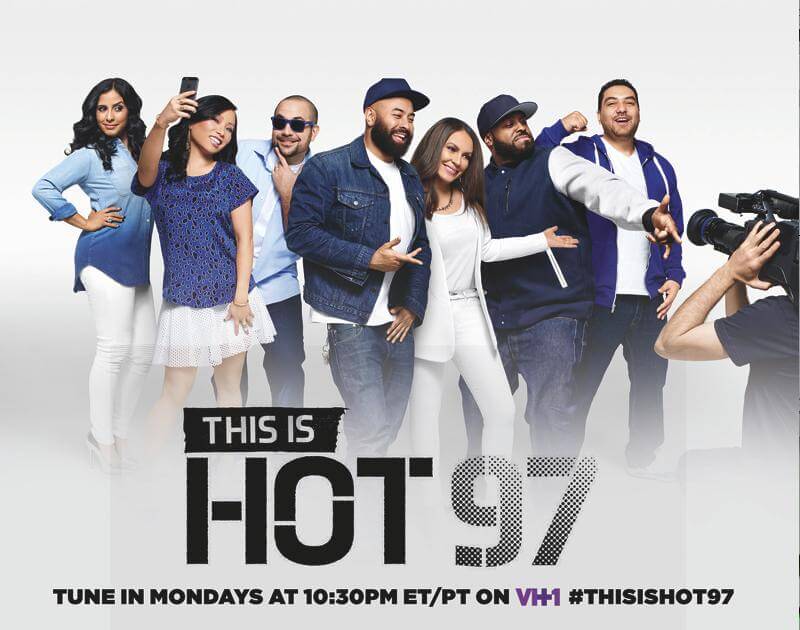 Known as the place "Where Hip Hop Lives," New York's globally recognized #1 radio station HOT 97 has teamed up with VH1 to give as an insiders point-of-view into the world-renowned radio station with the premiere of "This Is HOT 97." The show starts Monday night, March 31 at 10:30 PM ET/ PT.
We have already watched the first episode of "This Is HOT 97" that will premiere tonight on VH1 and it seems to be more of a satire about radio station life. Imagine if the "The Office" added a hip hop music element to it and you would have "This is Hot 97." In first episode alone, viewers will get to see Kanye West, Macklemore, and a few other celebrities to go along with the Funk Master Flex's and Angie Martinez's of the world.
We had the opportunity to talk to current PD and morning show host, Ebro, Peter Rosenberg, Cipha Sounds, and Laura Stylez about their roles and what we can expect from the entire season of "This is Hot 97." After listening to their morning show quite a few times and finally talking to them, I can confirm that they are definitely an entertaining and comical bunch with just the right touch of sophistication when it's necessary. (CLICK NEXT TO SEE WHAT THEY HAD TO SAY)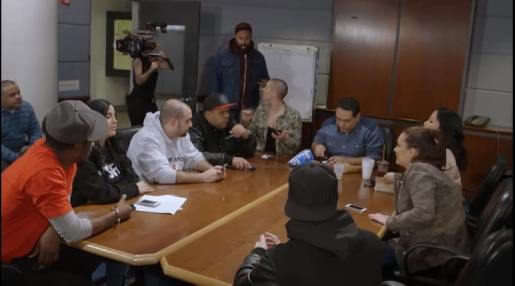 RADIO FACTS: After watching the first episode of the show, it seems to be like a satire As I watched it I felt like I was watching the hip hop music version of "The Office." Was that the intention behind the show?
Peter Rosenberg: Absolutely! You said the magic words. That was exactly what we were going for. The influence behind our show is like "The Office," "30 Rock," "Curb Your Enthusiasm," and all of those shows like that. But we are definitely on another level than all of those shows but that is definitely the feel of the show.
RADIO FACTS: As I watched previews of some of the upcoming shows, I see that they followed you Peter into what looks to be your home. Does the show tap into all of your personal lives or does it mostly remain at the station?
Peter Rosenberg: It gets the most personal for me because I am a hog. I was very quick to volunteer. My wife has an aspiring television career as well so I thought it was a good idea.
Cipha Sounds: He pimped out his wife!
Peter Rosenberg: Yeah I did. My wife is hot! Actually there is not a lot in people's home but they do follow us outside of the station. I think i'm the only one who was actually filmed in my home. (CLICK NEXT FOR MORE OF THE INTERVIEW)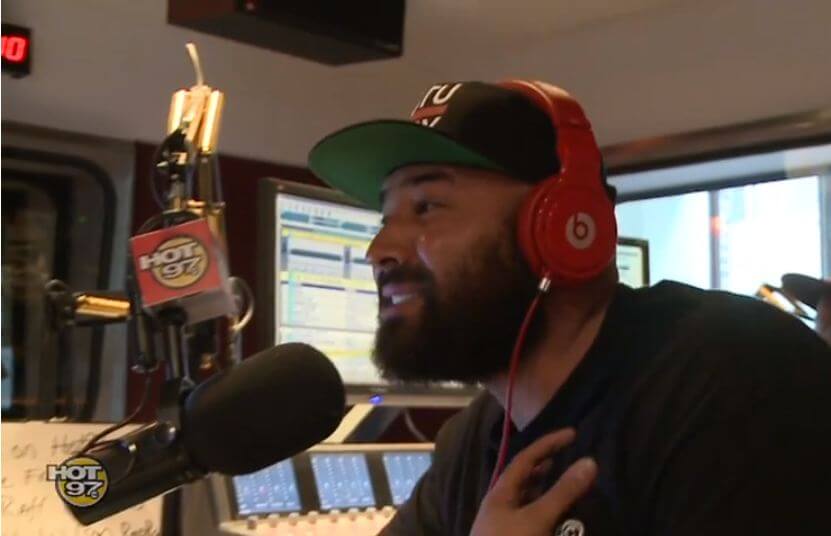 RADIO FACTS:I often listen to your morning show and I watched various youtube clips of the show. Will there be any of those classic debates between Peter, Cipha Sounds, and Ebro regarding commercial and underground hip hop music and what should be played on the station?
Ebro: I don't think we will because we do that stuff on the radio and we are trying to offer something different for the TV show. We kept it more about having a good time at the radio station but we definitely will still have those debates on the radio station, online, and shit like that. This show is really a good time and about allowing the world to come in and see some people working at the radio station that care about each other and having a good time doing it.
Ebro I know you are still handling PD duties until you all find a replacement but since you have officially stepped down as the PD of Hot 97 to do the morning show will we actually see the new PD on any episodes of "This is Hot 97?"
Ebro: Yeah if we could ever find one!
Peter Rosenberg: Last time I checked Ebro was still doing all the work.
RadioFacts : I know the show is like a satire but do any of you think the show will aid in dispelling any myths or misconceptions about radio or Hot 97?
Ebro: With this show We are tying show that once we get off the air, our office is just like your office. We got cool as jobs and we need to bring in celebrities but we also have office politics, we argue about food, and who messed up the bathroom. It shows how we are just regular people like everyone else and we have a great job.
RadioFacts : Laura, In the first episode, Cipha and Rosenberg were sort of playfully treating you like you are a rookie. Is that one of the ongoing themes we will see throughout the season?
Laura Stylez: Well I am the newest one of the show and it happens but I'm not a rookie.
Ebro: You are new to the major leagues.
Laura: Angie and Flex have been here forever but I am not that new.
Ebro: You wouldn't be able to sit at the the adult table yet.
Laura Stylez: But I'm here and I may be a little new but I don't like to admit it.
RadioFacts : Looking at the show another theme seems to be that Cipha and Rosenberg are the self-proclaimed stars of the show. How true is that or who in the room will emerge as the real star?
Everybody: We all are stars!
Peter Rosenberg: This is a show with 7 stars trying to come together to be one star. This is about established stars like Angie and Flex, who have been stars for a long time working with other people that are aspiring stars. I"m being really sincere about this when I say that everyone on the cast seemed to get off on feeding into everyone else by trying to make everyone else funny. I felt Cipha and Angie were really strong on the show.
Laura Stylez:I thought it was really fun because I never see Flex and I got to shoot a few scenes with him and I got to connect with Miss Info and I thought they both did well on the show.
Peter Rosenberg:Flex on the show is pure insanity. We didn't know if he was doing it for the camera or if that is who he really is. Flex is just hilarious in every scene!
RadoFacts: Were any of you uncomfortable with the cameras being on you all the time and did you find it hard to be yourselves?
Cipha Sounds: I would say the first week was tough and there might have been a little acting going on but after we got cool with the crew I think everybody just loosened up and just did what they do naturally started to do us.
(CLICK NEXT FOR MORE OF THE INTERVIEW)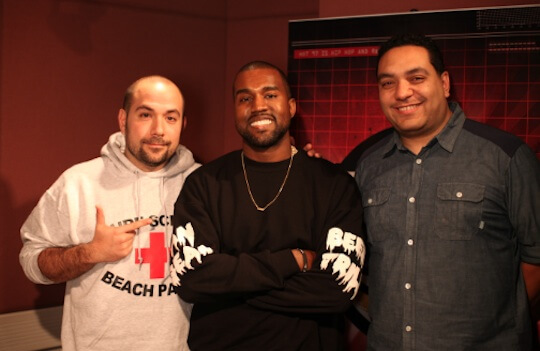 RadioFacts : In the first episode you guys discussed the importance of having celebrities fall through the station while you are taping to enhance the show. Ebro you were able to get Kanye on even though he was technically saying he didn't want to do it. With that being said, did you have any trouble getting celebrities to buy into the show and sign off on it
Ebro: I would have to say no for the most part. A lot of it was scheduling because we had to hit a certain deadline for air dates and all of that stuff. Maybe there were people who were apprehensive because they didn't really know what it was. They are artists and many of them are not into the business of comedy so they wondered what would be the funny part of about it. But now that people can see a final product we will probably have some people volunteer that we didn't even ask just because they want to be a part of having a good time. I think there isn't a lot of television where people just get to have fun.
Without giving anything away, can we expect any major surprises on the show?
Ebro: I think there are a lot of surprises especially with artist doing different shit. The amount of things we get artists to do and have fun with it is pretty remarkable.
Cipha Sounds: How many shows ask cast members of "The Wire" to have a threesome?
RF: None that I know of…
Ebro: You know you want to see Mack Wilds naked!
RF: I'm good on that but look forward to catching the episode.
Will we get to see any episodes with Mister Cee?
Peter Rosenberg:Yes. There is at least one very amusing scene with Mister Cee that people should tune-in for.
RadioFacts : Finally, why should people tune-in to see "This is Hot 97?"
Laura Styles: It's a feel good show and something you can watch with your mom. It's good! Tune-in Monday night at 10:30am.
Cipha Sounds: Turn up is dead. Ratchet is over. It's time to have some fun with good vibes and positive energy and to show the world how real family gets down.
Ebro: If you love hip hop music and you want to see some cats that love hip hop music, work hard, and love working with each other, I think will be proud how we rep hip hop music differently. You don't to see us laughing and having a good time. Often we are characterized as being in the strip clubs, obsessed with cars, and poppin' bottles but we are more than that and more than what you see in a rap video. We are just having fun and sharing it with the people.
Peter Rosenberg: I think my wife is super hot and you can see that. I think for anyone who loves hip hop music or grew up in New York or both…I would just be excited to see Angie, Flex, and all these people that have been apart of our lives in a totally different light. It's hilarious and I think it means a lot to New York, hip hop music, or anyone that just a rap fan to have this opportunity.