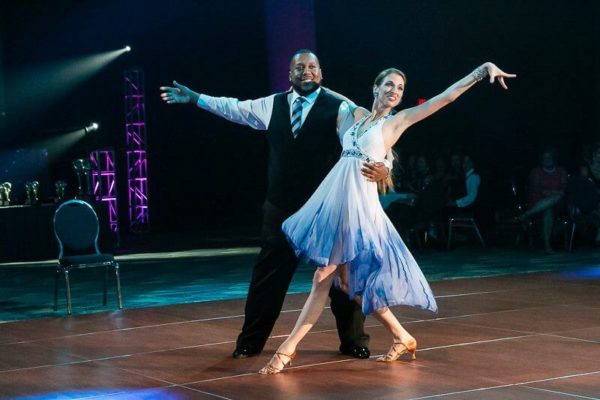 Kenya Cabine, afternoon drive personality at WEAS E93 in Savannah, recently participated in the Alzheimer's Association Dancing Stars of Coastal Georgia. Dancing Stars of Coastal Georgia is an exciting benefit for the Alzheimer's Association, Georgia Chapter. Reinventing the popular show, Dancing with the Stars, this fundraising event is comprised of 10 local celebrity dancers paired with professional dancers, all raising funds by gaining votes! Then the dancers come together to compete in a one night gala dance competition. Kenya's participation is very personal because his mother, aunt, and uncle is currently living with this horrible disease that effects more that 5 million Americans.
In his own words Kenya spoke about what drives him to help.  "When my mother, who was a former Atlanta principal, was diagnosed in 2008 I was devastated, hurt, and heartbroken. She has no memory of her past and can no longer form a complete sentence to tell me that she loves me. I can however tell by the way she looks at me that she still knows I'm her only son!"
The WEAS  personality went out to say, "I got very emotional after my performance because I knew that my mom would be so proud of me. I also remembered the early stages of my mother's disease. I knew something was wrong with mom, but I didn't know what it was. It was like her personality changed. She was repeating herself multiple times and she didn't seem like herself. When I asked family members if they noticed that my mom was acting out of character they said that she was just getting older and going through a "change of life". In actuality she was in the early stages of Dementia/ Alzheimer's and I didn't realize it. It's time to find a cure. No one else, not one more human being on this planet, should have to watch someone they love slip away into that vacant stare and that fearful place that is full of garbled noise and endless fear. Once a person is diagnosed with Dementia/ Alzheimer's they progressively deteriorate! It is so sad. Alzheimer's is a fatal illness. There is currently no cure, but maybe if we hurry, if we throw enough money and passion at this cause, if we raise awareness, and this disease becomes priority, just maybe the cure will be found."
Kenya raised over $11,000 for the Alzheimer's Association and the total amount raised for Dancing Stars of Coastal Georgia is over $230,000!!!
If you would like to make a donation on behalf of Kenya's mother send a check to the Alzheimer's Association, 201 Television Circle Savannah, GA 31406. Your money goes 100% to the Alzheimer's Association advance research into prevention, treatments and a cure for Alzheimer's.
Watch Kenya and his mom's story below as told by a local NBC affiliate.