"It was just time to start my own company and continue to create content under my own banner."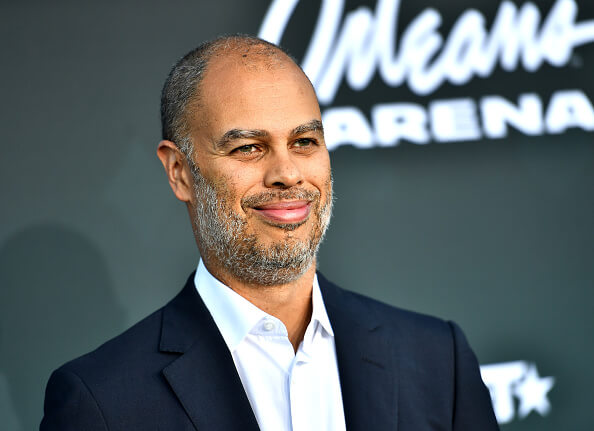 Jesse Collins and I worked together at KKBT in Los Angeles in the early 90s. A LOT was happening during that time in LA;: The OJ trial, Rodney King and the riots, the massive earthquake, and the start of the Death Row record empire. While KKBT had it's ups and downs, EVERYBODY in the country wanted to work there. The really strange thing about history—, sometimes you have no idea you are making it. Collins left the radio industry for TV many years ago, and he has never looked back. He executive produced the super successful biopic for New Edition on BET, The New Edition Story, watched by 30 million viewers this past January.
Where are you originally from?

Washington, DC.

What did you originally aspire to be?

A late night talk show host.

Tell me about your career in radio and your thoughts on the station. ( Was KKBT the only station you worked at?)

My radio career started in Ocean, Maryland at a station called WKHI, and then from there I went to WPGC in DC and finally ended up at KKBT. I also did a short stint at Power 106 LA. The Beat was an amazing place to be because you were really at the epicenter of Hip-Hop. Tupac, Dr. Dre, Snoop, Puffy, Biggie, Outkast—everyone came through The Beat. And of course, I was fortunate enough to be a part of The Ruthless Radio Show with the late great Eazy E. KKBT also really prepared me for life after radio. It allowed me to build relationships with people that helped my transition to television—like Marlon Wayans, Gary Gray, Faizon Love, Chris Tucker and Robert Townsend who gave me my big break—my first job as a writer on his show, The Parent Hood.

Why didn't you stay in radio after you were gone from the station?
After I started writing, I realized that I just lost the passion for being on the air. I just wanted to write. So, it was time to just gracefully bow out. Power 106 was kind enough to let me stay on the air on weekends for much longer than they should have.

Besides the obvious, what are some of the greatest differences between TV and Radio?

To me, the biggest difference is that you can create something to change your destiny. All it takes is an idea, and everything can change.

Do you miss radio?

I would love to own a small radio station at the beach one day. But, I doubt I would go back on the air.

Do you listen from time to time? What do you think of radio today?

It's great. I love to be able to bounce back and forth between satellite and FM radio.

So you went from radio to TV, then you became an entrepreneur. I can only imagine how challenging that was, but it was brilliant nonetheless. What made you decide to create Jesse Collins Entertainment?

It was just time to start my own company and continue to create content under my own banner.

What is the greatest challenge as an entrepreneur working in TV production?

Finding new content. Complacency is the devil.

Do you feel opportunities for black talent are opening up more, or do you think we still have a long way to go? How do you think we can get there quicker?

I think we still have a way to go. But if we keep working and creating great content, anything is possible. When you look at what Shonda Rhimes, Kenya Barris, Will Packer and Charles D. King are doing, it shows that all things are possible.

What did you think when you initially read the New Edition script [in 2006]?

I thought, "I have no idea how to make a movie but somehow I am going to get this done."

Why do you think it took so long to get done?

Nothing happens until the timing is right.

Did you consider doing it as a film?

Yes. It was initially sold as a feature.

Once you were in production, did you have any idea it would be as big as it was?

No, but I knew it could be good.

What did it feel like to see it finally played out on TV and get those huge numbers? …

It was a huge relief!

Now that it's done, what are some of the other projects that you are working on?

We are doing the Bobby Brown biopic next, and then after that, we have a few scripted series coming in 2018.Tell me the three greatest lessons that you have learned in your career?
The biggest thing is that in production there are three options: cheap, fast, and good. And you can only have two of them. So, if you want it to be good, then you have to choose between cheap or fast. If you need it fast, then you must choose between cheap and good. If you want it cheap then you have to choose between fast and good. You can never have all three.
Any advice for millennials who want to work in TV and film?
Never think any one project is going to make or break your career. It is about a body of work. You never know what will lead to the next thing, so don't hold on to the failures or the successes too tight, because it is all fleeting.