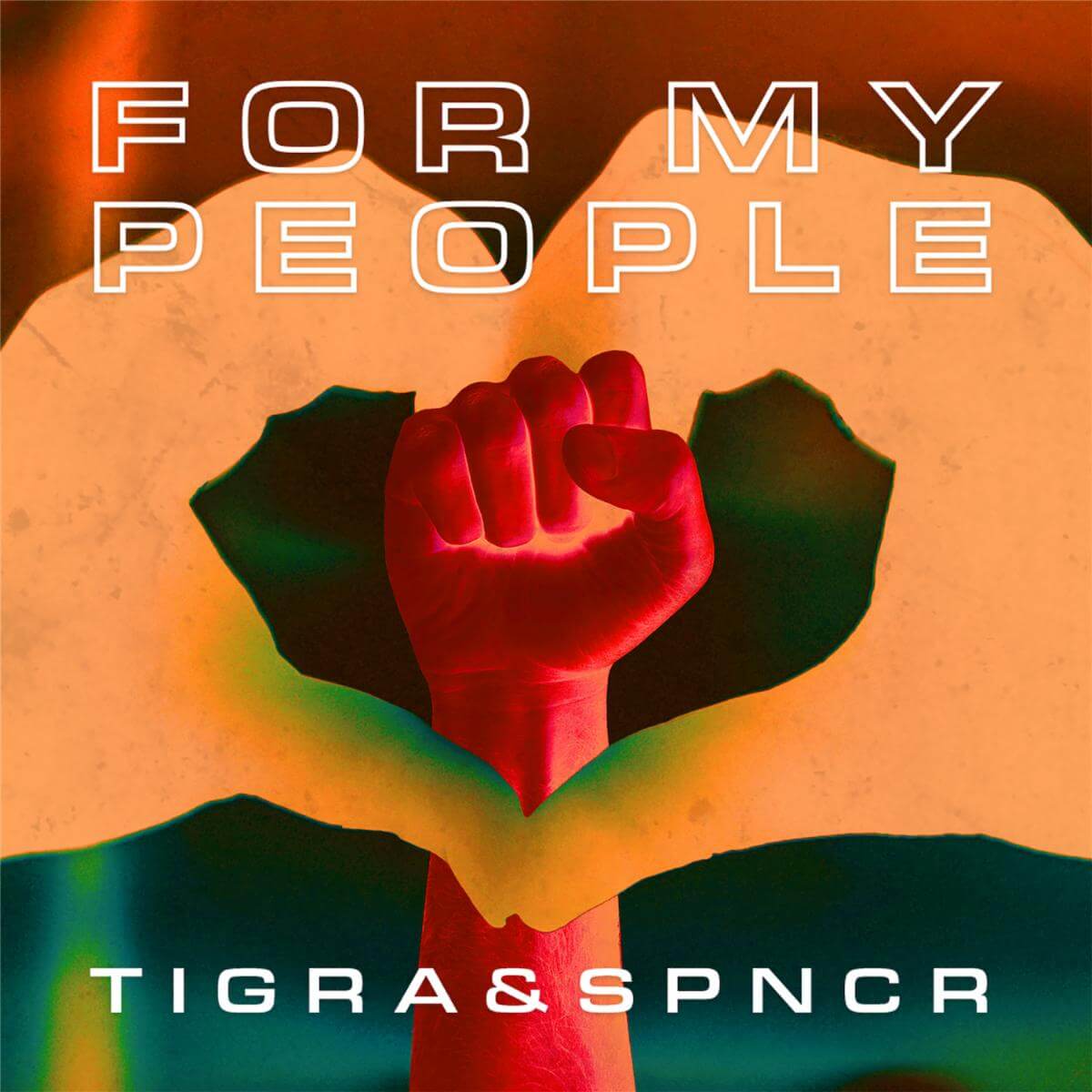 TIGRA & SPNCR Share New Track "For My People"
Today TIGRA & SPNCR are excited to share new track "For My People", a rousing protest song and call to action as well as its striking accompanying video.
The release marks their first under new label [PIAS] Recordings.
TIGRA & SPNCR collaborate on this project to explore their diasporic roots and the art of celebration through music.
They comment: "'For My People' is inspired by the voices of young and old, from both the past and the present who fearlessly, tirelessly and selflessly raise up to fight injustice and demand change. It is a song of reassurance to our brothers and sisters around the world. It is a message which is especially important to us as the product of countless revolutions by our ancestors, who put their bodies and souls on the front lines in defiance of power to ensure that we, their future generations, inherited a more beautiful world from them.
We recognize how exhausting and isolating the constant battle can feel, having fought in it ourselves, and understand the importance of hearing "You are admired and appreciated. You are seen and you are not alone. You are cherished and you are loved." We also understand the power of singing it together, to each other and to ourselves. We see joy and hope as an additional act of rebellion in the face of those who would see us broken. This is our love song to the resistance."
This is a story that starts in a studio in Studio City named Studio City. At the time SPNCR was completing his album with his project Jupiter Rising and Tigra was touring her first solo album. Jessie Payo, one half of Jupiter Rising, was helping Tigra on tour. Jupiter Rising invited Tigra to collaborate on their album as the last feature of the last song. Little did SPNCR and TIGRA know that this would only be the beginning. Almost a decade later fate would intervene again at a Hollywood hip-hop party. Within a week their new project, TIGRA&SPNCR, was born.
During their time apart both would grow and expand in their musical exploration. Their first session lead them to discover that their quest intersected at their interest in Afro-Caribbean, beat driven music. The ah-ha moment came when SPNCR turned to TIGRA and said he was interested in making a Ra-Ra song, meaning a club banger. TIGRA said "YEAH! That's exactly what I've been wanting to do!", misinterpreting his meaning for traditional Haitian music, also called Rah-Rah. Their first song and sound would be born right then.
SPNCR is the manifeRadio Station of one dreamer, birthed from years of a wide variety of musical experiences as an accomplished hip-hop, house, and pop producer as well as an artist in major groups (Jupiter Rising, Her Majesty and The Wolves). The vast limitlessness of time and space would hurdle him over musical thresholds most would dare not touch.
SPNCR's career as a songwriter/producer, vocalist, saxophonist and beat-boxer has lead him to the stages of festivals such as Coachella, T In The Park and Wireless Festival. He has an impressive resume working with the likes of K-pop group Girls' Generation, The Black Eyed Peas, Chance The Rapper and the legendary artist Mike D of The Beastie Boys.
The Lady Tigra was born in Spanish Harlem and raised in Hollis, Queens blocks away from Run DMC and LL Cool J, to a Haitan mother and a French father. As an amateur lyricst she relocated with her family to Miami during the birth of Miami Bass where she became acquainted with Miami's biggest Dj's and rappers. By fifteen she was signed to Atlantic Records as one half of the iconic rap group L'Trimm and was touring with the biggest names in hip-hop of the era.
TIGRA's career has spanned decades. Her early career lead to her being ranked in VH1's Top 100 Greatest Hip-Hop Songs and Rolling Stones Magazine's Top 100 Hip-Hop Songs of All Time. Her reemergence lead her to appearing on the award winning show Yo Gabba Gabba, being interviewed for several books and appearing in documentaries on the subject of hip-hop such as 808 The Movie, The Boogaloo Shrimp and Netflix's Hip-Hop Evolution. She's also done co-writes and collaborated with some of the industry's biggest contemporary chart-topping artists. Her music has been featured in blockbuster films like Need for Speed and Spork The Movie. It has also appeared in primetime TV shows on major networks and in commercials for global brands. In addition to music she has had a prolific career in fashion, as an actress and in the New York, Miami, and LA club scenes.
More announcements are forthcoming from this dynamic joint force, so stay tuned!