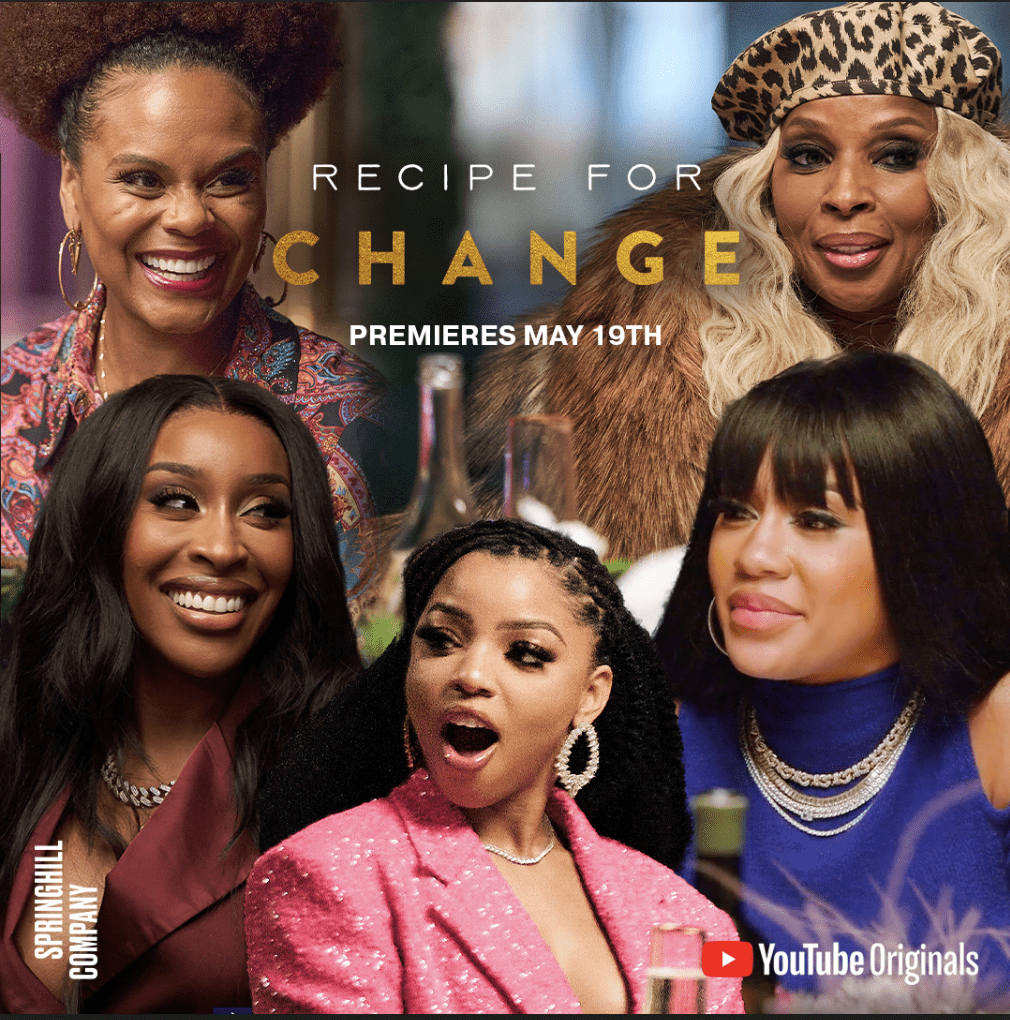 Ahead of YouTube's Brandcast presentation tomorrow, the global platform today announced five new original projects from the YouTube Black Voices Fund (BVF) headlined by "Recipe for Change: Amplifying Black Women" featuring Mary J. Blige, Saweetie, Tabitha Brown, Jackie Aina, and more who come together to celebrate the stories, traditions, identities and experiences of Black women as they gather around the dinner table for necessary conversations.
In addition to "Recipe for Change: Amplifying Black Women," YouTube's key announcements today include: "Retro Tech: Future Tech with Marques Brownlee" (working title) which will explore the technology of the future and its impact on underrepresented communities, "A New Green Book" special featuring Terrell Grice, "The Mandela Project" a series celebrating the legacy of Nelson Mandela, and "Spectrum Global: Being Black In…" which reimagines a popular Jubilee video series and explores Blackness across the globe.
"Today's announcement continues YouTube's long-standing commitment to celebrating diverse perspectives on its platform," said Nadine Zylstra, Global Head of YouTube Originals. "Our upcoming projects highlight important stories and raise impactful voices to not only educate and entertain our audiences, but to also inspire meaningful change."
To better understand the impact of the BVF projects, YouTube commissioned Fluent Research to study and measure the appeal, resonance, and impact of a selected group of BVF programs among more than 200 18- to 34- year-olds. "As a direct result of watching BVF content, 80% of the participants reported they were likely to take action on racial justice issues," said Allison Caplovitz, Ph.D., Director of Content and Evaluation Research at Fluent. "This study supports YouTube's ability to achieve its mission to engage Black and non-Black viewers with impactful content that highlights the Black experience."
More information on the new original projects announced today include:
"Recipe for Change: Amplifying Black Women" – Premieres Thursday, May 19 on Jason Y. Lee's Jubilee YouTube Channel – Watch the Official Trailer HERE
Following the success of the Daytime Emmy Nominated "Recipe for Change: Stop Asian Hate," and the recently released second installment "Recipe for Change: Standing Up To Antisemitism," "Recipe for Change: Amplifying Black Women" continues with the latest special centering on the powerful stories and experiences of Black women, celebrating their perseverance and strength while making space for joy and the power of sisterhood. Hosts Mary J. Blige, Saweetie and Tabitha Brown partner with esteemed chefs Kelis and Danielle Saunders to host dinner guests including Chlöe Bailey, Winnie Harlow, Kelly Rowland, Jackie Aina, Keisha Lance Bottoms, Roxane Gay, Sarah Jakes Roberts, Lynn Whitfield, Yaya DaCosta, Loni Love, Renee Montgomery, Danielle Young, Angelica Ross, Hallease and Elaine Welteroth. Amanda Seales also joins the special episode as an on-the-street reporter, speaking with Black women and their allies in Los Angeles. "Recipe For Change: Amplifying Black Women" is executive produced by LeBron James and Maverick Carter with their media conglomerate The SpringHill Company. Showrunner Joel Relampagos also executive produces "Recipe for Change: Amplifying Black Women" alongside Jamal Henderson and Philip Byron of The SpringHill Company. Co-executive producers include Camille Maratchi and Courtney Whitaker also of The SpringHill Company with Nefertiti Lovelace, and directed by Joie Jacoby.
"A New Green Book" – Premieres Thursday, May 26, 2022, – Watch the Official Trailer HERE
A transformative original series that follows the incredible journey of Black visionaries on relentless pursuits of mastery, "A New Green Book" is a timely, engaging travel series that serves as an homage to the original Green Book — the once Black Travelers' Guide that provided advice on safe places to eat and sleep when journeying through the Jim Crow-era U.S. "A New Green Book" celebrates Black culture across the country, where each host curates a highly personal itinerary in a city that they love. For the pilot special, Terrell Grice, of The Terrell Show, takes viewers on a special tour of Los Angeles to eat, explore, and experience locations that celebrate Black culture, history, beauty, cuisine, fashion, and art. Produced by Tastemade.
"The Mandela Project" (working title) – Premieres Mandela Day – July 18, 2022
Each year on July 18th, the Nelson Mandela Foundation strives to make the world aware of the legacy and learnings of Nelson Mandela, encouraging people across the world to give back to their own communities. The series joins Jabari Banks, Marsai Martin, Jeremy Lynch, Ndaba Mandela, Big Zuu, Patrice Evra, and Zozibini Tunzi as they undertake impactful acts of service in the UK, USA, and South Africa. Inspired and motivated by key elements of Nelson Mandela's life and work, "The Mandela Project" will showcase his lasting legacy in communities around the globe. Produced in Africa by VIS, Paramount's international studio, in partnership with the Nelson Mandela Foundation.
"Spectrum Global: Being Black In…" – Pilot in development for Fall 2022
YouTube and Jubilee Media are partnering to reimagine their popular video series Spectrum into a global special. "Spectrum Global" takes viewers on a journey to explore Blackness across the globe to expand the conversation and share a more inclusive and expansive vision of humanity. Spectrum explores the variety of beliefs in one group through conversations to help deconstruct the myth that any one identity or group thinks and acts as a monolith. Shot in various locations, the special brings together 6-8 Black men and women who live in different parts of the world to engage in a discussion and take the viewer on an immersive experience sharing what life is like, where they often find themselves being a very small minority.
"Retro Tech: Future Tech with Marques Brownlee" (working title) – Premieres December 2022
Continuing with his Emmy-nominated series "Retro Tech," season three has Marques Brownlee exploring the technology of the future. Web 3.0 makes big promises to place the power of the internet in the hands of the user, yet the technology that powers Web 3.0—from blockchain to cryptocurrency to DAOs—sometimes feels vague, confusing, and exclusionary. Will the latest iteration of the internet help or is this simply becoming a playground for people who are already rich, tech-savvy, and well-connected? Will the promise of NFTs and DAOs help boost entrepreneurship in underrepresented communities? Could cryptocurrency help close the racial wealth gap? Marques will go beyond traditional storytelling in this next season to bring this world to life by creating Web 3.0 communities and projects like NFTs to build a first of its kind next generation community around FutureTech. Retro Tech is produced by Vox Media Studios.
Recent and previously announced projects that center on the Black experience include:
"Supreme Models"- Premieres September 2022
Based on journalist Marcellas Reynolds' best-selling book "SUPREME MODELS: Iconic Black Women Who Revolutionized Fashion," comes a multi-part series from R.J. Cutler's This Machine, co-directed by Rolake Bamgbose ("The Weekly: Connecting the World"), Donny Jackson ("Dear…") and Douglas Keeve ("Unzipped"). "Supreme Models" follows the evolution of Black beauty and it's impact on the fashion industry, the civil rights and Black is Beautiful movements, and American culture as a whole. Fashion trailblazers such as Bethann Hardison, Iman, Edward Enniful, Joan Smalls, Precious Lee, and Indya Moore share their personal stories breaking boundaries and setting new standards for beauty and fashion, and we watch as they lay the foundation for the new era of social media models, fashion influencers and beauty mavericks. "Supreme Models" is executive produced by Iman, R.J. Cutler, Marcellas Reynolds, Jane Cha Cutler, Trevor Smith, Douglas Keeve, Rolake Bamgbose, and Donny Jackson.
"Terms & Conditions: Deeper Than Drill" – Streaming Now
From the creators of the Grierson nominated Terms & Conditions, comes the follow-up YouTube Originals documentary, "Terms & Conditions: Deeper Than Drill." Narrated by Academy Award winning actor and rapper, Riz Ahmed, "Deeper Than Drill" gets to grips with the most challenging and prevalent issues affecting millions of young people across the country today through the eyes of some of the most promising up-and-coming music artists across the UK & Ireland. Alongside the launch, YouTube Originals is once again partnering with Livity to produce a two day Film School – a weekend of inspiration and learning open to young filmmakers across the UK. With a host of speakers hailing from both the media and music industries, the workshops will provide participants with invaluable advice, hands-on experience, and creative inspiration to develop their own music documentary ideas. The filmmakers will then pitch their ideas to YouTube Originals with the chance of having their films commissioned. This initiative is part of YouTube Originals' commitment to making a positive impact on the lives of young people, whilst setting them up for success within the industry. Produced by Century Films.
Today's announcement follows YouTube's launch of a multi-year Black Voices Fund in 2020 to amplify Black voices and perspectives on YouTube, alongside a commitment as a platform to protect and celebrate Black creators, artists and users and reflect back the power of our global community. The slate of programming aims to emphasize the intellectual power, authenticity, dignity and joy of Black voices through unique, compelling, fun content that embraces big ideas and makes a strong impact on the viewer.
Since the fund's inception YouTube has launched more than 12 original projects globally (US, UK, Brazil) that align with the mission and goals of the Black Voices Fund, including the LeBron James produced documentary, "I Promise" that tells the story of James' efforts to close the achievement gap in his hometown of Akron, Ohio through the eyes of the inspiring students who are resetting expectations of their futures; "The Outsiders" directed by acclaimed artist, photographer & director Simon Frederick, and "Bear Witness, Take Action 3" in association with Issa Rae's HOORAE Media. YouTube's Black Voices Fund programming is a key anchor to support future original content efforts, while also positioning YouTube as a premium content destination for upcoming creators and industry leaders to collaborate on unique content offerings.
This announcement also comes on the heels of recent YouTube Originals' awards consideration with "Recipe for Change" receiving a Daytime Emmy nomination for Outstanding Daytime Special, "Race Around Britain" receiving a BAFTA nomination and winning a Royal Television Society Award for Best Presenter for Munya Chawawa, "The Outsiders" also receiving a BAFTA nomination, and "Super Sema" received a nomination for an NAACP Image Award. Nadine Zylstra is Global Head of YouTube Originals. Laurel Stier is Global Head of Unscripted Content, YouTube Originals. DeMira Pierre and Margaret Burris are creative leads for YouTube Originals Unscripted.