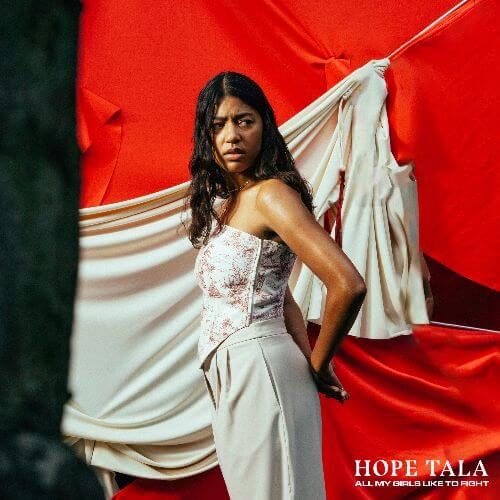 HOPE TALA REVEALS STUNNING VIDEO & SINGLE "ALL MY GIRLS LIKE TO FIGHT"
Today, London based artist Hope Tala makes welcome inroads into 2020 with the reveal of her stunning new single, "All My Girls Like To Fight." The first single taken from her upcoming EP Girl Eats Sun, her debut via Republic Records, "All My Girls Like To Fight" is an enticing example of Hope Tala's sky reaching potential. Arriving with a stellar, visually striking video by renowned director Millicent Hailes (Migos, Lil Yachty, Lil Pump, Remy Ma, Chris Brown, YG, Big Sean, Young Thug), the track serves as a statement of intent from an artist set to level up this year. Speaking on the release, Hope Tala states:
"I grew up on good stories and have always been driven by a desire to craft my own. Writing 'All My Girls Like To Fight' was the first time I felt like I was really constructing an expansive narrative in a song. I wanted to create a visually rich tale steeped in drama and intrigue to match the suspenseful Spanish guitar chords we started with in the studio and wanted to portray women as having strength and agency in the narrative."
"All My Girls Like To Fight" is the first taste of new material from Hope Tala since 2019's hotly received Sensitive Soul EP, a body of work containing the track "Lovestained," a bossa nova inspired cut, which has since been streamed over 10 million times and seen her gain acclaim from the likes of Rolling Stone, NPR, Vogue, COMPLEX, Pigeons & Planes and more, picking up support from key Spotify playlist Pollen in the process. With the Girl Eats Sun EP, Hope Tala looks set to cement herself at the forefront of new artists to watch. Speaking on the project, she explains:
"At the core of 'Girl Eats Sun' is an assertion of confidence and boldness. The title is a paraphrase of 'if you can't take the heat, get out of the kitchen'—as the girl eating the sun, I'm daring and fearless. I chose this title because I feel as if the songs and stories on this project are more vivid and inventive than anything I've released thus far, and I've pushed my sound in different, exciting directions."
Now represented by Dina Sahim and Wassim "SAL" Slaiby at SAL&CO (The Weeknd, Doja Cat, Brandy, Bryson Tiller), Hope Tala is set for a huge few months. Look out for more very soon.