Country music legend, Tracy Lawrence, has made the broadcast premiere of his latest music video for "Don't Drink Whiskey" exclusively on CMT, CMT Music, CMT.com and ViacomCBS Times Square Billboard. The heart-wrenching track about life's inevitable pitfalls offers a perfect backdrop to the stirring music video which depicts a cowboy's heartbreak as he holds onto the cherished memories from a doomed relationship and pours his regrets into a glass of whiskey.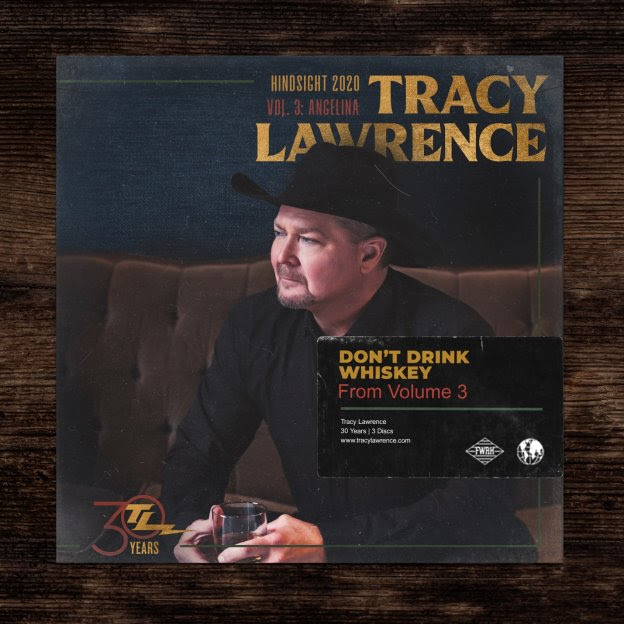 WATCH: "Don't Drink Whiskey" – CMT Exclusive
"Trying to come up with a concept for the music video, I had this idea of using two polarizing characters – in this case a cowboy and a ballerina – to explore the song through the lens of a romantic relationship," says Lawrence. "I think it came out great having highlights from the relationship's good times contrast with the lone cowboy sitting with his regrets. Loved seeing my vision for this video come to life!"
"Don't Drink Whiskey" is the latest single from Tracy, off Volume 3: Angelina from his Hindsight 2020project, commemorating his 30 years of making timeless Country music. Volume 3: Angelinarounds out the project which revisited some of Tracy's biggest career hits, alongside all-new material for fans to fall in love with.
Hindsight 2020, Volume 3: Angelina is available now.
Hindsight 2020, Volume 3: AngelinaTrack Listing:
1. Didn't We
2. Angelina
3. Time Marches On
4. Paint Me A Birmingham
5. Don't Drink Whiskey
6. Sticks and Stones
7. Texas Tornado
8. Drank Thru It
9. Who Needs You
10. Alibis
All three Volumes of Hindsight 2020, including a special Deluxe Edition, are available through the link below:

Be sure to check out Tracy on the road with his longtime friend, Clay Walker, as both Country icons share one stage for an unforgettable concert experience kicking off this March with Alexandra Kay and Randall King opening on select dates. Tickets for this nine-date tour are available at tracylawrence.com and claywalker.com.
Tour Dates:
March 3 Charlotte, NC Ovens Auditorium
March 4 Roanoke, VA Berglund Coliseum
March 5 Augusta, GA William Bell Auditorium
March 10 Charleston, WV Municipal Auditorium
March 11 Chattanooga, TN Sailors and Soldiers Memorial Auditorium
March 12 Huntsville, AL Von Braun Center
March 17 Kalamazoo, MI Wings Event Center
March 18 Milwaukee, WI The Riverside Theater
March 19 Owensboro, KY Owensboro SportsCenter