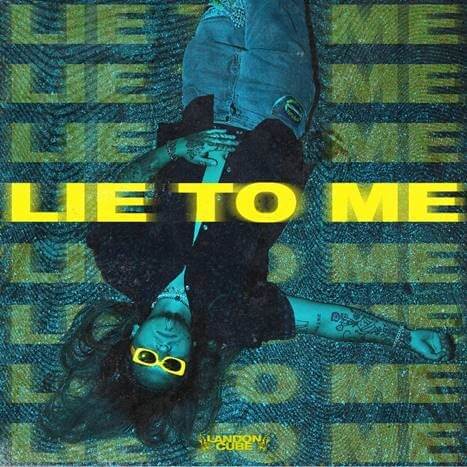 LANDON CUBE RELEASES NEW SINGLE "LIE TO ME"
Maryland-bred singer songwriter Landon Cube shares a new single "Lie To Me" today.
Propelled by his instantly recognizable melodies, the track integrates a funky bass line into a guitar-driven strut. The verses emanate emotion before a chantable chorus. Much like everything he does, you'll immediately feel it.
Racking up streams in the billions, Landon Cube siphons soaring hooks out of smoky lo-fi alternative punctuated by hip-hop grit and unassuming pop panache. His voice took flight on multiplatinum bangers such as "Nowadays" and "Red Roses" by Lil Skies. However, his acclaimed 2019 EP Orange gathered nearly 100 million streams powered by "20," "Nuisance," "Makeup," and "17" feat. Lil Skies. He ramped up his prolific output in 2019 and 2020 with the singles "Pretty" feat. 24kGoldn, Carrie feat. Lil Skies, "Drugs," "Groceries" feat. Lil Keed and "Eighties" feat. 24kGoldn, posting up another 20 million total streams and counting.
There's a poignant yet feel-good vibe that makes 22-year-old recording artist Landon Cube's sound infectious. The Southern Maryland native has a diverse history within music, punctuated by his versatile catalog. At 16, he made the firm decision that music was his chosen trajectory and once he graduated high school, he dropped his introductory cut "Euphoria." His participation with local viral video crew Cufboys added fuel to the fire, as Landon began galvanizing a fan base through his laid-back authenticity and knack for melding sounds. Through Cufboys he met burgeoning star Lil Skies, as the two joined forces on cuts like "Red Roses" and "Nowadays." It wasn't long before Landon was Los Angeles bound and continued his upward mobility as an artist, ultimately joining the Republic Records roster. Landon Cube, who already has nearly 4 million monthly listeners on Spotify, has already secured a solid following based upon his honest and heartfelt music, and the next phase in his career will bring more of that to the forefront.