Headie One has released his eagerly-anticipated debut album 'Edna'. Dedicated and named after his late mother, 'Edna' is a cathartic and introspective concept album that sees the 'King Of Drill' at his most open and reflective. Embracing the lessons he's been taught and using them to move forward. he sts his claim as one of the most revered UK rappers of his generation.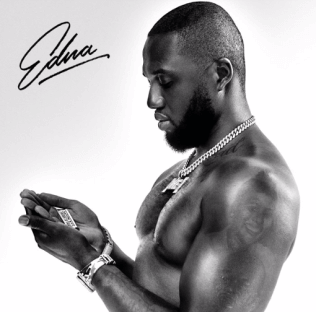 Speaking on the decision to name the album after his mother who passed away when he was 3, Headie states – "As a debut album, there's no one else I could really give the name to. She's a huge motivation behind my journey and my music. She keeps me going."
The all-encompassing record surrounds many themes close to Headie's heart including the importance of faith in God, his relationship with his hometown Tottehnam, discrimination & prejudice within the prison system, emotional intelligence, love & mental health.
On the album's personal nature, Headie said – "Edna is my story. It's what made sense to me and my experiences. I didn't follow any trends, Edna is exactly what I wanted it to be and I'm proud of it."
The follow up to 'GANG', his experimental collaborative mixtape with Fred Again, 'Edna' is sonically a strong and assured culmination of the artist Headie One has evolved into since arriving onto the scene with seminal projects 'Headz or Tails', 'Drillers & Trappers' and last year's 'Music X Road'. Seamlessly synthesising the gamut of Headie's vast and widespread musical influences with cinematic and orchestral undertones.
The album features production from Wondagurl, Kenny Beats, 169, M1onthebeat plus guest appearances from some of the music industry's finest talent like Drake, Future, Skepta, M Huncho, Young Adz, Kaash Paige, Mahalia and more.
The momentous release of the album is joined by the unveiling of two brand new videos, 'Princess Cuts' featuring UK rap duo Young T & Bugsey and 'Parlez-Vouz Anglais' featuring Aitch.
'Princess Cuts' channels rhythms from the worlds of Latin music and Afro-swing; the accompanying video is directed by Craig Capone (Stormzy, Kano, Donae'O, Loski). The visual is a glossy and luxurious affair that echoes the lavish lifestyles seen in classic videos from the Bad Boy Records era with Diddy, Mase and The Notorious B.I.G.
The new single marks the second collaboration between Headie and Young T & Bugsey, following the blockbuster success of 'Don't Rush' which dropped last year and went on to become a social media sensation throughout the course of this year.
Enormously popular online due to the #DontRushChallenge, the track to date has amassed half a billion views on TikTok, half a million posts on Instagram and 53 million views on YouTube. The track would go on to become a top 20 hit on the UK Singles Chart, and receive a Gold certification for sales of over 400,000 copies. It also yielded significant traction in America where the song peaked at #5 on the US Rhythmic Billboard Chart and #30 on the US Mainstream Top 40 Chart.
'Parlez-Vouz Anglais' was produced by Ambezza (Future, Drake, Lil Baby & Lil Uzi). The Aitch-assisted track is light-hearted, carefree and braggadocious and shows the two MC's disparate rapping styles complementing each other with ease and finesse.
The accompanying video directed by KC Locke (Ed Sheeran, D-Block Europe, IAMDDB, Mist) is aesthetically stylish and grand, bringing to life on camera an opulent lifestyle. The visual lifies the light-hearted French and Parisian references mentioned throughout, featuring French maids and a catwalk made to resemble a Paris Fashion Week presentation.
The long-awaited debut album from Headie One is the pinnacle of a steady and eventful progression for the 'King Of Drill'. In the lead up to this project, Headie has scored two back to back Top 5 hits on the UK Singles Chart with the album's first two singles, 'Only You Freestyle' featuring Drake and 'Ain't It Different' featuring Stormzy and AJ Tracey.
A landmark event in the story of one of UK music's most exciting prospects, ​'Edna' marks the consummation of a talent ready to seize his moment.
TRACKLIST
Teach Me
Psalm 35
Bumpy Ride (Feat. M Huncho)
Triple Science
The Light
Ain't It Different (Feat. Stormzy & AJ Tracey)
Mainstream Rapper
Princess Cuts (Feat. Young T & Bugsey)
21 Gun Salute (Feat. Young Adz)
Five Figures
Hear No Evil (Feat. Future)
Breathing
Only You Freestyle (Feat. Drake)
Try Me (Feat. Skepta)
F U Pay Me (Feat. Ivorian Doll)
Parlez-Vous Anglais (Feat. Aitch)
Everything Nice (Feat. Haile)
You/Me (Feat. Mahalia)
Therapy
Cold (Feat. Kaash Paige)