Dr. Lee Brown, Interim Provost and Vice Chancellor forAcademic Affairs at Fayetteville State University (FSU), has announced twoappointments within the division.
Dr. Samuel Adu-Mireku has been appointed Interim AssociateVice Chancellor for Academic Affairs. Serving as the Dean of the College ofHumanities and Social Sciences at FSU since July 2019, Adu-Mireku joined FSU in2001 as an Assistant Professor in the Department of Sociology. Afterserving as Department Chair, 2004-2009, Adu-Mireku also served as the InterimDirector of the Office of Faculty Development, Chair of the Graduate Council,Associate Dean, and Dean of the College of Arts and Sciences.
Having earned a bachelor's degree from the University of Ghanaand his master's and Ph.D. from Purdue University, Adu-Mireku worked as adepartment head at Tri-County Technical College. He was an Associate Professorof Sociology at Methodist University before joining FSU.
Adu-Mireku and his wife, Ama, reside in Fayetteville.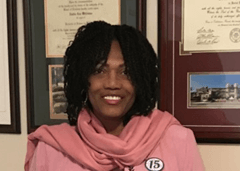 Dr. Sharon E. Williams has been appointed Interim Dean of theCollege of Humanities and Social Sciences. Williams joined the faculty andstaff of the then, Department of Social Work in 2011 serving as the Bachelor ofSocial Work Program Director.  After abrief period of retirement in 2016 she returned to Fayetteville StateUniversity as the Interim Associate Dean of the new School of Social Work inNovember of 2017, and Associate Dean the fall of 2018.
Williams' expertise is in the areas of program development,diversity in administration, evaluation, child welfare, and marriage and familytherapy. Prior to becoming the Associate Dean of the School of Social Work atFayetteville State University, her academic administrative experience includesthe Bachelor of Social Work Program Director and Departmental Chairperson atFlorida A&M University, Clinical Social Work Concentration Coordinator forChild Welfare at Kennesaw State University, and Associate Dean of the School ofSocial Work at Grambling State University in Louisiana. 
She completed undergraduate studies at Albany StateUniversity, the Master of Social Work degree at Delaware State University, theDoctor of Philosophy degree in Social Work at the Florida State University, andthe Post Doctorate at the University of Michigan (Ann Arbor).
On a personal note she is an avid runner and marathoner.
AboutFayetteville State University
FayettevilleState University is a constituent institution of The University of NorthCarolina System and the second-oldest institution of higher education in thestate, having been founded in 1867. FSU is a historically black universityoffering degrees at the baccalaureate, master's, and doctoral levels. With morethan 6,700 students, Fayetteville State University is among the most diverseinstitutions in the nation. To learn more about Fayetteville State University,visit www.uncfsu.edu.