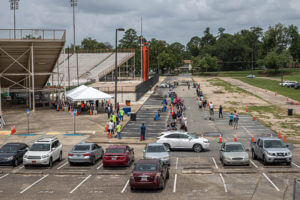 The Florida A&M University (FAMU) Bond Community Health Center COVID-19 Testing Site has expanded its capacity to 500 tests per day to accommodate the increased demand.
The expanded limit was introduced as Florida experiences a spike in the number of positive COVID-19 cases. Officials have also expressed concern that the median age for those testing positive for the coronavirus in Leon County last weekend was 23 years.
On Monday, 547 people went to the Bragg Memorial Stadium site to get tested. Since it first opened on April 25, the site has collected specimens from more than 15,000 people.
"With the increasing demand, we want to ensure we have the capacity to test as many people as we can, symptomatic or asymptomatic," said Cynthia Harris, Ph.D., director FAMU Institute of Public Health and one of the people who established the testing site. "We want to provide the free service to everyone who wants to get tested. We just want to serve the community."
The site will be opened Friday, July 3 but will be closed Saturday, July 4 for the Independence Day holiday. The site is also closed on Sundays.
Testing is 9 a.m. to 6 p.m., is free and no physician referral is required. Residents can also schedule an appointment by calling the Leon County Health Department at 850-404-6399.
The site is being operated with support from the Florida Department of Health, the Leon County Health Department and the state Division of Emergency Management. Area businesses and civic organizations have also contributed funding and supplies to keep the site open and volunteers fed.
Claudia Blackburn, health officer at the Florida Department of Public Health in Leon County, said area residents need to get tested and follow safety guidelines.
"The disease is taking a disproportionate toll on black communities in Leon County. It has always been the aim of the Leon County Health Department to make it easier for people in these hard-hit neighborhoods to get a test," Blackburn said. "Two of our key response functions continue to be scheduling appointments for tests and providing educational outreach resources. It's not enough for our residents to get tested. It's critical they also are armed with information on how to stay safe and prevent the spread of this virus."
The post FAMU Bragg Stadium COVID-19 Testing Site Expands Capacity To Accommodate Demand appeared first on FAMU Forward.