Radio Facts: Radio Facts: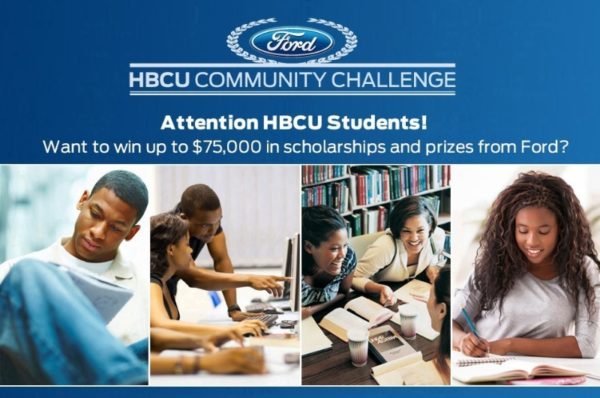 Ford Motor Company and
Ford Motor Company Fund
are once again offering targeting students enrolled at Historically Black Colleges and Universities the opportunity to compete in the Ford HBCU Community Challenge. Student teams are encouraged to submit innovative proposals on community issues for a chance to win $75,000 in scholarships and prizes for their university and community.
For the third consecutive year, the HBCU Community Challenge will be conducted in partnership with the
Tom Joyner
and
Rickey Smiley
morning shows. The program encourages students to not only go further with their education, but to help their communities. The program's theme is "Building Sustainable Communities."
Each proposal should creatively address a pressing community need that focuses on at least one of these areas – mobility, alternative energy, sustainability/water and systematic approaches to meeting community needs. Student and university scholarships will be awarded to the winning team, with each finalist project being awarded a grant for teams to implement their innovative work.
Three teams will be selected to present their proposals in December to a panel of judges at
Ford World Headquarters
. Judges include radio personality
Tom Joyner
and Ford executives.
"Building upon the success and excitement from last year, we are eager to see the ingenuity of the students' submissions," said Shawn Thompson, manager,
Ford Multicultural Marketing
. "The forward thinking and fresh approaches to sustainability are inspiring. We look forward to the presentations in Dearborn."
Bethune-Cookman University, Florida A&M University and
Spelman College
were the finalists in last year's challenge.
Spelman College
won first place with its innovative program that sought to address healthier food options in its community. Interested students attending Historically Black Colleges and Universities can learn more about the competition and submit their proposals by visiting www.blackamericaweb.com/hbcuchallenge or www.rickeysmileymorningshow.com/hbcuchallenge, between now and Nov. 1.
A first for the program, listeners of the
Tom Joyner
and
Rickey Smiley
morning shows will be able to vote online for their favorite proposal from Nov. 23 through Dec. 6.
Be sure to join the program's social conversation by
following
hashtag #FordHBCU.
"
Ford Fund
is committed to going further in the community and helping students at Historically Black Colleges and Universities," said Pamela Alexander, director, Community Development,
Ford Fund
. "We are in our third year and are excited to work with the
Tom Joyner
and
Rickey Smiley
morning shows, and to engage the Historically Black Colleges and Universities community."