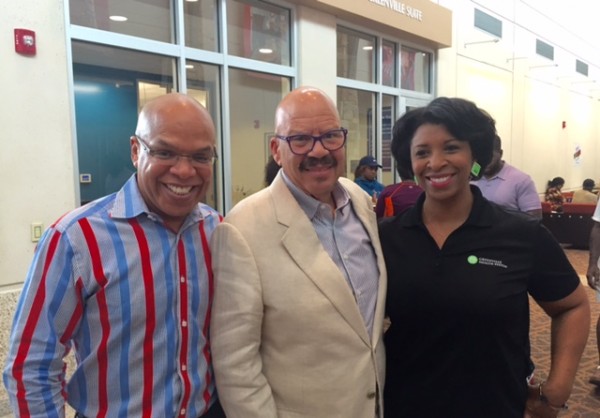 SummitMedia/Greenville-Spartanburg  Operations Manager, Elroy Smith paid
Tom Joyner
the ultimate compliment by letting the world know how
Tom Joyner
operates when he is amongst the people. The two
radio
veterans have known each other for years and "The Fly-Radio DJ" continues to impress Elroy by just doing what he does best outside of being on the air and that is connecting with the people. Check out Elroy's comments about
Tom Joyner
as he detailed his accounts of Tom's time spent in Greenville.
Radio legend Tom Joyner has had a notably successful career for a plethora of reasons. On Saturday, September 12, 2015, I witnessed the master at work. Mr. Tom Joyner , interacted eagerly and tirelessly with his listeners at this signature event, "TAKE A LOVED ONE TO THE DOCTOR" presented by 107-3 JAMZ in Greenville, South Carolina, along with Greenville Health Systems. He walked around the ENTIRE venue and greeted each listener one by one. In addition, every person that wanted a picture with Tom, he stopped to take a picture whenever asked. He not only posed for selfies with the listeners, but also with the volunteers/workers and graciously thanked them for working at the event… And with patience of a saint, he would even retake the picture if it wasn't to their liking. Forever known as "The Fly-Radio DJ", just two weeks prior, Tom was again in Greenville, SC., to host the "Battle of The Bands" with 10,000 people in attendance. Tom's impeccable work ethic is not a norm for celebrities. On many occasions, whether it is a radio or musical celebrity, most set limits on time during a market visit to greet fans or clients. Quickly they are gone back to their hotel room. Of course, there are exceptional circumstances that security is needed, but it can be abused. However, Tom remains approachable, opting-out for personal security or a manager keeping his fans away. I have seen celebrities who are far less popular than Tom Joyner with a huge entourage or security guards, driving away their fans by blocking an opportunity for a fan to take a picture or simply shake their hand. Tom Joyner is the epitome of a professional. He has given his life to his listeners for over 40+ years, though he carries himself as if he is at the beginning of his career; always re-establishing his brand.
Thanks Tom for showing your fans that you genuinely care about them and our communities. Many present and future radio personalities can learn from a veteran like you; never miss an opportunity to embrace your audience.
His example is sincere and he lives up to his reputation of being (voice goes up 6 octaves) "The Hardest Working Man in Radio!"