After expressing regret several times for his homophobic rant that caught media attention everywhere, DaBaby took the time to meet with HIV/AIDS organizations.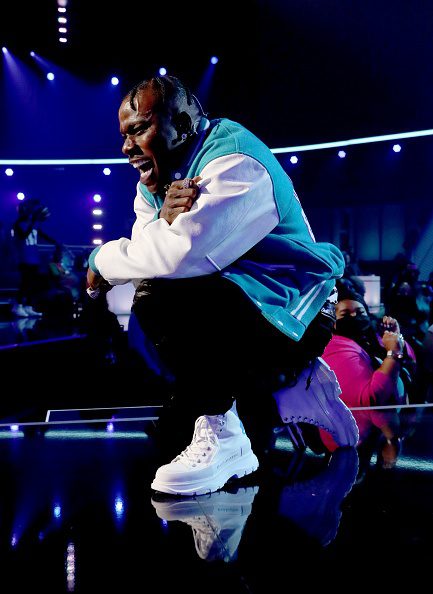 At the Rolling Load Festival on July 25, rapper DaBaby made disparaging remarks against the gay and the gay HIV/AIDS community. DaBaby said to the audience, "If you didn't show up today with HIV, AIDS, or any of dem deadly sexually transmitted diseases that'll make you die in two to three weeks, then put your cellphone lighter up."
Not only has DaBaby faced sharp criticism for his comments, but he was dropped from several music festivals afterward. He did however perform at the Hot 97 Summer Jam on August 22 in New York.
DaBaby first issued an apology on Twitter, "Anybody who done ever been affected by AIDS/HIV y'all got the right to be upset, what I said was insensitive even though I have no intentions on offending anybody. So my apologies – But the LGBT community… I ain't trippin on y'all, do you. y'all business is y'all business."
Then he issued another apology on Instagram that was later deleted, "As a man who has had to make his own way from very difficult circumstances, having people I know publicly working against me — knowing that what I needed was an education on these topics and guidance — has been challenging."
As a result, DaBaby has met with several Black organizations that serve the HIV/AIDS population. DaBaby met with the leaders of the Black AIDS Institute, Positive Women's Network, Transinclusive Group, and GLAAD.
DaBaby also met with the Southern AIDS Coalition and they released the following statement,
"During our meeting, DaBaby was genuinely engaged, apologized for the inaccurate and hurtful comments he made about people living with HIV, and received our personal stories and the truth about HIV and its impact on Black and LGBTQ communities with deep respect. We appreciate that he openly and eagerly participated in this forum of Black people living with HIV, which provided him an opportunity to learn and to receive accurate information.