Digital and Radio Facts:

The magic of Christmas music is all about songs connected to your memories, feelings and beliefs about the holidays.
I am sharing my list (after checking it twice…but in no particular order) as a jumping off point to spark thoughts about what your list might look like…and I would love to read it. I purposefully left off some obvious ones as I wouldn't be telling you about something you already knew. I also left off the "naughty" ones…cuz I really need St. Nick to swing down my chimney this year! In the spirit of giving and receiving and the day after Thanksgiving ushering in the first days of Christmas, I wish you a wonderful holiday season filled with love, optimism, and soul-stirring music. Click NEXT below to see the next song
"Santa Claus Go Straight to the Ghetto" – James Brown (King – 1968)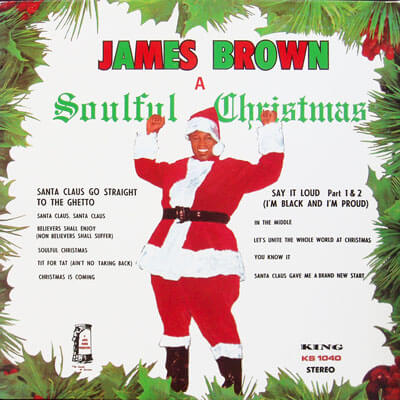 When J.B. dropped this on The One, there was no other song like it – a vivid and soulful request for Santa to take care of business with all the children in the hood. Composed by Mr. Brown along with saxophonist/arranger Alfred "Pee Wee" Ellis (who sneaks in a tasty "Jingle Bells" inspired solo) and singer/songwriter Hank Ballard, this was an instantly memorable and welcome Christmas song of Soul.
"That's What I Want For Christmas" – Nancy Wilson (Capitol – 1963)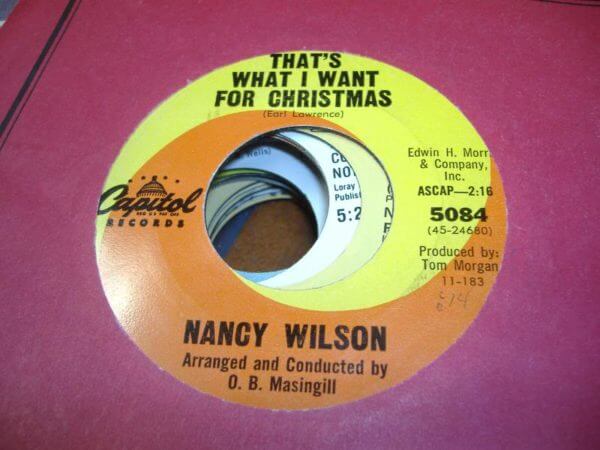 With so many women going the "Santa Baby" route with Eartha Kitt, Nancy Wilson recalibrated hearts to hearth warm sentiments of true love and romance with this selection that arrived shortly after her breakthrough success with the song that became her signature, "Guess Who I Saw Today." Ironically, the smooth and dreamy Christmas song (composed by Earl Lawrence / Arranged by O.B. Masingill with "What Are You Doing New Year's Eve" on the flip side) remains the highest charting single on the R&B charts of Fancy Ms. Nancy's career.
"O Come All Ye Faithful" – Lisa Fischer (Fox – 1992)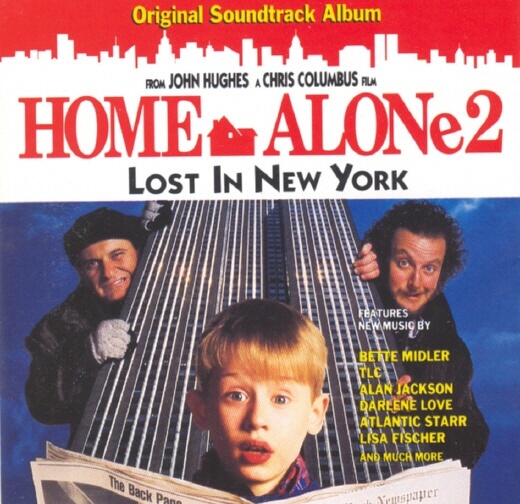 Talk about a performance that'll stop you smack in your snow tracks, singer supreme Lisa Fischer came out of nowhere with this intimate heart on sleeve recording of the timeless Christmas hymn – sung solely to the accompaniment of Nat Adderley Jr. at the piano who she recorded and toured with as a member of the late, great Luther Vandross' inner circle. This recording was for the soundtrack of "Home Alone 2: Lost in New York" but was never released as a single for obvious reasons. Yet it is one of the most seasonally spot-on captures of pure Christmas spirit ever committed to tape.
"Little Drummer Boy" – Kenya (Alma Pura Productions – 2015)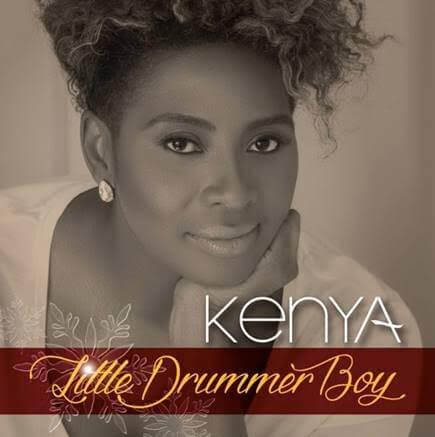 Kenya and producer/keyboardist Estuardo Stapleton achieved the rare distinction of taking a Christmas carol we've all heard a hundred different ways yet making her telling of Christ's birth night story not only contemporary but inspired and vibrant. Kenya sings reverently within an arrangement that ascends from a simmer to a soar. Along with drummer Justin Abraham and 5-string bass guitarist Dre Williams, everyone is on their A-game here applying masterful chops in all the right places yet using their collective Jedi mind mastery to devoutly serve only the inherent dynamic demands of the song. File under Soul-Jazz masterpiece, complete with a stunning in-studio video.
"A Cradle in Bethlehem" – Nat King Cole (Capitol – 1962)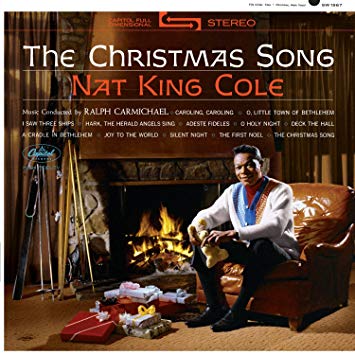 This performance by one of the greatest voices in all of music encapsulates the birth of Christ moment like no other…with all the grandeur and grace of old-fashioned ways: Nat, strings, winds and chorus. Composed by Larry Stock & Alfred Bryan, and conducted by Ralph Carmichael, this is Christmas…as angels sing "Amen."
"Away in a Manger" – Mahalia Jackson w/ Percy Faith (Columbia – 1966)
]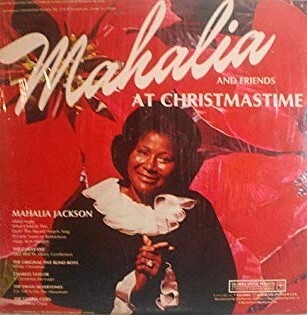 I can never play Nat's "Cradle" without following with "Away in a Manger" by Mahalia Jackson. Back in the `60s before we had so many Christmas songs and albums to choose from, these beacons of Black pool genius illuminated our way…and it got no higher than Sister Mahalia. Standing before Percy Faith's strings, horns and bells, this was the sound of the union of all mankind on one powerfully peaceful night.
"This Christmas" – Donny Hathaway (Atco/Atlantic – 1970)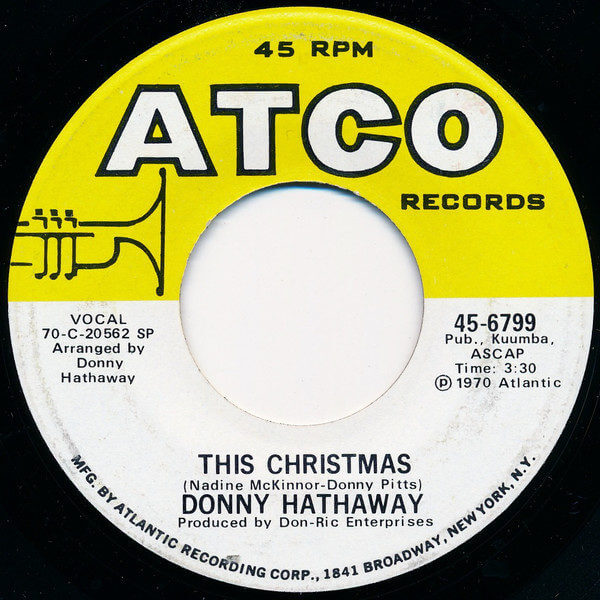 Brother Hathaway, along with Nadine McKinnor – a lady who came by the studio to clean the drapes and wound up composing a classic – co-wrote one of the first and most enduring original Soul Holiday classics with the scene setting "This Christmas." The lyrics detail a couple's first Christmas set to a bluster of majestic soul and a beat that shifts between bars of 4 and 3. Many subsequent recordings cheat the rhythmic counterpoint here but Donny's tympani and bells lay down the yuletide law. If you don't catch the spirit off of Donny's outro ad libs, your name is either Scrooge or Grinch. The B-side, "Be There," is also a Christmas gem.
"Peace at Least" – Rotary Connection (Cadet Concept/Chess – 1968)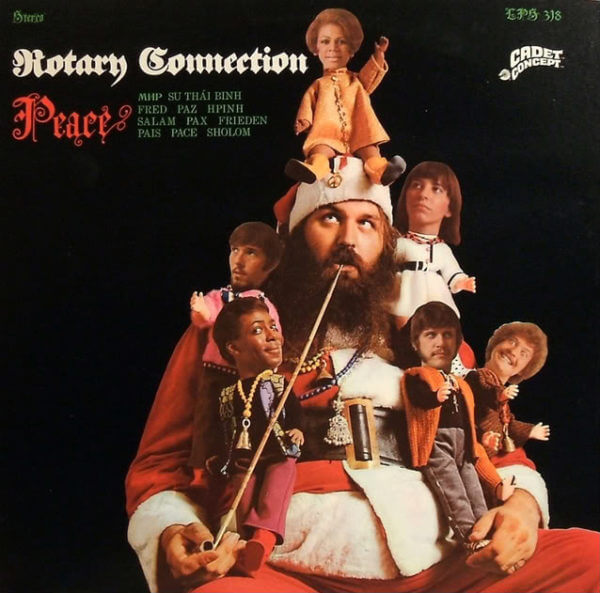 Santa being a beautiful figment of our imaginations, it's fun to hypothesize precisely how he becomes so jollily benevolent and heroically able to satisfy the wants and desires of everyone in the world in one single night. Songwriter Arthur Feldman swears Ol' Santa smokes mistletoe…and singers Minnie Riperton and Sidney Barnes of psychedelic soul band Rotary Connection were just the hip kids to call him out on it to a sweeping symphonic soul score conjured by the peerless Charles Stepney (from the band's counterculture Christmas classic LP, Peace).
"Happy Holidays (Part 1)" – OHIO Players (Mercury – 1975)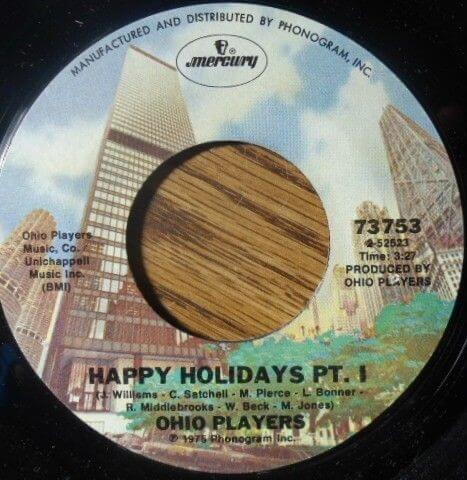 No other major Soul band of the `70s thought to compose and record a Christmas song during that decade except the Ohio Players. Singer/Guitarist Leroy "Sugarfoot" Bonner warmly leads the way on this gem with falsetto backing and Arp string ensemble kitsch, originally released as a 2-part 45. Though an extended complete take later came out on their Funk On Fire box set, Part 1 on the single is the dosage, like Goldilocks' porridge, labeled "just right."
"Christmas Time is Here" – Vince Guaraldi Trio (Fantasy – 1965)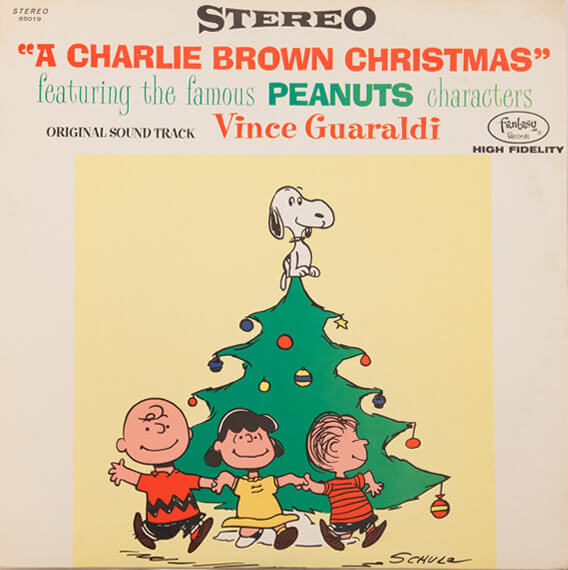 If Christmas has a sound, it's the piano, bass and drums of the Vince Guaraldi Trio on the music they made for the enduring animated television special "A Charlie Brown Christmas." 2 bars into any selection and you are in the snow globe – a fact that has made the album a quadruple platinum seller. Most touching is this theme, offered instrumentally and with a chorus of children singing the humbly evocative lyrics penned by producer Lee Mendelson.
"White Christmas" – The Guitar Ensemble (Green Linnet – 1989)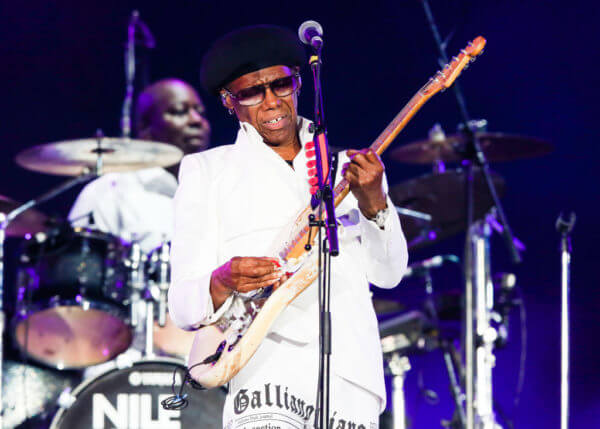 Lovers of the rollicking rhythm guitars of the dance band Chic likely missed out on this super rare instrumental gem arranged and played by Nile Rodgers for the one-off compilation CD, Christmas Guitars (A Benefit for the National Coalition for the Homeless). Nile went incognito to create this virtuosic version, overdubbing three harmonically and rhythmically intricate guitar parts for the Irving Berlin chestnut made famous by Bing Crosby. Well-worth seeking out!
"Silent Night" – The Temptations (Motown – 1980)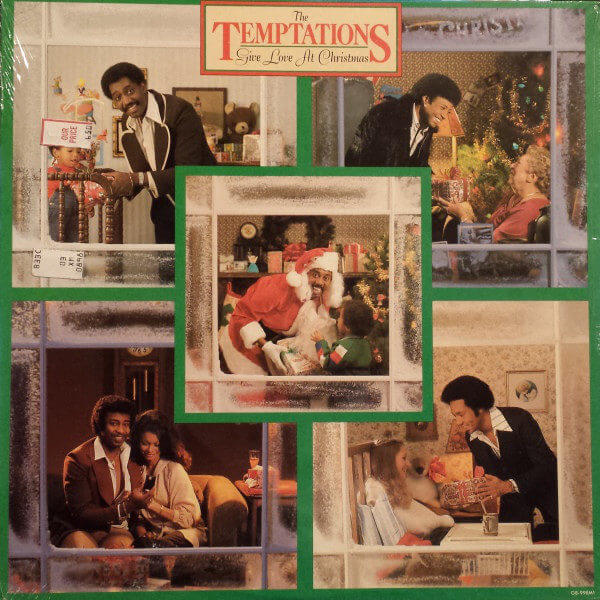 A new decade had dawned, The Temptations had returned to Motown after two disastrous albums on Atlantic, and Dennis Edwards was back in the lead tenor slot… It was the perfect storm for a second Christmas album by the tall temptin' quintet. Give Love at Christmas had many delights but none finer than the 6-minute "Silent Night" that was the album's grand finale (not to be confused with the nice Eddie Kendricks-led version they recorded on their first holiday album, The Temptations' Christmas Card, in 1968). Every member hits the lead mic – most profoundly Melvin Franklin, the greatest bass singer ever – taking their sweet time to wish one and all a Merry Christmas…and to all a good night.