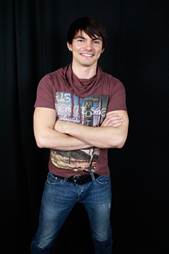 TJ TAORMINA NAMED MORNING SHOW HOST OF BOSTON'S NEWEST HIT MUSIC STATION 103.3 AMP RADIO
BOSTON, MA "" Tuesday, February 12, 2013 –   TJ Taormina has been named Morning Show Host of Boston's newest contemporary hit radio station 103.3 AMP Radio (WODS-FM), it was announced today by Dan Mason, Program Director for CBS RADIO Boston's 103.3 AMP Radio.   TJ will start in April and will host mornings from 5:30-9AM.   You can listen to Boston's new, hit music station on-air at 103.3 FM,  online at 1033AMPRadio.com and Radio.com, or with the free Radio.com app for iOS and Android.
 "TJ is a unique talent, with a passion for radio that is unmatched.   I'm thrilled that 103.3 AMP Radio is able to bring him to Boston, and I am positive he will be a cornerstone for our success in the future," said Mason when making the announcement.
"The chance to join the AMP team in Boston and host the morning show is a life-long dream come true!" said Taormina.   "I look forward to working with the entire CBS RADIO team to make the morning show on AMP a powerhouse, "˜can't-miss' show."
A life-long fan of radio, TJ joins 103.3 AMP Radio from the top-rated "Elvis Duran and the Z100 Morning Show" on New York's Hit Music Station Z100 (WHTZ-FM).   Over the course of his ten years with the morning show, TJ learned as much as he could from the different positions he held: answering phones, doing phone pranks, producing, and eventually becoming a co-host on Elvis' show in 2010.   TJ began his radio career during his  junior year of high school.  He volunteered at Fairleigh Dickinson University in Teaneck, NJ at the college station WFDU-FM running public service tapes on weekends.   In 2002, after getting accepted into FDU's broadcasting department, he landed an internship with Elvis Duran.
103.3 AMP Radio is owned and operated by CBS RADIO, one of the largest major-market radio operators in the United States.   A division of CBS Corporation, CBS RADIO operates 127 radio stations, the majority of which are in the nation's top 50 markets.   CBS RADIO also owns and operates WBZ-AM NewsRadio 1030, WBZ-FM 98.5 The Sports Hub, WBMX-FM MIX 104.1, and WZLX-FM 100.7 Boston's Classic Rock.