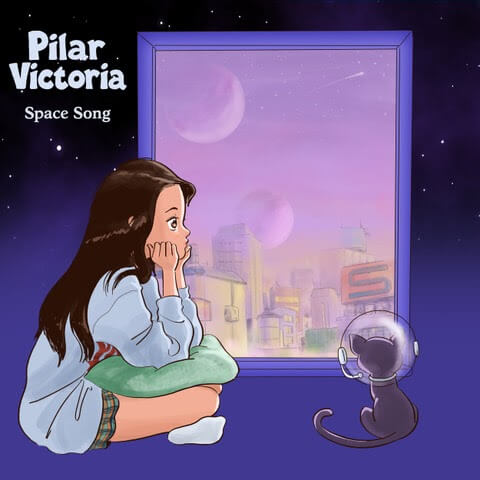 PILAR VICTORIA ARRIVES WITH NEW SINGLE 'SPACE SONG'
Pilar Victoria is far from your average 14-year-old. Today, she's shared her brand new single 'Space Song,' the ethereal first taste from her forthcoming debut EP out this year via Platoon.
'Space Song' – which is laden with all the gorgeous story-telling magic that her already madly loyal fans have come to expect from Pilar – is an other-worldly trip through the captivating mind of one of the most intriguing and genuinely exciting new artists in the world right now. Alongside the track, Pilar has also debuted a mesmerizing animated video filled with celestial imagery that brings the song perfectly to life. Don't miss out.
"Space song was a song I wrote when I couldn't sleep and needed something to keep my mind off things," says Pilar. "I had this space projector in my room that I used and I based the song off of that!"
Argentine-American Pilar Victoria started writing songs when she was 12 and taught herself to play the ukulele, guitar and the piano in between school and learning to skateboard. Last year, she self-released a handful of beautifully crafted songs, written in her bedroom in Houston, Texas and caught the world's attention all by herself. Last month, she dropped 'Seaside Romantics' – a track which she recorded in the spur of the moment under her duvet late one night during lockdown. Pilar has since accumulated over 1.5 million streams on Spotify. As we said, she's far from your average 14-year old.