Radio Facts: Radio Facts: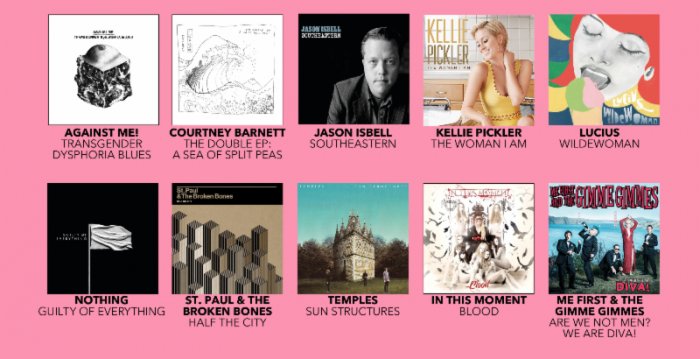 RED Distribution launches Ten Bands One Cause, a new retail initiative in support of National Breast Cancer Awareness Month this October. Ten bands have joined forces to reissue ten titles September 30 on pink vinyl for the cause which is sponsoring Gilda's Club NYC.
Limited edition copies of pink vinyl from Against Me!, Courtney Barnett, In This Moment, Jason Isbell, Kellie Pickler, Lucius, Me First & The Gimme Gimmes, Nothing, St. Paul & The Broken Bones and Temples are being shipped to retailers nationwide, and $1 for every unit shipped will sponsor Gilda's Club NYC.
"Breast cancer is something that can be cured when caught and treated early, and awareness is a big part of early diagnosis. I like the idea of the pink vinyl campaign because I can support this cause, and help spread awareness." – Against Me!
"I love this idea. I'm in favor of anything that raises funds for or awareness of this issue. Plus, it makes me feel like one of those cool ballplayers with the pink bats." – Jason Isbell
Gilda's Club NYC is a non-profit created in the memory of Gilda Radner, an original cast member of Saturday Night Live, who passed away from ovarian cancer in 1989. Speaking to their core mission of providing welcoming communities for women and men who are diagnosed with cancer, CEO Lily Safani states, "We have the resources to help cancer patients and their families learn how to live with their cancer experience through our support groups, educational lectures and classes." For more information and to get involved, please visit GildasClubNYC.org.