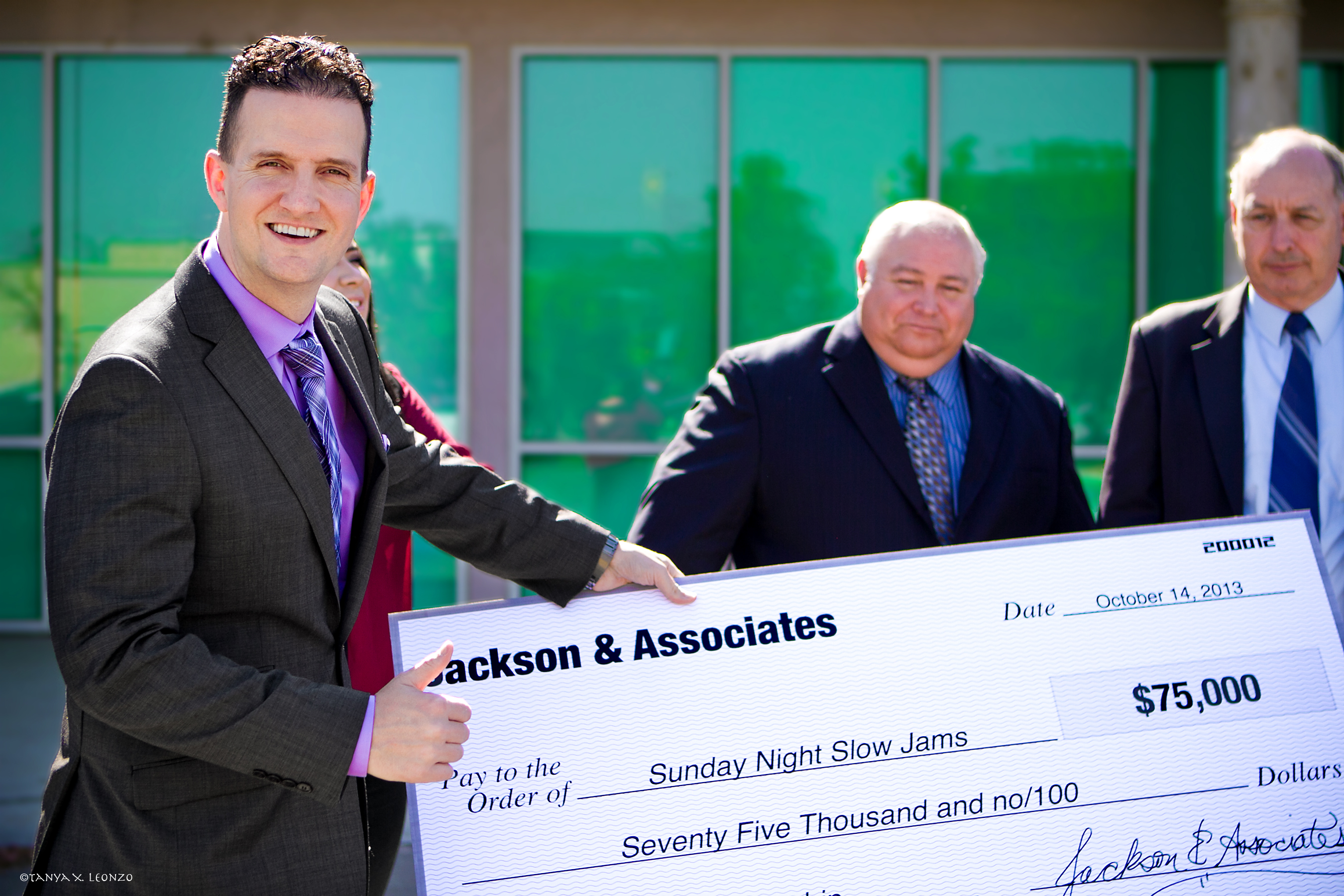 Benztown Radio Networks announced today that nationally syndicated radio show, Sunday Night Slow Jams, has a major new sponsor, legal services firm Jackson and Associates Law Centers, as a result of the show's exposure on the October 11th episode of "Shark Tank" on the ABC Television Network. Bakersfield-based Jackson and Associates contacted the show's creator and producer, R Dub!, the Monday after the "Shark Tank" episode aired, and signed a one-year digital sponsorship deal for $75,000 last Friday. Sunday Night Slow Jams is a four-hour weekly radio show that airs in over 70 markets and features Rhythmic and Pop love songs and listener dedications called "Oral Expressions."
Jackson and Associates will sponsor Sunday Night Slow Jams' digital initiatives for one year, including www.slowjams.com, the launch of the new Slow Jams App, Slow Jams' streaming and social media platforms, texting campaigns and dedication and request telephone lines and digital entry submissions.
Sunday Night Slow Jams also welcomed a bonanza of new affiliates in the week following R Dub's "Shark Tank" appearance, including: KKWD-FM, Oklahoma City (Rhythm); WWZY-FM, Jersey Shore (Hot AC); and KKBB-FM, Bakersfield (Rhythmic AC).
R Dub!, Sunday Night Slow Jams Host and President of Fusion Radio Networks, said: "Being one of 40,000 applicants to appear on 'Shark Tank' was a dream come true for me! The opportunity to market the Slow Jams brand to 6.5 million potential new customers and meet the Sharks while appearing on one of my favorite television shows was one of the best experiences of my life. I'm so happy that the folks at Jackson and Associates understand the value of the Slow Jams brand and community of listeners across America– and the power and effectiveness of radio. I'm also thrilled to welcome these great new affiliates to the Slow Jams family. I'd like to thank all of our radio Radio Station affiliates and program directors, my partners at Benztown and Compass Media, and our listeners, whose belief in the show makes Slow Jams successful, book after book."
Steven Thompson, Firm Administrator/Attorney for Jackson and Associates, said: "We've been fans of R Dub! and Sunday Night Slow Jams for some time now. After seeing him on Shark Tank, the staff and I got together and realized Slow Jams would be the perfect medium to deliver our message to potential