Originally posted on 2013-01-02 01:40:06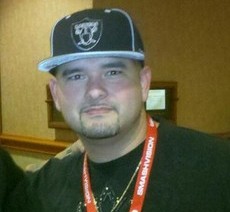 Redding, CA.
DJ
Jose Ochoa, 35,   a popular
DJ
with Results Radio's Power 94.7   was found dead in his home Friday. He apparently died from a heart attack, the Shasta County Coroner's
Office
reported Monday Jan 1, 2013. He had just married his girlfriend Monica this past October. The couple had been together for five years before getting married. While the coroner's
office
would not give any more specifics on his death, his wife Monica   said they told the family he had clogged arteries and was in the same shape as a 70-year old man. His wife denied he had drug or heavy alcohol use. She did admit he had diabetes, high blood pressure and sleep apnea but his death still came as a shock, since he treated all his health problems and was relatively active, holding down two jobs and raising four children. "He always held a day job. He was an extremely hard worker," she said. "There were days when he would leave the house at 7 in the morning and not come home till 2, 3 a.m. after working all day and then going and DJing at night." He also worked with developmentally disabled adults. Radio Facts wishes the family of Ochoa the best during this incredibly trying time. 
Originally posted on 2013-01-02 01:40:06