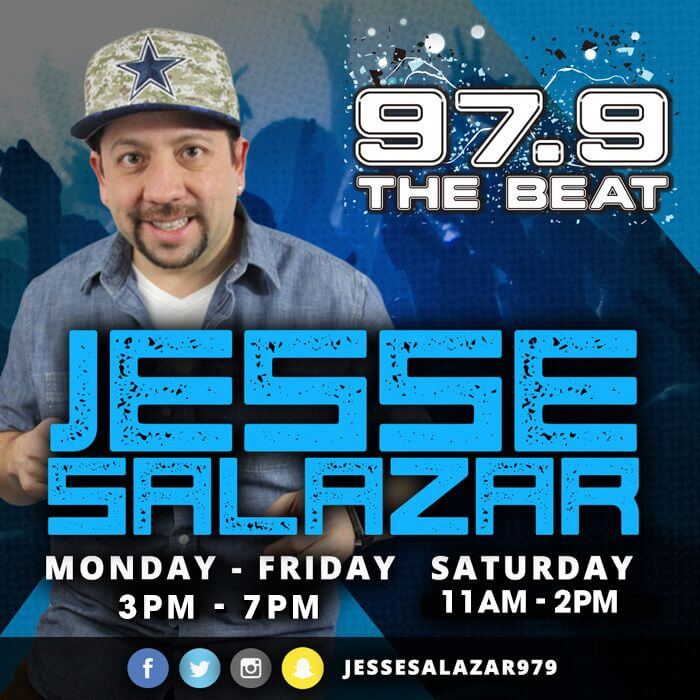 Jesse Salazar has been upped to APD of KBFB (97.9 The Beat).  Jesse who has also been known early in his career as "Boy Loco" joined KBFB  in 2013 as midday host and last year was moved to PM Drive.  Jesse has also been MD of KBFB since 2014.  He has past stops included KQBT Austin, WLLD Tampa, KKFR in Phoenix. PD Mark McCray stated:  "Jesse has the experience, attitude and work ethic that makes his graduation to APD an easy decision."   Jesse adds "I am thankful for the opportunity and I look forward to continuing to add to the programming success of KBFB with my new role.  Thanks to Mark McCray (VP Programming-Dallas), Tami Honesty (Market Manager-Dallas) and the leadership at Urban 1 for believing in me."
SHOWTIME ACQUIRES THE GO-GO'S, A FEATURE DOCUMENTARY ABOUT THE ICONIC ROCK BAND
The Alison Ellwood-Directed Film Will Premiere Later This Year
LOS ANGELES – February 9, 2019 – SHOWTIME announced today it has acquired U.S. rights to THE GO-GO'S, a feature documentary about the most successful female rock band of all time, with plans to premiere the film later this year. Alison Ellwood (HISTORY OF THE EAGLES, American Jihad) will direct the project. The band granted full access for this textured biography featuring candid interviews and archival footage to tell the real story of their meteoric rise to fame and the journeys, triumphs, laughter and struggles along the way.
As the first multi-platinum-selling, all-female band to play their own instruments, write their own songs and have a No. 1 album, the Go-Go's are rooted in music history as not just a pop phenomenon but groundbreakers as well. Born out of the L.A. punk scene, Charlotte Caffey (lead guitar, keyboards and vocals), Belinda Carlisle (lead vocals), Gina Schock (drums), Kathy Valentine (bass and vocals) and Jane Wiedlin (guitar & vocals) didn't play the part of bad girls – they were genuine punk rockers. Their 1981 debut album "Beauty and the Beat," featuring the hits "Our Lips Are Sealed" (one of Rolling Stone's 'Top 100 Pop Singles') and "We Got the Beat," was one of the most successful debut albums of all times, was at No. 1 on the Billboard charts for six consecutive weeks, and resulted in a Grammy® nomination for Best New Artist.
Ellwood's feature film directing credits include HISTORY OF THE EAGLES, American Jihad, Spring Broke and Magic Trip: Ken Kesey's Search for a Kool Place. Her television directing credits include Death Row Stories, Locked In for 30 for 30, No Limits for Nine for IX, The Human Behavior Experiments, the Emmy® Award-winning series American High, The Travelers and Sixteen. She has produced and edited several feature documentary films including Oscar® nominated Enron: The Smartest Guys in the Room, Catching Hell, Gonzo: The Life and Work of Dr. Hunter S. Thompson, My Trip to Al Qaeda, and Casino Jack and the United States of Money.
David Blackman and Daniel Inkeles will serve as executive producers. THE GO-GO'S is presented and produced by Polygram, Universal Music Publishing Group, Fine Point Films and Fadoo Productions.
Showtime Networks Inc. (SNI), a wholly owned subsidiary of CBS Corporation, owns and operates the premium television networks SHOWTIME®, THE MOVIE CHANNEL™ and FLIX®, and also offers SHOWTIME ON DEMAND®, THE MOVIE CHANNEL™ ON DEMAND and FLIX ON DEMAND®, and the network's authentication service SHOWTIME ANYTIME®. Showtime Digital Inc., a wholly owned subsidiary of SNI, operates the stand-alone streaming service SHOWTIME®. SHOWTIME is currently available to subscribers via cable, DBS, and telco providers, and as a stand-alone streaming service through Amazon, Apple®, Google, LG Smart TVs, Oculus Go, Roku®, Samsung Smart TVs and Xbox One. Consumers can also subscribe to SHOWTIME via Amazon's Prime Video Channels, DirecTV Now, FuboTV, Hulu, Sling TV, Sony PlayStation™ Vue, and YouTube TV. Viewers can also watch on computers at Showtime.com. SNI also manages Smithsonian Networks™, a joint venture between SNI and the Smithsonian Institution, which offers Smithsonian Channel™ and Smithsonian Channel Plus™. SNI markets and distributes sports and entertainment events for exhibition to subscribers on a pay-per-view basis through SHOWTIME PPV. For more information, go to www.SHO.com.
# # #
V103/Atlanta's Frank Ski Understands The Power of Leveraging Skillsets
Always love the fact that Frank Ski has used/uses his leverage to do the most in the industry while on the radio. Ski has several hits under his belt over the years that he participated on including "Doo Doo Brown," "Wobble," and the 1992 Track "Whores in This House" a huge club hit that has now been sampled by Lil Wayne and Gucci. Frank verified with Radio Facts that he cleared the sample and he is excited about the release. Ski is also about to become a father again. Congrats.
Lebron James says neither his team nor Golden State will travel to White House after winning NBA ChampionshipCavs and Warriors pass on White House visit. Cleveland Cavaliers forward LeBron James and Golden State Warriors guard Stephen Curry have been battling in the NBA Finals, but both stars agreed on Tuesday that whichever team wins the championship will skip the traditional White House visit to celebrate with U.S. President Donald Trump. The players voiced their opinions on the day Trump escalated his feud with the NFL's Philadelphia Eagles after most of the Super Bowl-winning team passed up a White House invitation. "I know no matter who wins this series, no one wants the invite anyway," James, whose Cavaliers trail the best-of-seven NBA Finals 2-0, told reporters in Cleveland on Tuesday during an off-day of the NBA Finals. "So it won't be Golden State or Cleveland going." It has been a long-standing tradition for championship teams to visit the White House, but there has been some controversy since President Donald Trump took office. Last September, Trump revoked an invitation to the Warriors, who beat Cleveland last June for their second title in three seasons, after Curry had said he would vote against a planned visit. Curry, a former two-time league Most Valuable Player, said he and his teammates would likely repeat the stance they took last year should they successfully defend their NBA title. "I hope to be in that situation and win two more games where we win a championship and obviously know what comes with that," said Curry. "But I think I agree with LeBron. Pretty sure the way we handled things last year, kind of stay consistent with that." Trump revoked his invitation for the Eagles celebration after it became clear that most of the team's players planned to boycott the event. Trump blasted NFL protests in which players kneeled during the playing of the national anthem, even though none of the Eagles kneeled during the anthem last season. "When somebody says they don't want to come to the White House, he disinvites them, so the photo op don't look bad. We get it at this point," said Warriors forward Kevin Durant, who was named the MVP of last year's NBA Finals. "It's good that guys are sticking to what they believe in and what they want to do. Like guys said before me, I'm sure whoever wins this series won't be going."  
The Living Legends Foundations, ® Inc Kicks Off June, Black Music Month With Inspiring Digital Series "And The Beat Goes...#The Life Remix"
June 4, 2018
(LOS ANGELES, CA)
–  As June kicks off Black Music Month the Living Legends Foundation
,®
Inc  (LLF)
is recognizing the 'behind the music' industry alumni whose careers were launched in black music and today have gone on to transition their experience and knowledge to reinvent themselves as entrepreneurs and flourish in a host of new careers.  Entitled
"And The Beat
Goes...#TheLifeRemix"
, the digital series
will share the stories of over 40 industry professionals from around the country, from where they started in the music industry to how they used their ingenuity to find life after their days at record labels, retail and radio stations.
This amazing series is the brainchild of LLF Board Members and co-producers Sheila Eldridge and Jackie Rhinehart, industry professionals who have successfully experienced "The Life Remix."
"The Music Industry has undergone major changes
.
Wh
at is not as evident have been the changes, transitions that have occurred within the people of the industry. Music -- the product-- is ubiquitous and the #TheLifeRemix series demonstrates that those who marketed music have talents that are just as ubiquitous" says co-producer
, Jackie Rhinehart.
Adds co-creator
Sheila Eldridge
"the
#TheLifeRemix
' series was created to continue the mission of the Living Legends Foundation to be a
resource to help others and inspire fellow colleagues to 'step outside their comfort zone' and be a driving force in whatever your industry"
The
And The Beat Goes On
...#TheLifeRemix
'
initiative launches June 1 and will roll out during Black Music Month on The Living Legends Foundation social media Facebook, Instagram, Twitter platforms and the Living Legends website. Hashtags #RootedInBlackMusic #TheLIfeRemix  #BlackMusic365
For more information and to support the Living Legends Foundation, please visit:
www.livinglegendsfoundation.com
.
www.facebook.com/thelivinglegendsfoundation
www.twitter.com/TheLLFInc
www.instagram.com/livinglegendsfoundation
www.youtube.com/TheLivingLegendsFdn
#  # #
ABOUT THE LIVING LEGENDS FOUNDATION®
The Living Legends Foundation, ® Inc. is a registered 501 (c) (3) non-profit, tax-exempt organization and has been funded primarily with corporate contributions and individual donations. The 27-year-old organization has expanded its mission to assist those who have served the music industry and who have a confirmable need. This assistance is provided in a manner that maintains the dignity of those who may receive financial help. Many former music industry employees worked during a time when 401Ks and retirement packages were not available—and even today, in this era of downsizing and mergers, the industry's lack of long-term career stability has become more commonplace. Proceeds from the event will enable the LLF to continue to aid those in need, as well as fund the Living Legends Foundation Scholarship Program, which helps the educational pursuits of the next generation of music makers and marketers at three HBCUs.  
The Living Legends Foundation Officers and Board Members include Chairman David Linton, President Varnell Johnson, Vice-President Jacqueline Rhinehart, Recording Secretary Pat Shields, founder and Treasurer C.C. Evans, and General Counsel Kendall Minter, Esq. Board Members include Vinny Brown, Sheila Eldridge, Marcus Grant, Tony Gray, Ken Johnson, Barbara Lewis, Miller London, Sidney Miller, Kathi Moore, Jon Platt, Gwendolyn Quinn, Sam Weaver, and Colleen Wilson.
The Living Legends Foundation Advisory Board includes a list of distinguished entertainment executives, including founder Ray Harris, Monica Alexander, Vivian Scott Chew, Don Cody, George Daniels, Brad Davidson, Michael Dawson, Esq., Skip Dillard (WBLS and WLIB), Kevin Fleming, Shannon Henderson, James Leach, Vicki Mack Lataillade, Gail Mitchell, Azim Rashid, Lionel Ridenour, Kevin Ross, A.J. Savage, T.C. Thompkins, Irene Ware, Tyrone Williams, Buzzy Willis, and Tony Winger.