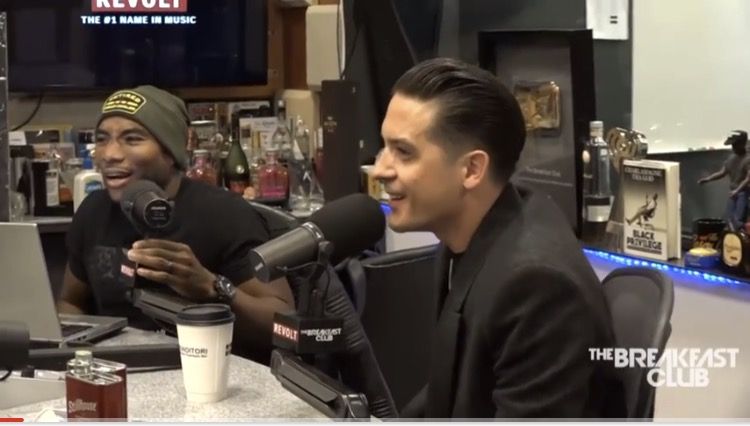 The Breakfast Club Radio Show interviews G Eazy where they talk about his past substance abuse, white rapper privilege, and much more!!  
- The Beautiful and the Damned
- Personal struggles
- Battles with drugs and alcohol
- When were you outta control
- New whisky
- Big on astrology
- Being crazy
- H&M situation
- Hard getting accepted in Hip Hop
- Working with A$AP Rocky
- Doing drugs with Halsey
- Partying with Diddy
- Why he's having no kids
- Are there any white privileges in the music industry
- When did you become aware of your privilege
- Working with E-40
- Finding step-mom overdose
- Not being culture vulture
- Who are you're industry friends
- The tour
- Best country with the best p**sy
No wonder you rarely see Janet with her brothers or sisters. The late Michael Jackson's estate is being used to support his adult brothers...
An organization called RecoveyLocal.org has put together an alarming real-time counter that puts into perspective the costs of addiction to bring awareness to the current epidemic.  It measures how much is spent, how many lives are taken, and how many are arrested due to alcohol, addiction, and the war on drugs.
Radio Facts: If you haven't seen this tragic home video of a baby boy swearing and being antagonized by two purported relatives to repeat obscenities,...
"Black father" can someone explain to us what that is?   His daughter(s) is probably wishing this black man SHOULD have also left, this would be considered abuse by some standards... but she certainly won't forget how stupid her idea was... your thoughts?   Here's our thoughts.
Radio Facts: The rally against President Obama by angry conservatives seems to be growing and I have to ask myself, is this the same way Bush was treated but I was, perhaps, less sensitive because he was not a black man?
Radio Facts: Fat Joe stated that Big Pun's wife Liza is destroying Pun's legacy by talking about the abuse she endured from Pun during their marriage. Liza is working on a video that will be released in Oct where she gives a deeper look into the late rapper's life. She has released footage of Pun physically abusing her.
Troubled rap star dmx missed an important court date on Tuesday after being rushed to a South Florida hospital due to suffering "stroke-like" symptoms, according to AllHipHop.com. While DMX's current condition is unknown, hospital officials did disclose he will not be released for at least the next few days. Charles Kozelka, DMX's lawyer, claimed earlier today to not know any specific details about his client's health. "I don't know the cause, but I know that he's still hospitalized and that they've admitted him and won't be releasing him for a couple more days," Kozelka stated.