[caption id="attachment_184301" align="alignnone" width="600"]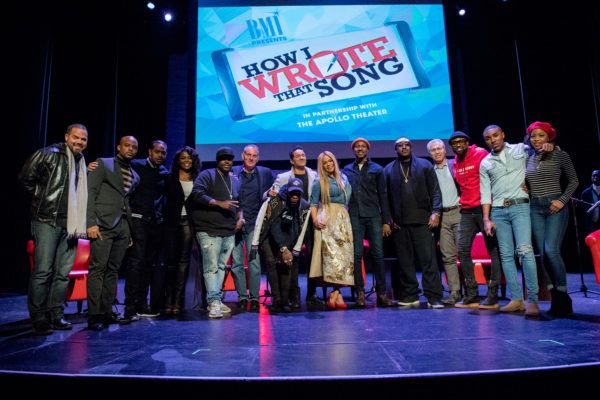 NEW YORK, NY - JANUARY 27: Rodney Jerkins, Tory Lanez, RedOne, Faith Evans, Mark Batson with BMI staff onstage during BMI's How I Wrote That Song 2018 on January 27, 2018 in New York City. (Photo by Roy Rochlin/Getty Images for BMI)[/caption] MARK BATSON, FAITH EVANS, TORY LANEZ AND REDONE SHARE THE STORIES BEHIND THEIR BIGGEST HITS AT BMI'S HOW I WROTE THAT SONG® New York, New York (January 29, 2017) – On Saturday, January 27th, Broadcast Music, Inc. ® (BMI®) presented its annual pre-GRAMMY event How I Wrote That Song® (HIWTS), in partnership with the Apollo Theater, at the legendary performance hall. The audience was treated to an enlightening panel discussion that featured multi-platinum and GRAMMY award-winning music producer Mark Batson, GRAMMY award-winning R&B royalty Faith Evans, GRAMMY-nominated R&B sensation Tory Lanez and GRAMMY award-winning super producer RedOne. Moderated by BMI's VP, Creative, Catherine Brewton, attendees were given first-hand insight into the making of some of the participants most successful hits. During the conversation, Faith Evans spoke about the process of creating the Notorious B.I.G. tribute "I'll Be Missing You" and how it made her a household name with people unfamiliar with her catalogue. Relative newcomer Tory Lanez stressed the importance of quality over quantity in an artists' work and setting the bar high for his art, while Mark Batson talked about working with everyone from India.Arie to LeAnn Rimes, even sharing the funny story behind crafting Anthony Hamilton's breakout single "Charlene." RedOne, who is responsible for radio favorites such as Lady Gaga's "Poker Face" and Enrique Iglesias' "I Like It," talked collaboration and the significance of working with artists he believes in, regardless of where they are in their career. Before closing out the panel, Brewton called surprise guest GRAMMY award-winning songwriter/producer Rodney Jerkins to the stage, who was in the audience sitting among with industry tastemakers, students and aspiring songwriters. The renowned hitmaker, also known as DarkChild and whose signature sound shaped the careers of Brandy, Destiny's Child, Michael Jackson and more, provided invaluable advice and encouraged the crowd to never give up on their craft. For over ten years BMI's How I Wrote That Song ® has provided aspiring songwriters with the unique opportunity to learn about the art of songwriting, producing and performing straight from the industry's hottest GRAMMY-nominated and award-winning artists. Previous participants have included Nas, Fat Joe, Snoop Dogg, Busta Rhymes, will.i.am, Zac Brown, Cee Lo Green, B.o.B, Kara DioGuardi, Seal, Luke Laird, Claude Kelly, John Legend, Wiz Khalifa, Charlie Wilson, Common, Colbie Caillat, Dallas Davidson, Lauren Christy, Alex Da Kid, Linda Perry, Salaam Remi, Rev Run, RZA, The Madden Brothers and more. [caption id="attachment_184300" align="alignnone" width="600"]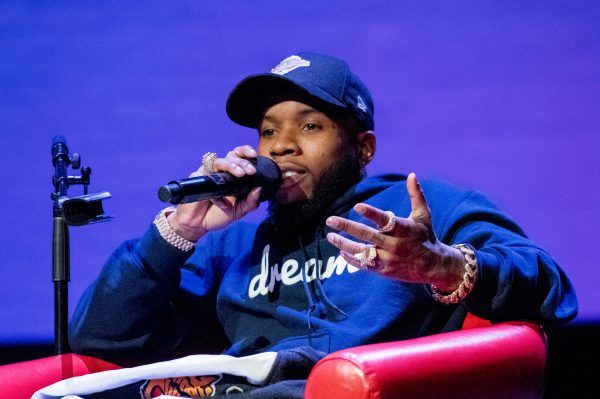 NEW YORK, NY - JANUARY 27: Tory Lanez discusses his creative process during BMI's How I Wrote That Song 2018 on January 27, 2018 in New York City. (Photo by Roy Rochlin/Getty Images for BMI)[/caption]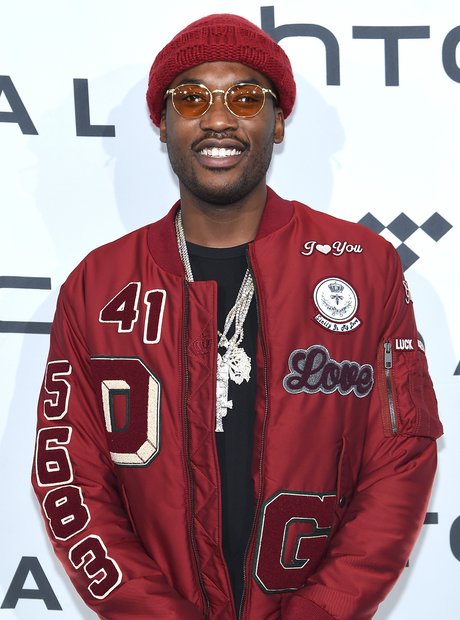 Multi-platinum rapper MEEK MILL and TIDAL will join forces on a series of intimate pop-up concerts to celebrate his third studio album, "Wins And Losses," available FRIDAY, JULY 21st. The shows will give TIDAL subscribers the opportunity to see the rapper bring his stage show to NEW YORK CITY this FRIDAY (7/21), his hometown Philadelphia (7/24) and WASHINGTON, D.C. (7/26). 

"Wins And Losses" is the follow up to MILLS' gold-certified, chart topping sophomore album, "Dreams Worth More Than Money," and most recently, "DC4," released in late OCTOBER, which features the gold-certified single "Litty (feat. TORY LANEZ)."

TIDAL subscribers can go to TIDAL.com/MeekMill for a chance to attend one of the pop-up concerts in their city.

TIDAL subscribers have also been rewarded with "4:44" listening parties, a FAT JOE & REMY MA "Heartbreak" screening event, a DESIIGNER "New English" listening event and a DJ MUSTARD "For Every 12 Hours" screening event, among other exclusives.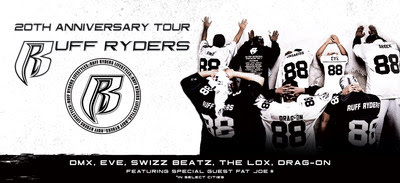 The Ruff Ryders 20th Anniversary Tour will cross the U.S. this September, kicking off in Miami on September 7. The tour produced by Live Nation will reunite DMX, Eve, Swizz Beatz, The Lox, Drag-On and feature special guest Fat Joe on select stops. The legendary group, celebrating two decades of hip-hop prominence, will perform some of their biggest hits for fans in cities including Charlotte, Dallas, Los Angeles, and more. The full itinerary can be found below.
Tickets go on sale to the general public Friday, June 23 at 10 a.m. local time. To purchase tickets and for additional details please visit LiveNation.com.
Ruff Ryders 20th Anniversary Tour
September 7
Miami, FL*
Bayfront Park Amphitheater
September 8
Tampa, FL*
MIDFLORIDA Credit Union Amphitheatre
September 10
Charlotte, NC*
PNC Music Pavilion
September 13
Cedar Park, TX*
H-E-B Center at Ceder Park
September 15
Houston, TX*
Toyota Center
September 16
Dallas, TX*
American Airlines Center
September 21
Baltimore, MD*
Royal Farms Arena
September 27
Oakland, CA*
Oracle Arena
September 28
Los Angeles, CA
The Forum
September 30
Las Vegas, NV
The Park Theater at Monte Carlo Resort and Casino

*With Fat Joe
Ruff Ryders' founders Joaquin "Waah" and Darin "Dee" Dean initially became lauded figures in the music industry by managing rappers dmx and The Lox, who turned into multi-platinum stars for Def Jam Recordings and Bad Boy Records in the late 1990s. The famed roster includes DMX, The Lox, Jadakiss, Styles P and Sheek Louch, Drag-On, Eve, and swizz beatz.
With decades of experience, and as prominent leaders in the hip-hop community, Joaquin and Darin revamped the Ruff Ryders brand through a new venture in 2010 known as Ruff Ryders Indy, a Fontana/Universal affiliated distribution company. Now the tour, along with the NatPro, We R the Streets, and Ruff Ryders to the Rescue program, is giving the brothers an opportunity to revolutionize how hip-hop music and lifestyle is discovered and delivered to communities.
Through Ruff Ryders Indy, Joaquin continues to showcase a keen eye for finding the hottest emerging talent, while Darin hones in on artist development.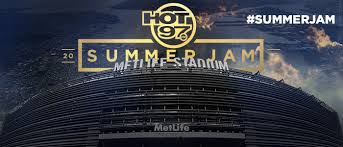 It's almost here. The biggest concert in hip hop music is going down this Sunday, June 11th at MetLife Stadium: HOT 97's Summer Jam 2017! Join WQHT-FM HOT 97, #1 for Hip Hop, at the official start-of-summer party and catch performances by Chris Brown, Fat Joe & Remy Ma, Migos, DJ Khaled & Friends, Trey Songz, French Montana & Friends, Tory Lanez, Joey Bada$$, Desiigner, Funk Flex & Friends, Konshens, Charly Black, and Jidenna. Plus, Faith Evans presents 20 Years of B.I.G.! Make sure to get your tickets today; the only way to truly experience the energy and excitement of Summer Jam is LIVE and in-person!
Head to the stadium early to check out the Festival Village, and don't miss Young M.A, A Boogie, Don Q, Dave East, Lil Yachty, D.R.A.M., PnB Rock, Casanova, and PHresher all appearing on the show's Festival Stage, the premier platform emerging artists perform on before the Stadium show. Summer Jam is the only event where hip hop music enthusiasts can enjoy two stages of the hottest artists in music, iconic sets from HOT 97's legendary DJs, and the greatest surprise guests in Hip Hop!
"After planning for months, we're thrilled that Summer Jam weekend is finally here!" exclaims Charlie Morgan, SVP/Market Manager of Emmis New York. "There's nothing like being at Summer Jam in-person. It's a once-in-a-lifetime feeling you just can't experience over the inter-webs or on social media, as you witness history-in-the-making. We can't wait to celebrate with our listeners at MetLife Stadium this Sunday!"
"The weather's looking NICE!" adds Ebro Darden, On-Air Host/Assistant PD. "We're not selling tickets day-of, so the only way to be a part of Summer Jam is to get yours today. Then, come ready to just have a good time, enjoy music, and chill out with us for over eight hours of non-stop Hip Hop."
Tickets are on-sale now at Ticketmaster.com, all Ticketmaster retail locations or by phone at 800-745-3000. Club 97 packages are the hottest tickets available, with premium show seats, access to the VIP Patio on the 50-yard line, an unobstructed view of all Stadium Stage performances, and a full-service cash bar! Stadium gates open at 1:00 p.m.; no tickets will be sold at the stadium on the day of the event. HOT 97 Summer Jam is made HOT by Nutrament, Power, a Starz original series, Effen Vodka, and McDonald's.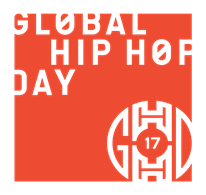 Global Hip Hop Day Launches on June 8th with Official Proclamation and Unveiling of Hip Hop Boulevard
Kickoff Events Will Celebrate Hip Hop's Global Impact on Commerce, Culture and Community
The NYC Mayor's Office of Media and Entertainment, the office of The Bronx Borough President and HOT 97 will launch Global Hip Hop Day on June 8th with an official Proclamation Ceremony and unveiling of Hip Hop Boulevard at 1520 Sedgwick Avenue (Bronx, New York)– the birthplace of hip hop music and home of legendary hip hop music pioneer Kool Herc.
Global Hip Hop Day will acknowledge hip hop music's ability to unite people and create positive cultural impact with the official Proclamation and street renaming Ceremony, followed by a community Block Party at Cedar Playground. Additional invitation only events— including an Industry Conversation and VIP Celebration—are planned to foster the current and future growth of hip hop music's positive influence.
A host of legendary hip hop music artists, DJs, influencers and VIPs will join each event to amplify Global Hip Hop Day's reach. Expected guests include: Kool Herc, DJ Scratch, DJ Chuck Chillout, DJ Red Alert, Grandmaster Caz, Funk Flex, DJ Kast One, DJ Enuff, DJ Camilo, D-Nice, Kid Capri, Doug E. Fresh, Fat Joe, Remy Ma, French Montana and a host of others.
Hip Hop, forged in the five boroughs of New York City, has spread far beyond its origins in the Bronx to become, according to marketing powerhouse Steve Stoute, "a catalytic force majeure that went beyond musical boundaries and into the psyche of young America." Global Hip Hop Day celebrates this 'catalytic force' with the acknowledgement of hip hop music's cultural and commercial capital and the pervasive power of an art form that has become an international behemoth.
Global Hip Hop Day takes place in June, as a part of the City of New York's official New York Music Month and nationally recognized Black Music Month. The day also precedes HOT 97's Summer Jam on June 11th— hip hop music's most iconic and internationally recognized summer concert event— and is a precursor to Summer Jam global expansion announcements.
Global Hip Hop Day events will commence at 1520 Sedgwick Avenue in the Bronx with the official Proclamation by NYC Media and Entertainment Commissioner Julie Menin and the unveiling of Hip Hop Boulevard. 1520 Sedgwick Avenue is the address where DJ Kool Herc co-hosted an early house party in August 1973, where he extended the instrumental backbeat of funk records, over which he began MC'ing—laying the foundation for Hip Hop music.
"We are thrilled to unveil Hip Hop Boulevard at 1520 Sedgwick Avenue in The Bronx, the birthplace of hip hop music," said Bronx Borough President Rubén Díaz Jr. "The Bronx is an iconic, internationally renowned hip hop music destination, the home of a once rebellious art form that has, over generations, become a global powerhouse. To designate this area as a landmark and celebrate this occasion with the pioneers who started it all— many of whom still hold close ties to this community— is a remarkable and historic moment for our borough."
"Hip Hop is a global movement that was born in the Bronx," added Vanessa L. Gibson, councilwoman for the Bronx's 16th District. "I'm so proud to solidify our borough's place in hip hop music history— and hip hop music's place in the Bronx's history— through the official unveiling of Hip Hop Boulevard in front of 1520 Sedgwick Ave. Hip Hop has become an international phenomenon that has inspired generations of young people to express themselves and celebrate their culture. As we commemorate hip hop music's birthplace, I thank the many stakeholders and community members who have worked to preserve hip hop music's place in history, as well as the hip hop music pioneers and trailblazers who started this movement years ago."
"New York City is the music capital of the world," said Julie Menin, Commissioner of the NYC Mayor's Office of Media and Entertainment. "And hip hop music, which has become not only a multi-billion-dollar industry, but also a vital way for young people from Paris to Vietnam to share their stories with the world, was forged here in New York City and went on to become the voice of generations across the globe. We are proud to proclaim June 8th as Global Hip Hop Day in the City of New York, part of the City's inaugural New York Music Month, the first ever citywide celebration of the past, present and future of New York's music. Beyond history and economics, Global Hip Hop Day celebrates the musical diversity that is a central part of who we are as a city."

The official Global Hip Hop Day schedule on June 8th includes:
· Industry Conversation, with keynote address by Kevin Liles – Invitation only
· Public Proclamation & Celebration– 3pm – 5pm, 1520 Sedgwick Avenue; Community Block Party, Cedar Playground—Free and open to the public
· VIP Celebration —Private, Invite only
Global Hip Hop Day is supported by a variety of key partners, including: The Mayor's Office of Media and Entertainment, the Bronx Borough President's office, the office of Councilwoman Vanessa L. Gibson, Kool Herc, The Universal Hip Hop Museum, Generation Hip Hop, The BulLion Foundation, Windows of Hip Hop and HOT 97.

For a full schedule of events and additional press information, please contact PR Noir at (212) 966-2720 or [email protected]