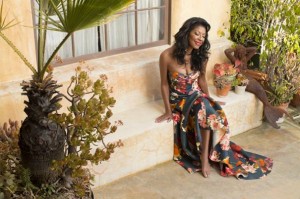 Multiple GRAMMY Award-winner Natalie Cole's first Spanish-language album, "Natalie Cole en Español" will be released June 25 on Verve/Universal.
The album finds Natalie personally inspired by both the bilingual recording legacy of her father Nat King Cole, and a growing passion for the timeless romanticism of the great Latin music composers.
Produced by Rudy Pérez ("Latin Music Producer Of The Decade" "" Billboard), "Natalie Cole en Español" will reintroduce a new generation of fans to many of Latin Music's most romantic standards "" with both new interpretations of Spanish-language classics previously recorded by Nat King Cole, and Natalie's own personal selections of songs that have touched her heart and make this album truly her own.
This wonderful balance of both old and new classics is perfectly illustrated by the special vocal collaborations that highlight the album, with Natalie joining Juan Luis Guerra on the Dominican Maestro's own "Bachata Rosa," while looking further back with Andrea Bocelli on the eternal "Bésame Mucho."
But without question, the most emotional pairing of the album finds Natalie joining her father in a heartfelt duet of "Acércate Más" (Come Closer to Me) – utilizing the same technique as their Grammy winning, globally multi-platinum recording of "Unforgettable."
From a historical perspective, it is difficult to overstate Nat King Cole's cultural importance, not only as a world-class singer, multi-million selling recording artist and extraordinary pianist, but also as a pioneer for racial equality. Nat was the era's most successful recording artist on Capitol Records, which became known throughout the music industry as "The House That Nat Built."
Through the sheer understated elegance of his music, he gained acceptance in all strata of society. In the 1940's, Cole became the first black performer to have his own regular radio show, and that pioneering role as host expanded to television when "The Nat King Cole Show" made its debut on NBC in 1956.
But even with such success, the battle for equality continued both in the United States and abroad, which Cole discovered that same year when he was contracted for an appearance in Cuba – only to be told he could perform at, but not stay overnight, in the famed Hotel Nacional.
Notwithstanding that initial reception, Nat became enamored of the musical spirit he discovered in Cuba while working with top-flight Latin artists like Bebo Vald̩s, and soon after Рencouraged by his manager Carlos Gastel РCole made the pioneering decision to become the first American superstar to record an entire album of Spanish standards.
Recorded between Cuba and Los Angeles, and released in 1958, "Cole Español" was quickly embraced by Spanish speaking music fans across the world, who appreciated Cole's outreach in their own language while creating a fusion of Latin rhythm with the feel of the Great American Songbook.
Global reaction to Cole's entry into Spanish-language recording was so strong, that additional recording sessions took place in Rio de Janeiro and Mexico City in ensuing years – resulting in the subsequent release of "A Mis Amigos" (1959) and "More Cole Español" (1962).
Now, over 50 years later and counting, Nat King Cole is widely embraced across Latin America as an ahead-of-his time cultural ambassador, and a musical memorial to his legacy (consisting of a Jukebox of his music and bust of his likeness) now resides on that very same ground of initial adversity in the Hotel Nacional.
Growing up, Natalie Cole was well aware of this aspect of her father's career and now, as she returns with her first new album following her remarkable recovery from a Kidney transplant (detailed in the heartfelt 2010 memoir "Love Brought Me Back: A Journey of Loss and Gain"), she has found a deeper appreciation of those groundbreaking recordings and a desire to further extend her family's commitment to bilingual music.
Inspired by both a strong bond recently forged with the Latino family of her kidney donor, and the historical knowledge and passion of award-winning producer Rudy Pérez, Natalie has meticulously crafted "Natalie Cole en Español" as a lush and captivating tribute to Latin Music's legendary composers and their most romantic songs."
Natalie Cole en Español" – Track Listing01. Frenesi 07. Solamente Una Vez02. Voy a Apagar La Luz/Contigo Aprendí 08. Oye Como Va (Medley)03. Acércate Más (w/ Nat King Cole) 09. Yo Lo Amo (And I Love Him)04. Mañana De Carnaval 10. El Día Que Me Quieras05. Bésame Mucho (w/ Andrea Bocelli) 11. Bachata Rosa (w/ Juan Luis Guerra)06. Quizás, Quizás, Quizás 12. Amapola