Radio Facts: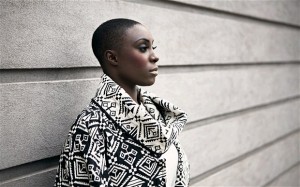 LAURA MVULA'S DEBUT FULL-LENGTH 'SING TO THE MOON' SET FOR PHYSICAL US RELEASE ON MAY 14 ON COLUMBIA RECORDS
AVAILABLE DIGITALLY ON APRIL 16
AFTER CAPTIVATING AUDIENCES AT SXSW,
ADDITIONAL NORTH AMERICAN PERFORMANCES CONFIRMED FOR APRIL
(New York, NY; Columbia Records; April 1, 2013) – After making her triumphant US debut at SXSW, UK singer-songwriter Laura Mvula will release her debut full-length CD in the US on May 14 on Columbia Records, with the album available digitally on April 16. The first single "She" is available now on iTunes.
Anyone unable to catch one of Laura Mvula's incredible sets in Austin will get another chance to experience her strikingly beautiful live performance when she returns to North America in April for a handful of dates in LA, San Francisco, and Toronto. A full list of confirmed dates is below.
Mvula played showcases at the FADER Fort, Hype Machine's Hype Hotel, the VEVO TV Control Room, and the BMI & Billboard Acoustic Brunch at this year's SXSW. The New York Times featured Laura as one of their picks from this year, describing her set as "polished and unconventionally structured songs that suggested Joan Armatrading by way of Cecil B. DeMille. Her songs had a few lines of exposition that would suddenly be answered by her whole band – which included harp, cello and violin – with choirlike vocal harmonies, pushing Ms. Mvula toward exultant incantations that gave obsessions a cinematic glow."
The 26-year-old classically trained singer-songwriter's music fuses orchestral soul with velvety harmonies and emotional vocals, utilizing her formal training at the Birmingham Conservatoire along with hints of her Caribbean background. Sing To The Moon has received overwhelming critical praise in the UK, with the Daily Mail, the Daily Mirror, the Evening Standard, the Guardian, the Telegraph, and Metro all giving the album 4 stars and the Sunday Times selecting it as their Album of the Week. She was also nominated for the 2013 BRITs Critics' Choice Award and ranked fourth on the shortlist for the coveted BBC Sound of 2013. Mvula made her UK TV debut on The Graham Norton Show, where she performed the lively track "Green Garden." Her first headlining show last month in London sold out in just 2 days, and she also joined Jessie Ware on the road on her recent UK tour.
"A suitably opulent debut… Her imaginative grooves and vocal magic cast a provocative spell. Lunar loveliness." -Daily Mirror
"Laura Mvula's debut album is an amazing mix of influences, yet her voice is her own… One of the most remarkable first releases by a British artist in years." -Sunday Times
"Drawing on anything from medieval plainsong to free jazz, she creates an extraordinary sensation of light, air and space." -Independent
"Soulful, mellifluous and quirky-with full orchestral backing; once heard, not forgotten." -Wall Street Journal
"Simultaneously fresh and like a wholesome throwback… While her voice is clearly the star, her ability to envision such lush arrangements is what makes her songs so striking." -FADER
"Mvula dazzles with a many-layered vocal stream that's something like Laura Nyro recording a Beach Boys song, wrapped in thick ribbons of brass, and just as perennially festive as that sounds." -Pitchfork