Try to watch this video of Qaw'mane Wilson without throwing up, knowing the money he is giving away is from him plotting the murder of his mother.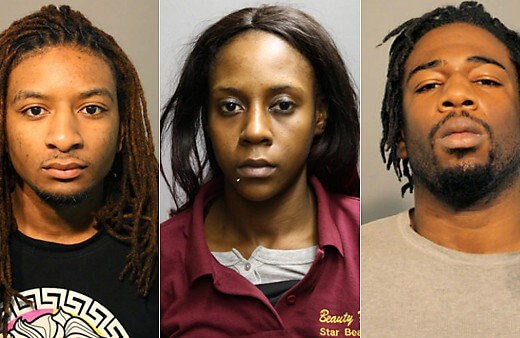 UPDATE: Qaw'mane Wilson has been sentenced to 99 years in Prison on 2/1/2020

According to a report by the Chicago Tribune, a West Side man, Qaw'mane Wilson, arranged the murder of his mother, Yolanda Holmes, a well-known owner of a beauty salon in Uptown, to gain access to more than $90,000 from her bank accounts and the proceeds from two of her life insurance policies, authorities said on Christmas Eve.
Qawmane Wilson, also known as Young QC is 24 years and lives in Chicago's Austin neighborhood, has been charged with murder and home invasion in the death of his mother, Yolanda Holmes, 45, in September of 2012, according to Chicago authorities.
Charged with Wilson are Eugene Spencer, 22, of the 6100 block of South Rockwell Street, who prosecutors said killed Holmes, and Loriana Johnson, 23, of the 300 block of East 131st Place, who served as Spencer's driver.
All three were ordered held without bail on Tuesday by Judge Adam Bourgeois, Jr., who called the slaying a "heinous act." According to authorities, Yolanda Holmes, the owner of the Nappy Headzsalon, was killed at about 4:15 a.m. Sept. 2 at her home in the 1000 block of West Montrose Avenue. An autopsy showed she died of a gunshot to the head and multiple stab wounds.
Qawmane Wilson was arrested Sunday after a police investigation determined he had arranged to "have his mother murdered," police said. He was charged with murder and home invasion. Assistant State's Attorney Maura White said Wilson, emptied out his mother's bank accounts, valued at over $90,000, a week after her death. He was also the beneficiary of two of her life insurance policies.
Cell phone records revealed that Wilson called Spencer and Johnson "before, during and after the murder," White said. She said that both Wilson and Spencer admitted to their roles in the scheme. Spencer, arrested Monday, is charged with first-degree murder, home invasion, and aggravated discharge of a firearm.
According to a statement from the Chicago Police Department Office of News Affairs, he shot Holmes. Johnson, who police said drove Spencer to and from the crime scene, was also arrested Monday and charged with murder and home invasion.
Holmes, who often used her salon in the 4100 block of North Broadway as a venue to publicize or host community events like back-to-school parties for young students, was well known in Uptown, colleagues said after the murder. She was always willing to lend a helping hand to those in need, family and friends said.

"She had a real nice personality, always trying to help people," her uncle James Newman said. "I just don't see who would do something to her," said Ayonna Anderson, one of Holmes' stylists. "I just don't understand." "She is a very good person. For that to happen to her is a blow to a lot of us," said Joseph Adibu, owner of Broadway Super Coin Laundry at the time. "It's very painful."