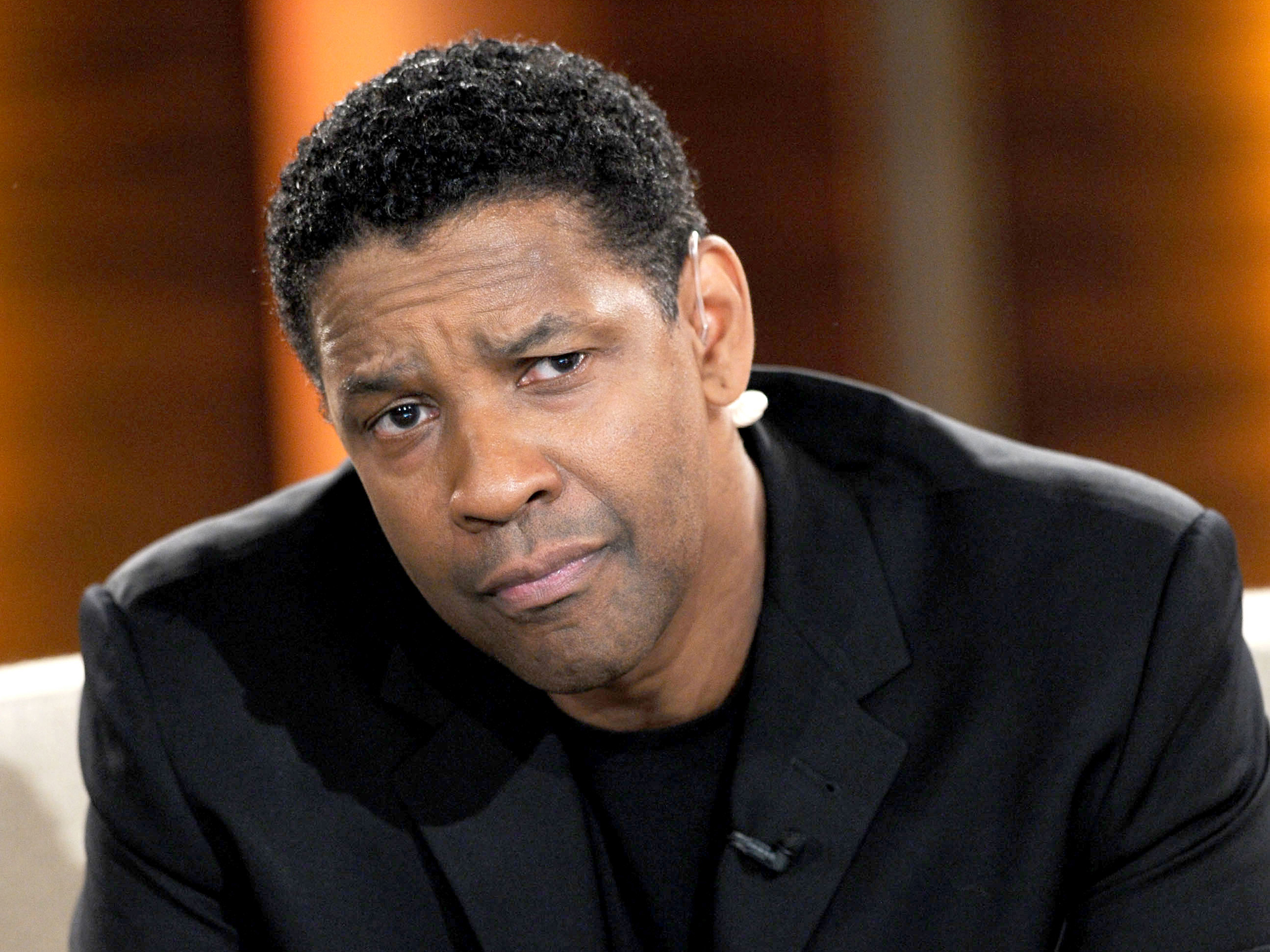 This whole #OscarsSoWhite controversy has everyone talking. Even Denzel has fallen from being the number one actor on America's collective mind.  Last year Denzel was number one and this year he is mere number 3 on the Harris Poll as America's favorite movie star.  Actually the #OscarsSoWhite thing has nothing to do with this but Denzel did fall a few spots.
Who took his place?
His roles over the years have taken him into the past and the future, out into space and even into a child's toy chest, and this year Tom Hanks – currently in theaters as attorney James B. Donovan in Bridge of Spies – returns to the role of America's Favorite Movie Star.
This is Hanks' fifth time at the top of the list (with previous wins recorded in 2002, 2004, 2005 and 2013) and represents a four-spot jump from the No. 5 spot last year. Johnny Depp, most recently onscreen in an acclaimed portrayal of mobster Whitey Bulger in Black Mass, is in the No. 2 spot this year (up from No. 4 a year ago).

These are some of the results of The Harris Poll® of 2,252 U.S. adults surveyed online between December 9 and 14, 2015. Full results of this study, including data tables, can be found here.
Fast (moving) Five
The next two performers on the list have both fallen two spots since last year. First, denzel washington – who topped the list last year but didn't appear in any major releases in 2015 – falls to the No. 3 position. Meanwhile, the late John Wayne, who hasn't appeared in a major release in… well, quite a bit longer, nonetheless remains a mainstay on the list; at No. 4 this year (down from No. 2), the Duke is the only person who has never dropped off of the top 10 in over two decades.
Closing out the top half of the list – and soaring from No. 9 last year to No. 5 this year – is Han Solo himself, Harrison Ford.
Repeat performances
Both the top and bottom halves of this year's top 10 are composed of familiar faces who have spent time on this list before. Sandra Bullock, who voiced a criminal mastermind in Minions and played a political consultant in Our Brand is Crisis, is at No. 6 this year (after taking a break from the list last year).

Jennifer Lawrence hit the holiday season box office with the one-two punch of The Hunger Games: Mockingjay – Part 2 and Joy, and with a repeat in the No. 7 spot she has plenty to be joyful about indeed. Despite neither starring in nor directing any films in 2015, Clint Eastwood – America's favorite movie star as recently as 2009 – is in the No. 6 position this year, up two spots.
Two occasional costars are tied in the No. 9 spot this year:
Brad Pitt, currently in theaters in The Big Short (he held the No. 3 spot last year), and
Julia Roberts, most recently seen in Secret in Their Eyes, who returns to the top 10 after a 1-year hiatus.
The Perfect Score
Many of these top-10 performers are garnering other strong scores as well. Perfect scores for endorsement potential, in fact. According to Nielsen Talent Analytics data, many of these stars show perfect N-Scores of 100 out of 100 among many, if not all, Americans: Tom Hanks, denzel washington and Sandra Bullock each show perfect N-Scores among all U.S. adults (aged 18+).
Harrison Ford and Julia Roberts each earn this distinction among those aged 35 and up. Johnny Depp achieves the same among Millennials (aged 18-34). Jennifer Lawrence, on the other hand, "scores" among Gen Z (those aged 13-17). The Lady Vanishes With Sandra Bullock and Julia Roberts returning to the top 10 list this year, we thus bit a tearful adieu – at least temporarily – to two of last year's top 10.
Meryl Streep drops off the list after a No.7 showing last year, while Angelina Jolie drops off after holding the No. 10 spot last year. Top. Men. A great many factors seem to impact Americans' favorite movie star selection: John Wayne is again the top pick among men, while women turn to Johnny Depp.
Millennials also name Depp as their top pick, while Gen Xers call out Harrison Ford, Baby Boomers point to Tom Hanks and John Wayne rides away with the top spot among Matures.
Looking at Americans by region: Harrison Ford takes the East, Johnny Depp rules the South, denzel washington commands the Midwest and Tom Hanks on top in the West.

Urbanites look to Washington and Suburbanites cite Hanks as their top pick, while Depp takes the top spot among Rural Americans. The Duke, John Wayne, is again Republicans' top pick, while Democrats again lean toward Washington. Independents – drawn perhaps by the roguish streak epitomized by his two most iconic roles – choose Harrison Ford.