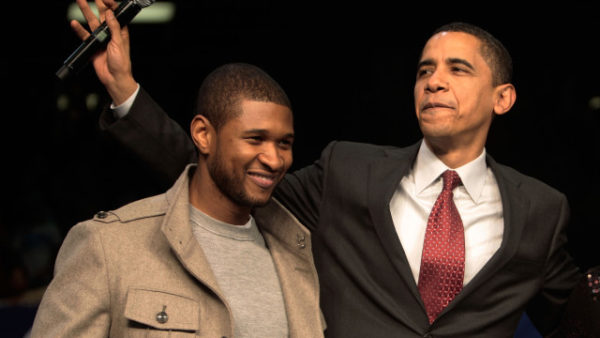 "Smithsonian Salutes Ray Charles: In Performance at the White House" showcases an evening of celebration with President and Mrs. Obama at the White House in honor of the legacy of iconic singer, songwriter, composer and musician Ray Charles.
The event tapes on February 24, 2016, and the concert broadcast premieres Friday, February 26 at 9 p.m. ET on PBS Radio Stations nationwide and on cable channel TV One (check local listings.) The evening includes performances by Yolanda Adams, Leon Bridges, Andra Day, Anthony Hamilton, Brittany Howard, Demi Lovato, Sam Moore, Jussie Smollett, The Band Perry and Usher with Rickey Minor as executive music director.
The hour-long program, part of the Emmy Award-nominated "In Performance at the White House" series, is the 56th production in the series' thirty-eight-year history.The concert, including President Obama's remarks, will be available for press via the White House Press Corps pool feed and streamed live on whitehouse.gov/live and pbs.org/whitehouse.
Born in Georgia on September 23, 1930, Ray Charles was an iconic singer, songwriter, composer, and musician. Often called the "Genius of Soul," Charles combined blues, gospel and jazz to create groundbreaking hits such as "Unchain My Heart," "Hit the Road Jack," and "Georgia on My Mind." As a child, Charles began to gradually lose his sight.
He was blind by the age of 7, and his mother sent him to a state-sponsored school, the Florida School for the Deaf and the Blind in St. Augustine, Florida—where he learned to read, write and arrange music in Braille. He also learned to play piano, organ, sax, clarinet and trumpet. At the age of 16, Charles moved to Seattle where he developed his unique musical style and made his first record.
It was also in Seattle that he formed a life-long friendship with fellow artist, Quincy Jones. Charles pioneered soul music during the 1950s, combining blues, gospel, and rhythm and blues music. He also created successful jazz records and, in a career spanning more than a half-century, Charles achieved his most prominent success as a crossover artist, recording country and pop records that helped integrate American popular music.
One of the first members of the Rock & Roll Hall of Fame, Charles earned 17 GRAMMY® Awards, the GRAMMY® Lifetime Achievement Award, the National Medal of Arts, and the Kennedy Center Honors, among other accolades. Rolling Stone magazine ranked Charles number 10 on its list of the "100 Greatest Artists of All Time" and number 2 on its list of the "100 Greatest Singers of All Time." Ray Charles died on June 10, 2004 at age 73.
His legacy lives on through the Ray Charles Foundation, which is dedicated to providing support in the area of hearing disorders and the empowerment of young people through education by offering support to educational institutions and non-profit education programs. On what would have been his 80th birthday, the Ray Charles Memorial Library was opened to share his legacy and to encourage and inspire youth to embrace their creativity and stimulate their imaginations.
Years before he passed away, Ray Charles helped the Smithsonian by lending his voice and a stirring rendition of "America the Beautiful" to an exhibition of national treasures that traveled across the United States. He was himself a living national treasure, and "Ray Charles: The Genius," a current exhibition at the Smithsonian's National Museum of American History recalls his influence through a display of his iconic electronic keyboard, sunglasses, recordings and other personal effects.
The National Portrait Gallery features portraits and photographs of Ray Charles in its collections. The National Museum of African American History and Culture, to be opened by the President in September, will also help tell his story. The Smithsonian website, music.si.edu, launches with the Smithsonian Salutes Ray Charles performance and includes materials for teachers and students to learn more about the roots of his music, his artistry and his legacy.
Educational Program with the White HouseOn the morning of the concert taping, the First Lady will host a special daytime workshop for students. The First Lady will welcome more than 130 middle school, high school and college students from across the country to take part in an interactive student workshop: "The Musical Legacy of Ray Charles."
Beginning at 11:00 AM in the State Dining Room, Robert Santelli, Executive Director of The GRAMMY Museum® in Los Angeles, will give participating students an overview of Ray Charles' life, musical legacy and his influence and impact on today's musicians. Featured performers from the evening event will share their experiences and answer student questions about the music and entertainment world.
Students will participate from 10 schools and community organizations from across the country: Avon Lake High School, Delta State University, Brotherhood Crusade/Youth Policy Institute/Search to Involve Pilipino Americans, LAPD Cadets, Otis Redding Foundation Schools, Winston Churchill High School, Sherwood High School, and Fremont-Lopez Elementary School. "The Musical Legacy of Ray Charles" workshop will be streamed live on whitehouse.gov/live.
"The Musical Legacy of Ray Charles" will be accompanied by a broader educational program, also developed by the GRAMMY Museum®, consisting of visits to Greater Washington-area institutions and a special student press conference where student journalists will be able to question production staff for articles in their school or local newspaper.
In addition, the GRAMMY Museum® will offer downloadable curriculum and educational materials for middle and high school teachers, available at grammymuseum.org and pbs.org/whitehouse. This is the eleventh educational workshop at the White House that the GRAMMY Museum® has organized, in cooperation with the "In Performance at the White House" concert series."
In Performance at the White House" Series" Smithsonian Salutes Ray Charles: In Performance at the White House" will be the sixteenth "In Performance at the White House" program during President Barack Obama's administration.
From February 2009 to the most recent broadcast in January 2016, "In Performance at the White House" events have honored the musical genius of Stevie Wonder, Sir Paul McCartney, Burt Bacharach, Hal David and Carole King; celebrated Hispanic musical heritage during Hispanic Heritage Month; marked Black History Month with events featuring the music of Motown, Memphis Soul, the Blues, and the Civil Rights Movement; explored the rich roots of Jazz, Gospel and Country music; spotlighted Broadway and the unique spirit of the American musical; and paid tribute to the cultural resonance of art and literature in unique American musical forms.
The star-studded line-ups have included Marc Anthony, Tony Bennett, Elvis Costello, Sheryl Crow, Bob Dylan, Jamie Foxx, José Feliciano, Dave Grohl, Buddy Guy, Herbie Hancock, Faith Hill, Jennifer Hudson, Mick Jagger, Jonas Brothers, B.B. King, Alison Krauss, Nathan Lane, John Legend, Eva Longoria, Audra McDonald, Idina Menzel, Sam Moore, Thelonious Monk Jr., Mike Myers, Willie Nelson, Aaron Neville, Smokey Robinson, Linda Ronstadt, Darius Rucker, Seal, Jerry Seinfeld, Esperanza Spalding, Elaine Stritch, James Taylor, Justin Timberlake and Jack White."
In Performance at the White House" has been produced by WETA since 1978 and spans every administration since President Carter's. The series began with an East Room recital by the legendary pianist Vladimir Horowitz. Since then, "In Performance at the White House" has embraced virtually every genre of American performance: pop, country, gospel, jazz, theatre and dance among them.
The series was created to showcase the rich fabric of American culture in the setting of the nation's most famous home. Past programs have showcased such talent as cellist Mstislav Rostropovich, dancer/choreographer Mikhail Baryshnikov, the United States Marine Band, soul and jazz singers Natalie Cole and Anita Baker, leading Broadway performers, and the Dance Theatre of Harlem.
"Smithsonian Salutes Ray Charles: In Performance at the White House" ProductionThe television program "Smithsonian Salutes Ray Charles: In Performance at the White House" is a production of WETA Washington, D.C.; The Grammy Museum; TV One; CoMedia; Mark Krantz Productions; Cappy Productions; and Black and White TV Inc. Executive producers are Dalton Delan, Cappy McGarr, Robert Santelli, Valerie Ervin, Rickey Minor, Bob Kaminsky, Peter Kaminsky and Mark Krantz.
The supervising producer is Michael B. Matuza. Robert Santelli is executive director of the GRAMMY Museum®. Geovanni Brewer is producer for Black and White TV. The director is Linda Mendoza. The executive music director is Rickey Minor.
The series producer is Jackson Frost. The "In Performance at the White House" series was created by WETA Washington, D.C. Funding for this program is provided by PepsiCo; the Kovler Foundation; Tracy Richelle High and Roman Johnson; Mrs. Oluwatoyin Ojora Saraki, The Wellbeing Foundation Africa; Karen and Sam Seymour; and by the Corporation for Public Broadcasting. Air travel is generously provided by American Airlines.