The Universal Hip-Hop Museum (UHHM) will join the United Nations in their official Peace Day observance which includes a Bell Ringing ceremony and will be broadcasted via live stream globally on United Nations Television.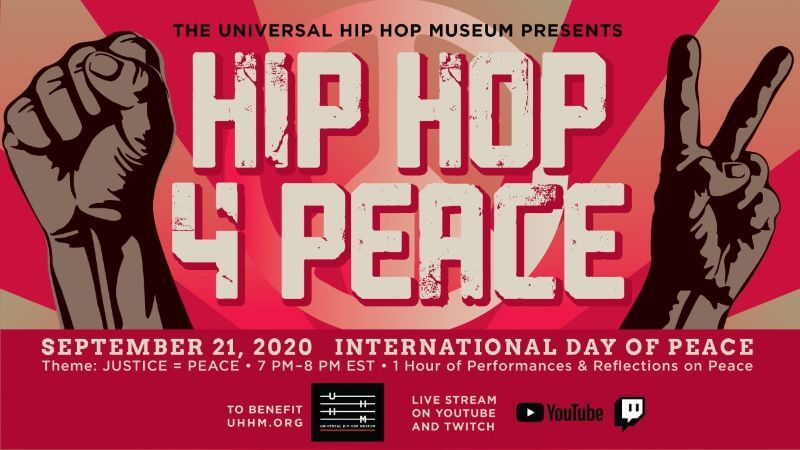 The year 2020 marks the 75th anniversary of the United Nations. This year's International Day of Peace theme is "Shaping Peace Together." Traditionally, the United Nations kicks off their campaign with "100 Days of Peace" which includes events all over the world and culminates on September 21, the International Day of Peace.

The museum's participation will include an original score led by legendary composer and producer, Patrick Adams, performed by Hip-Hop musicians from NYC, New Orleans, and Poland. He is joined by visionary music arranger and producer Lukasz L.U.C. Rostkowski who helmed a team of over 100 musicians in Poland to record the score. "Hip-Hop is universal and so is peace", noted Tina Marie Tyler, creator and Executive Producer, of Hip-Hop 4 Peace, and advisory board member of the UHHM. "We wanted our inclusion in the United Nations observance to reflect the global movement toward peace during this time of social and political unrest."

"Every year, the United Nations marks the International Day of Peace by calling for 24 hours of non-violence. But this year, we have to go further. Our world has been rocked by devastating challenges, including persistent racial injustice. But as COVID-19 attacks our communities, it is clearer than ever that we are not each other's enemies. Music has always been able to remind us of our common humanity. That is why I am happy that the Universal Hip-Hop Museum will be a part of the United Nations' International Day of Peace observance this year. Our 2020 theme is 'Shaping Peace Together,' and we are counting on the hip-hop community to help us spread solidarity and harmony during these difficult times" said Maher Nasser, Director of the United Nations Department of Global Communications' Outreach Division.

The Universal Hip-Hop Museum in partnership with Generation Hip-Hop and Rebel Babel Ensemble, will live-stream a Hip-Hop 4 Peace special on September 21 for International Day of Peace or Peace Day, which will include Hip-Hop artists from over 25 countries spanning the globe.