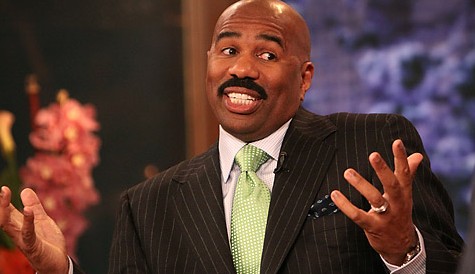 I was going to hold off on this story because so many other sites are running it and bashing Steve for his arrogance.
As many of you know I am not a big fan of The Steve Harvey Morning Show. Out of all the syndicated shows on urban radio, his show is the hardest to listen to because of Steve's broadcast communication defects and complete non-radio approach. To be honest, I've heard better podcasts from people who have never been on the radio but there is an audience for Steve, obviously, so it is what it is and God bless em. A memo that he sent to staff in Chicago, a majority of which or all of whom he terminated for his move to LA with little warning backfired when one of them released the memo to Chicago journalist Robert Feder. In all fairness, several of Harvey's points are valid but we also don't know how the staff perceived him overall.
I'm predicting a couple of the heads on the current radio morning show will roll as I have heard many complaints about too many people on the new show and if Steve is like this to his off-air staff … the on-air staff must REALLY be walking on eggshells and having multiple bowel breaks. This type of amped arrogance has to be stressful for the people who have to deal with it. No doubt Harvey is surrounded by a plethora of glute suckers and everybody is afraid to tell him to 'STFU Mr. Dentures!'
A memo that he sent to his staff in Chicago, a majority of which or all of whom he terminated for his move to LA with little warning, backfired when one of them released the memo to the press. Harvey's requests are quite harsh and full of arrogance and lead-singer-divatry but at least he starts the memo off nice.
Good morning, everyone. Welcome back.
I'd like you all to review and adhere to the following notes and rules for Season 5 of my talk show.
There will be no meetings in my dressing room. No stopping by or popping in. NO ONE.
Do not come to my dressing room unless invited.
Do not open my dressing room door. IF YOU OPEN MY DOOR, EXPECT TO BE REMOVED.
My security team will stop everyone from standing at my door who have the intent to see or speak to me.
I want all the ambushing to stop now. That includes TV staff.
You must schedule an appointment.
I have been taken advantage of by my lenient policy in the past. This ends now. NO MORE.
Do not approach me while I'm in the makeup chair unless I ask to speak with you directly. Either knock or use the doorbell.
I am seeking more free time for me throughout the day.
Do not wait in any hallway to speak to me. I hate being ambushed. Please make an appointment.
I promise you I will not entertain you in the hallway, and do not attempt to walk with me.
If you're reading this, yes, I mean you.
Everyone, do not take offense to the new way of doing business. It is for the good of my personal life and enjoyment.
Thank you all,
Steve Harvey
Yes, this is bad. Extreme to say the least. Creates a hostile working environment when you're afraid to talk to the host of the show. "Personal life and enjoyment" or WORK! Who cares about his personal life when a job has to be done.