Originally posted on 2014-05-09 04:17:22
Radio Facts: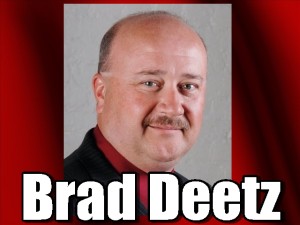 Radio Facts
is sad to report the untimely death of radio personality and general manager,
Brad Deetz
. Deetz served as
DLC
Media's General Manager. The Daviess County Sheriff's Office reports Deetz, 46, of Vincennes was driving a 2008 Yamaha motorcycle as he collided with a truck pulling a trailer in an intersection. Brad was thrown from his bike into a ditch as he ran into the front passenger side wheel of the truck. The driver of the truck said he made a complete stop at the stop
sign
and didn't see any oncoming traffic. Deetz was taken to
Daviess Community Hospital
and then flown to Methodist Hospital in Indianapolis where he later died. "I'm shocked," said
DLC
Media owner
Dave Crooks
. "He was a super G.M. and a close friend. We're grieving at this point. It's a very difficult time."
Currently Brad
had been serving as the morning radio host on
WFML
and as
DLC
general manager. "We were getting ready to let him go off the air," said Crooks. "We have a lot of projects in the works and he was going to spend his time concentrating on them. "We have a big void in our company right now.""He had two children, one in high school and the other in junior high, and he was really active in their
lives
. Just a great dad to them," said Crooks. "This is just a tragic, tragic event."
Radio Facts
would like to send our sincere condolences to the family, friends, and fans of Brad Deetz.
Originally posted on 2014-05-09 04:17:22