Radio Facts: Radio Facts: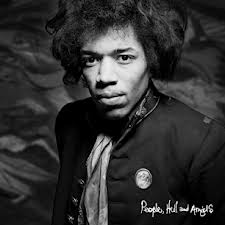 People, Hell and Angels , an essential new album premiering twelve previously unreleased studio recordings completed by American composer/guitarist/bandleader Jimi Hendrix, has debuted on the Billboard 200 best-selling albums chart at #2 and is rolling onto the nation's Top Current Rock Chart and the Hard Music Chart at #1.
A testimony to the abiding vitality and importance of the trailblazing American musician, People, Hell and Angels marks Hendrix's highest-charting album since Electric Ladyland spent two weeks at Number 1 in 1968. Jimi's last conceptually-curated from-the-vaults studio album, 2010's Valleys of Neptune, also on Legacy Recordings, debuted and peaked at No. 4.
People, Hell and Angels achieved #1 debut sales numbers at a variety of the nation's retailers, both online and traditional brick-and-mortar. Many of the nation's indie are also reporting Number 1 positions for the album, a newly curated album of 12 fully realized studio cuts, more than a hour's worth of previously unheard Jimi Hendrix music.
On Sunday, January 20, 2013, songs from People, Hell and Angels were incorporated into the soundtrack of the Hawaii Five-0 episode "Olelo HoʻOpaʻI Make"/"Death Sentence."
"Somewhere," the first single from People, Hell and Angels , has gone Number One, according to a segment on the album airing on CBS Early Show. "Jimi Hendrix (born November 27, 1942) died in 1970 at the age of 27," said Charlie Rose, "but his influence on music continues to this day. 'Rolling Stone' magazine called Hendrix the greatest guitarist of all time. Now his new album is coming out…."
Heralded as an essential addition to the artist's musical canon, People, Hell and Angels has triggered a resurgence of interest in the legendary guitarist, who would've turned 70 last November. In the wake of People, Hell and Angels success, several Hendrix catalog titles–including The Best of…., South Saturn Delta, Are You Experienced and Axis: Bold As Love–are moving up on this week's Top Catalog Albums charts.
The Wall Street Journal's Marc Myers observed that, "…Jimi Hendrix had a secret side. With the release of 'People, Hell and Angels' (Legacy), due Tuesday, the long-form soloist is heard experimenting with Stax, Wall of Sound and even jazz motifs. Recorded between March 1968 and August 1970, the CD's 12 previously unreleased tracks feature Hendrix test-driving concepts for an unrealized album project. Though many of the new tracks are alternate renditions of material issued posthumously on several LPs from the '70s and '80s, and CD releases from the '90s, Hendrix's attacks and arrangements here are bolder and more exotic."
Rolling Stone concurred in its Four Star review, in which David Fricke stated simply, "Hendrix left us so much, but in precious little time. Every shred counts."