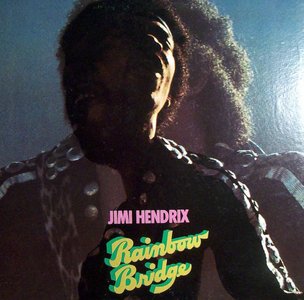 That Time When Hendrix's New Album was a Soundtrack and an Epitaph
Jimi Hendrix – "Rainbow Bridge" soundtrack (Reprise – 1971)
When Blues Rock guitar master Jimi Hendrix perished in Kensington, London on September 18, 1970 – at a mere 27 years of age – he had been chiseling away on a double album to be titled First Rays of the New Rising Sun…a double album to follow the double album Electric Ladyland he had released in October 1969.
The difference was that Electric Ladyland marked the end of the group via which he slingshot into rock consciousness, The Jimi Hendrix Experience. That band was revolutionary as an interracial power trio featuring two White Englishmen – Noel Redding on electric bass and Mitch Mitchell on drums – being led by Black American wunderkind Jimi Hendrix from Seattle who was rewriting the vocabulary of what could be done and said on an electric guitar. Visually and sonically, the trio comprised a combination that thrilled and titillated the music world as much as it upset it and threw it off its intended axis of White supremacy.
Buy Jimi Hendrix Music on Amazon
Jimi Hendrix was a boundlessly curious soul, ever-evolving and constantly creating. His meteoric rise to international superstardom was first and foremost due to his astounding mastery of the guitar – years spent with one in his hands – played upside down/left-handed – as he not only learned to play it but play it with flash, showmanship and sex appeal.
A lot of musicians and music lovers came out to get their minds blown by his electrifying manner of covering the songs of others as well as his own trippy compositions. But there were also a lot of audiences coming just to trip off the psychedelia of his sound, big hit records like "Purple Haze" and "Foxy Lady," and sideshow tricks such as playing with his teeth, behind his back and lighting his ax on fire in a voodoo like ceremony of sacrifice.
Hendrix had come up on the chitlin circuit playing with R&B bands and crossing paths with everyone from Wilson Pickett to The Isley Brothers who he played with off and on. He understood the value of a good show. But he was tired of feeling like a sideshow himself.
He had serious new music and messages on his mind to share, and it was pouring out of him at an astounding rate in between the hot girlfriends, the partying and the incessant touring. Jimi also had many of the world's finest musicians lining up for opportunities to jam, record and/or create with him including drummer extraordinaire Tony Williams and jazz legend Miles Davis.
Before Jimi died, he was not only writing and demoing songs, he was doing them in a studio of his own design and investment to be called Electric Lady – a sexy space for music creatives looking to make their records in a sacred hip space that was also state of the art and that catered to the needs and lifestyles of rock royalty.
Toward the end as the studio was nearing completion, it was truly the only place Jimi really wanted to be…but obligations awaited in the form of concert engagements, contracts and lawsuits…this at a time when anything Jimi so much as plugged in on was finding its way into the just burgeoning market of bootleg vinyl and cassettes.
Buy Jimi Hendrix Music on Amazon
In the haze of his final days, Jimi Hendrix was trying desperately to complete some music to the satisfaction of how he heard it in his head. Sadly, when he died, much of it was not in completed form. To Jimi's rescue came his engineer of choice, Eddie Kramer, and some of the last musicians he recorded and jammed with in attempts to see his visions through.
The first rush-released posthumous LP of Jimi Hendrix arrived in 1971 titled The Cry of Love, released by his American company Reprise Records (a division of Warner Bros.) and featuring