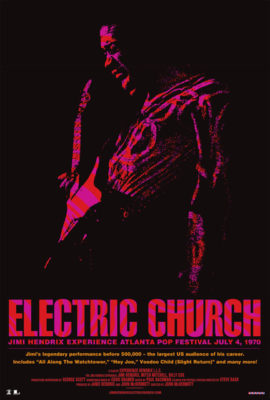 Abramorama 

announced today a partnership with Experience Hendrix L.L.C. and Sony Legacy Recordings to release Jimi Hendrix: Electric Church in select theaters around the world.
The film opens at the Cinerama Dome/ArcLight Hollywood theater on January 31st with a special Q&A with director John McDermott, legendary record producer and engineer Eddie Kramer (best known for not only collaborating with Hendrix but also with The Beatles, David Bowie, Eric Clapton,  The Rolling Stones and others and Jimi's sister and Experience Hendrix C.E.O. Janie Hendrix. Original Atlanta Pop producer/director Steve Rash will also be part of the pane that will be moderated by 89.3-KPCC's John Rabe. The much-lauded documentary, which originally aired on Showtime, tells the story of the Jimi Hendrix Experience's involvement as the headliner of the Second Atlanta International Pop Festival, then hailed as the 'Southern Woodstock.' 
Richard Abramowitz, CEO of Abrmorama stated, "We're honored to add another Jimi Hendrix movie to the exalted list of music films we've released. Jimi certainly belongs in the pantheon with The Beatles, Bob Dylan, Neil Young, Pearl Jam, Tony Bennett and the many others we've been privileged to handle around the world." 
Janie Hendrix commented on the Electric Church partnership with Abramorama, "It's thrilling on so many levels. Seeing Jimi re-introduced around the world through this platform is something of a rebirth." She added, "The moments captured in the film are timeless. Jimi's music and his showmanship are born again for new generations in his Electric Church.  It's very exciting."
Unquestionably one of the most exciting rock musicians of his generation, Jimi Hendrix captivated the world with his highly stylized approach to blues guitar. 
Electric Church
 features an interview with Paul McCartney who freely admits to worshipping Hendrix, commenting, "We all played guitar. We all knew a bit. But he seemed to know more than us."  The film features interviews with Hendrix's Experience band mates Billy Cox and the late Mitch Mitchell as well as Steve Winwood, Rich Robinson, Kirk Hammett, Derek Trucks, Susan Tedeschi, festival organizer Alex Cooley and many others.
The film contains breathtaking, color 16mm footage of Jimi Hendrix's July 4, 1970 appearance, a mere ten weeks before his untimely passing. Atlanta International Pop Festival footage in Electric Church was shot by Steve Rash, later known for directing the Hollywood films The Buddy Holly Story and Can't Buy Me Love. Standout performances from the film include the Hendrix classics "Hey Joe," "Voodoo Child (Slight Return)," "Purple Haze," as well as confident, compelling versions of "Straight Ahead," "Freedom" and "Room Full Of Mirrors."  Hendrix aficianados and fans of rock's classic '60s – '70s era will not want to miss this Electric Church.
Jan 31 – Los Angeles CA – Cinerama DomeArc Light Hollywood* 
Feb 1 – 7  – Buffalo NY – North Park Theatre
       8 – 10 – Phoenix AZ – FilmBar 
       11 – Vancouver BC – Vancity Theatre
       13 – Seattle WA – SIFF Cinema Uptown **
       15 – Shreveport LA – Robinson Film Center
       17, 19 – Columbus OH – Gateway Film Center
       20 – San Antonio, TX – Santikos Bijou
       21- Eugene OR – Broadway Metro
       21 – 21, 28 – Hudson NY – Time & Space Limited
       22 – Lake Worth, FL – Lakeworth Playhouse
       22 – Boise ID – The Flicks
       22 – 24 – Albuquerque NM – Guild Cinema
       22 – 28 – Howell MI – Historia Howell Theater
       22 – 28 – Fayetteville NC – Cameo Art House
       22 – Long Beach CA – The Art Theatre
       24 – 25 – Cathedral City/Palm Springs CA – Mary Pickford 14
       24, 26 – Florence OR – City Lights Cinemas
       25 – Nashville TN – Belcourt Theatre ***
       25 – Fairfield CT – StageOne
       26 – Bellingham WA – Pickford Theater
       27 – State College PA – The State Theater 
       27 – Kansas City MO – Tivoli Cinemas
       28 – Newport RI – Janes Pickens Theater
       28 – Mystic CT – Mystic Luxury Cinemas  
       28 – El Paso TX – Alamo Drafhouse 
Mar 1 – Baton Rouge LA – Manship Theatre 
        1 – 3, 9 – 10 Hudson NY – Time & Space Limited
        2 – 3 Long Beach CA – The Art Theatre
        4 – 5 – Newton NJ – Skylands PAC
        5 – 7, 17 -Toronto, ONT – Hot Doc
        8 – Schnectady NY – Proctors Theatre
        9 – Monterey CA – The Golden State Theatre
       11 – Salem OR – Salem Cinema
       24 – Asbury Park NJ – Showroom Cinemas
April 3 – Stamford CT – The Avon Theatre Film Center