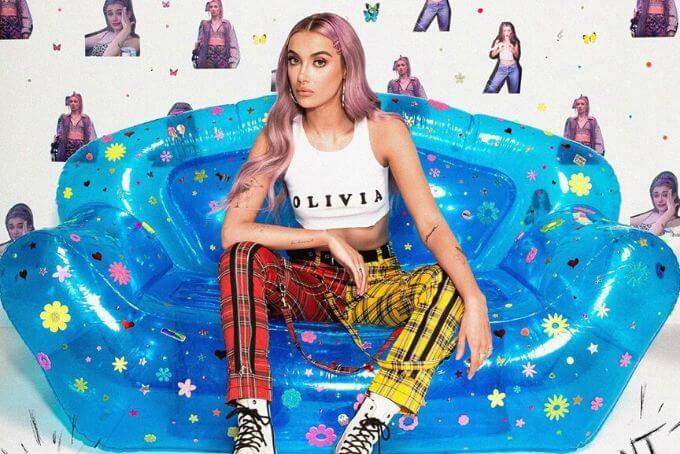 OLIVIA O'BRIEN RELEASES NEW QUARANTINE MUSIC VIDEO FOR VIRAL SMASH "JOSSLYN"
Today, singer/songwriter Olivia O'Brien releases a new music video for her viral smash "Josslyn," which is a standout piece in the age of at-home DIY content amid social distancing. The lively standout track comes hot off her second micromixtape The Results of My Poor Judgement released earlier this year and is laced with the young artist's signature poetic vulnerability as well as comedic vulgarity.
Motivated by the discovery of her love interest's infidelity, the 20-year-old pop singer's raw heartbreak comes through loud and clear in the song's unforgettable chorus: "But now we're off and we'll never be on again//I hope that it was worth it f*cking Josslyn."
The new visual is vibrant and chaotic, certainly reflective of the new reality of life under self-quarantine as it was filmed entirely at her home. The LA-based pop princess' homemade video, charmed with a DIY aesthetic and dance moves for when you are alone in your bedroom, shows just how much untapped creative energy she has.
The feisty single is an anthem for anyone who has been in a promising relationship with someone only to find out they were unfaithful with their respective 'Josslyn,' making it the ultimate at-home breakup track. Olivia O'Brien remains one of pop music's true gems and has certainly set the bar high for future tracks.
Most recently Charli D'Amelio, posted a dance video to Tik Tok using "Josslyn" catapulting the streams to over 16 million in about two months. Before the world was abruptly halted by COVID-19, Olivia was expected to perform at Coachella and was on a headlining tour across North America.
Over the past few months, Olivia has amassed over 1 billion global artist streams and has been releasing micromixtapes – a concept she ideated to give her fans music quicker as larger albums are becoming more difficult for fans to consume.
She released the first micromixtape, titled It Was A Sad Fucking Summer, in November that received praise from the likes of NYLON, V Magazine, Ones to Watch and more. In February, she released the second micromixtape The Results Of My Poor Judgment which featured standout track "Josslyn."
She will also be performing at Zach Sang's virtual prom on May 22 alongside Lewis Capaldi, Finneas O'Connell, Lauv, Noah Cyrus and more.